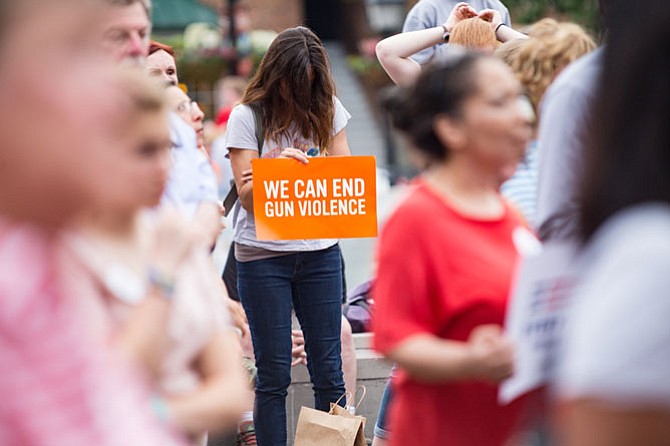 Moms Demand Action of Northern Virginia in collaboration with Northern Virginia Pride gathered a little over a hundred supporters in Market Square in Old Town Alexandria on June 15 to raise tea lights and remember the victims of the shooting at the Pulse nightclub in Orlando, Fla.
The vigil and rally had speakers from the Northern Virginia community such as Mayor Allison Silberberg and the Rev. William Bradley Roberts of the Virginia Theological Seminary. Supporters in the audience held signs with sayings such as, "EveryTown for Gun Safety" and "Whatever it Takes." The podium had a sign that read "We can end gun violence."
The vigil was held to pray, to cry, and to remember. Moms Demand Action, however, believes that crying and praying aren't enough, and implores people to take action by reaching out to their local representatives and joining organizations such as MDA to push for better gun control legislation. "We need to end the moments of silence that take place in Congress after mass shootings," said Del. Mark Levine, (D-45). "Thoughts and prayers are no longer good enough."
Brian Reach, president and executive director of Northern Virginia Pride, said, "This is our generation's Stonewall. For a lot of people it was a wake-up call that there are still a lot of problems that need to be addressed."
In the Alexandria community, the Northern Virginia chapter of the Gay, Lesbian, and Straight Education Network, or GLSEN, works to champion LGBT issues and promote inclusiveness in schools from K-12 by partnering with educational programs. "The LGBT community is still under attack in this country," says David Aponte, chair of GLSEN Northern Virginia, "with students [we] want to feel that they can feel safe in social settings … . A huge support is staying active in these situations and not just letting it be a headline."
For more information visit MomsDemandAction.org, novapride.org, GLSEN.org, or everytown.org.