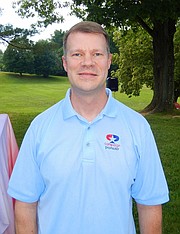 The votes are in, the ballots have been recounted, and Jeff Greenfield has officially regained his seat on the Fairfax City Council. In a history-making event – Virginia's first-ever recount for a multi-candidate race – he gained enough votes to edge out his nearest contender, Nancy Loftus.
"I won," he said jubilantly after the Wednesday, June 8, recount. "I picked up five votes and beat her by three. And I'm glad; regardless of the outcome, I wanted to make sure what the intent of the voters was."
The City Council election was held May 3, with voters choosing six of seven candidates. But with Loftus coming in sixth place with 1,819 votes to Greenfield's 1,816 for seventh place, just three votes separated them.
So Greenfield petitioned Fairfax County Circuit Court for a recount; and after a June 1 court hearing, a three-judge panel granted it. And since the vote totals for two other Council candidates, Michael DeMarco and Jon Stehle, were also close – within 1 percent of each other – the judges ordered the votes recounted for all the candidates.
The process began around 7:45 a.m. at the courthouse. Machines counted ballots where voters selected six candidates. All other ballots with votes cast for less than six had to be hand-counted. There were four vote-scanning machines and 15, sworn-in recount officials representing all seven candidates, plus at least one observer per machine (up to seven observers were allowed).
"Essentially, today was Election Day," said Greenfield that night. "And now we know the will of the voters. I picked up some votes that weren't counted by the machines originally, plus some challenge ballots, as well, where it wasn't clear who the voter intended to vote for. So the judges had to weigh in on them, and I got about a half dozen of them."
The recount took some 12 hours and, said Greenfield, "All day long, I didn't know where I stood. It wasn't until about 7:30 p.m., when they told me it looked like I'd won. And then at 8 p.m., the judges officially certified the election results." And although all seven candidates' votes were tallied, only Greenfield and Loftus were in jeopardy of not being reelected. So, said Greenfield, "This was a race between Nancy and me."
Regarding the outcome, he said, "I have a lot of emotion. I'm happy and excited, and I'm glad I accomplished what I wanted – to ensure that, whoever it was, the right person won. But the priceless moment for me was when my daughter asked, 'Did you win?' and I said, 'Yes.'" On May 3, Greenfield's little girl burst into tears when it looked as if her dad had lost. But on June 8, he said, "Her tears were for another reason" – because she was so happy.
Furthermore, he'd always maintained that "the voters were duped because of the negative campaigning" shortly before the May 3 election. "I've never seen that level of it in my 49 years here," said Greenfield afterward. "The misinformation and mudslinging was appalling to me." So that made his June 8 victory all the sweeter for him.
Now, he said, "My daughter knows that you always do the right thing. And this time, the good guy who ran a positive campaign won. The machines didn't get it right, but the voters did. And the person who was supposed to win did. It's been an emotional rollercoaster for more than a month, so it's a relief that it's over. I always tell my daughter, 'Don't have regrets,' and I didn't want to have any regrets that I didn't ask for a recount."
Loftus, however, had concerns about the procedure and the validity of the results. "Everybody else gained votes in the recount, except for me," she said. "I lost one vote [overall]." She gained one vote in precinct three, but lost another vote due to a disputed ballot.
She also contends that "there was a ballot missing from the City Hall precinct, and I lost a vote there. The envelope [for that precinct] listed one more ballot than it actually contained. How do you lose a ballot? It matters."
At the end, Loftus was down one vote from May 3, while Greenfield gained five to beat her by three votes. So even if she had received one more vote from the City Hall precinct, she still would have lost by two votes.
Loftus said she has "no idea" if she'll ever run for City Council again. Meanwhile, she said, "I'm not going to appeal. I think the City voters have had enough delay and expense with the recount." (Since there was less than 1/2-percent difference between them, the City pays for the recount).
"I think this precedent-setting recount raised more questions than I'm able to answer," said Loftus. "But I expect that, perhaps, the electoral board and City voters will want some of these issues reviewed before another City election is held. There are some changes that could be made to the process to ensure that everyone has confidence in the integrity of the results. But I accept the results of the recount and I congratulate Mr. Greenfield and all the other Council members, and I wish them nothing but the best."
On June 9, the City of Fairfax Electoral Board also certified the election with the following vote totals: Ellie Schmidt, 2,068; David Meyer, 2,058; Janice Miller, 1,964; Michael DeMarco, 1,898; Jon Stehle, 1,869; Jeff Greenfield, 1,821; and Nancy Loftus, 1,818.
According to City of Fairfax General Registrar and Director of Elections Brenda Cabrera, "The recount was conducted according to state election law and under court order and supervision. The ballots were examined in an established process by sworn, recount officials and supervised by recount coordinators appointed and sworn by the court. Votes were tallied under the close scrutiny of observers chosen by the candidates. Any ballots questioned by officials were reviewed by the three-judge panel."