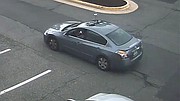 Man Robs Elderly Woman in Springfield
Detectives from the Franconia District are investigating a strong-armed robbery that occurred in the 6600 block of Loisdale Road. On June 3 around 10:16 a.m., an 89-year-old woman had just entered her vehicle and was approached by a man. The man allegedly assaulted her, grabbed her purse, and fled. The victim sustained non-life-threatening injuries and did not require medical transport.
The suspect was described as black, approximately 20 to 30 years old, 5-feet-8 inches to 5-feet-10 inches tall, with a muscular build. He had short black hair and was clean-shaven. The suspect's vehicle was described as a 2008 to 2012 Nissan Altima with a possible partial license plate of "2057."
If you recognize the suspect, the vehicle pictured, or have any information about this crime, contact Detective J. Reid at 703-922-0889.
You may also contact Crime Solvers electronically by visiting http://www.fairfaxcrimesolvers.org or by calling 1-866-411-8477. Or call Fairfax County Police at 703-691-2131.
<1b>--FCPD Public Affairs Bureau
Residents Who Encountered Rabid Cat Asked To Call Health Department
Residents are being asked to contact the Fairfax County Health Department if they encountered a rabid cat that attacked a pedestrian in the Springfield area on Sunday, June 5.
The incident took place near the 6200 block of Levi Court. A man was walking along the Long Branch trail, about a quarter-mile north of Franconia-Springfield Metro Station, when he encountered and was scratched by the cat around 8 a.m. The cat was extremely aggressive and died during the attack. The cat was tested for the rabies virus on Monday, June 6 and the results came back positive for rabies. The victim is undergoing preventative treatment for exposure to rabies.
During the time it was infectious, the cat may have had contact with other people or pets. The cat is described as a domestic shorthair, with a black and brown tortoise shell coat pattern and a clouded left eye. It is an adult female estimated to weigh up to 15 pounds. If you had direct contact with the cat between May 27 and June 5, you are urged to call the Fairfax County Health Department's Rabies Coordinator at 571-274-2296, TTY 711.
Rabies is a disease caused by a virus that can infect both people and animals. People usually get rabies when they are bitten or scratched by an animal that is sick with the disease. Protect yourself and your family from rabies: stay away from wild animals and be sure pets are vaccinated against rabies every year.
If bitten or scratched by an animal, wash the wound thoroughly with soap and water and seek medical attention right away. In Fairfax County, residents should also immediately report animal bites, as well as sick or injured animals, to Animal Control Services at 703-691-2131, TTY 711.
More information on the rabies virus, exposure prevention tips, and what to do if an animal bites, is available: http://www.fairfaxcounty.gov/hd/rabies/.
--FCPD Public Affairs Bureau