If the theater directors and students at Fairfax and Paul VI high schools have their minds on Sunday, June 12, one can hardly blame them. After all, that evening is when the annual Cappies Gala at The Kennedy Center in Washington, D.C. will be held – and both schools are up for awards.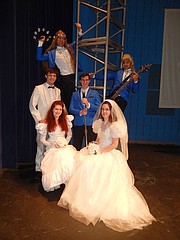 Fairfax
Fairfax received 18 nominations for its romantic comedy, "The Wedding Singer." Featuring a cast and crew of 63, it was based on the movie starring Adam Sandler and Drew Barrymore. The story is about wedding singer Robbie Hart, whose bride left him at the altar, and his new love, Julia, who's engaged to someone else.
A huge production, the show featured a slew of costume changes, high-energy song-and-dance numbers and even special effects. The goal was to place the audience in a time warp and make this musical feel like a 1980s rock concert. And evidenced by the high marks it got from the Cappies critics – including a nod for Best Musical – it succeeded.
"To receive 18 nominations is nothing short of amazing," said Director Erich DiCenzo. "Of course, we are all thrilled with this honor. To be recognized in this way is just the icing on the cake to what was a unique and magical experience for everyone involved in our production.
"We certainly felt that we had something special on our hands, but we never could have predicted this," he continued. "From choreography to special effects, from costuming to each actor's personal performance, we are just grateful that all of our invested passion has paid off. Now is the best part – celebrating with all of the other schools at the Cappies Gala. The nominations already feel like the win; now it's time to come together and show why the arts are like the 80s – so 'totally awesome!'"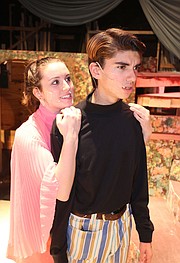 Paul VI
Paul VI garnered four nominations for its fresh, lively and modern take on Shakespeare's classic romantic comedy, "A Midsummer Night's Dream." This original interpretation of the play set the action in an entirely different century.
Although the scenes still took place in an enchanted forest and in Athens, Greece – complete with stone columns and buildings – the time period was changed to the early to mid-1960s. And the cast and crew of 50 loved it.
They got to wear 1960s-era, mod costumes adorned with stripes, flowers and bright colors, In addition, sprinkled throughout the show were little snippets of several cheerful, '60s songs, including hit tunes from Herman's Hermits, The Monkees, Manfred Mann and The 5th Dimension.
"This show was such fun and I'm delighted by the nominations," said Director Katherine Miller. They included acting nods for real-life brothers Tommy and Bobby Kelleher.
"When [Assistant Director] Kathy d'Alelio and I first started planning 'Midsummer,' we thought it would be great to make Puck appear and disappear on stage," said Miller. "Then we talked about special effects and realized we had our own, special effects in the persons of identical twins Bobby and Tommy Kelleher. So we made identical costumes and we were delighted that so many people in the audience thought they were just one, very fast, bi-locating person."
She was also pleased with JJ Cummings' nomination for Comic Actor for his portrayal of Bottom the Weaver. "It's wonderful," said Miller. "His death scene was one for the books, and he risked life and limb every time he rolled down the big hill to 'die.' Pyramus and Thisbe is, hands-down, the best comedic scene in Shakespeare, and JJ did it justice."
Besides that, Sonya Chinje was nominated for Creativity for composing. "She took the actual songs that Shakespeare wrote for 'Midsummer,' wrote her own music, recorded it and then sang all the parts," said Miller. "It fit the show perfectly."