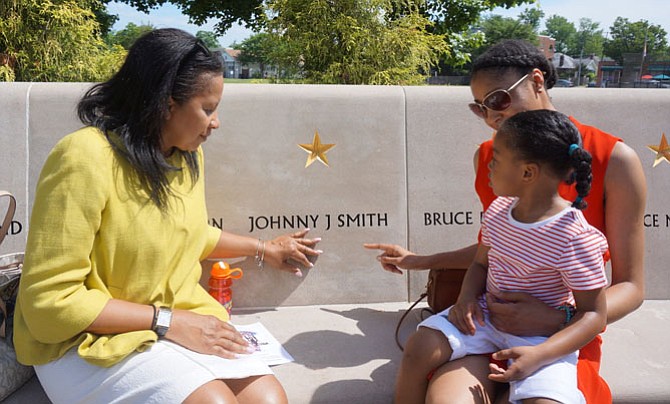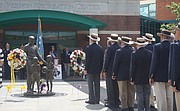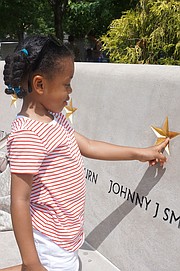 See more Memorial Day photos on Facebook.
Arlisa Smith was 13 years old when her older brother Johnny died while serving his country in Vietnam. On Monday, Smith returned to the Del Ray neighborhood they grew up in to see for the first time the memorial where his name is chiseled in stone beneath a gold star.
"I had no idea this was here," said Smith, who attended the Memorial Day ceremony at the Capt. Rocky Versace Plaza and Vietnam Veterans Memorial. "This has given me a very different memory of my brother — something more uplifting to think of when I remember him."
Army Specialist Johnny Jerome Smith was three months shy of his 21st birthday when he died May 20, 1970, in Quang Tin Province. He is one of 67 Alexandrians honored at the memorial and until last fall one of 22 without a corresponding photo.
"I was surprised to get a call from an old friend, who told me that someone was trying to track me down," said Smith, who is an educator in Hopewell, Va. "That's the first time I heard about this memorial."
McArthur Myers remembered Johnny from Scouting and located Smith when he saw his friend's name on the list of fallen veterans that organizers of the Faces Never Forgotten campaign of the Vietnam Veterans Memorial Fund said was missing an identifying photo.
Through the efforts of Myers and others, only 13 Alexandria Vietnam veterans have yet to be identified with a photo. The Friends of Rocky Versace are coordinating the effort in Alexandria and organized the Memorial Day ceremony held at the plaza in Del Ray.
Miss Virginia, Savannah Lane, sang the National Anthem and Saint Rita's American Heritage Girls Troop 1381 led the crowd in the Pledge of Allegiance. Members of the Anna Maria Fitzhugh Chapter of the National Society of the Daughters of the American Revolution presented Vietnam Veterans with 50th anniversary of the Vietnam War commemorative certificates.
Attendees at Monday's event included 100-year-old Betty Walters, whose late husband Paul was a 1933 classmate of Rocky Versace's father Humbert. Her own father, Col. Stanley Livingston, was a 1907 West Point graduate and the oldest U.S. soldier to survive the Bataan Death March.
Jim Spengler, director of the City of Alexandria's Recreation, Parks and Cultural Affairs Department, is the brother of Capt. Henry Spengler and attended with his brother's widow, children and grandsons.
Brig. Gen. Robert Harter was the guest speaker and ended his tribute to Alexandria's fallen with a quote from Gen. George S. Patton: "It is foolish and wrong to mourn the men who died. Rather we should thank God that such men lived."
"I didn't know what to expect when I came here today," said Smith, who still has relatives in Alexandria. "This memorial is a very special place and real tribute to Johnny and all of the men who never made it home."