Changes are brewing for this year's Del Ray Music Festival, including a new location and the debut of pop-up beer gardens, a first for an outdoor street festival in the City of Alexandria.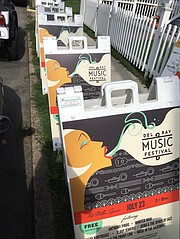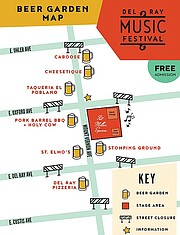 "No one has tried something like this before," said "Mango" Mike Anderson, co-owner of Pork Barrel BBQ and host of one of the beer gardens. "The city and other neighborhoods will be watching to see how this works out."
Now in its ninth year, the festival will take place July 23 from 3 to 8 p.m. on Mount Vernon Avenue, which will be closed from E. Custis to E. Uhler avenues. Musicians will perform on two stages at the Pat Miller Neighborhood Square, located at the intersection of Mount Vernon and Oxford Avenue, a change from the Mount Vernon Recreation Center fields.
"We have seven restaurants setting up beer gardens for the festival," said Bill Blackburn, president of the Del Ray Business Association and Anderson's partner in Pork Barrel BBQ and Holy Cow Del Ray. "We're excited about this and think it is a great opportunity to showcase the Del Ray community."
Restaurants hosting pop-up beer gardens include Pork Barrel BBQ/Holy Cow, Del Ray Pizzeria, Stomping Ground, Caboose Café, Cheestique, Taqueria El Poblano and St. Elmo's.
​Headlining this year's festival is award-winning guitarist Anthony Pirog, a recipient of the Washington Area Music Association's Best Modern Rock Instrumentalist award.
Artist Jack Kilby & The Front Line open the festival at 3 p.m., followed by Noise in the Basement, Elroy Jenkins, Geno & The Spirit of Jazz, Wanted Man and Near Northeast. Pirog will take the stage at 6:45 p.m.
"The Del Ray Community is excited about this signature event," Blackburn added. "We hope to show once again that Del Ray is the best neighborhood for fun in Alexandria."
The Del Ray Music Festival is free and open to all. For more information and a complete schedule of events, visit www.delraymusicfestival.com.