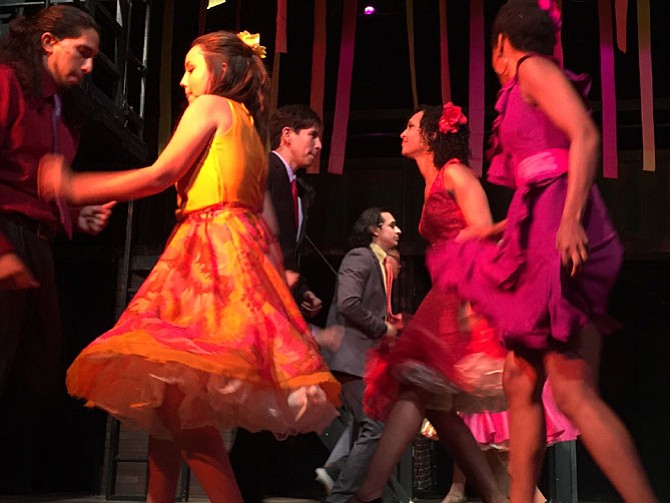 The Little Theatre of Alexandria (LTA) is presenting "West Side Story" from July 23 to Aug. 13, 2016. The musical features a Romeo and Juliet story on the gang-ridden streets of 1950's New York, dominated by the Sharks and the Jets. Two teens from the warring gangs meet and fall in love, causing tension between their respective friends. Can the two lovers survive when hate and ignorance are unwilling to yield?
The American play is based on a book by Arthur Laurents, music by Leonard Bernstein, lyrics by Stephen Sondheim and conception and choreography by Jerome Robbins.
LTA's choreographer Stefan Sittig has a long-time association with "West Side Story." He's danced in four different productions of it, playing the roles of Tony, Action, Baby John and A-Rab, and understudying Riff. "I know every note of this score and almost every line of text," he said. "Of all the shows I have ever been associated with, this one is the one I know the best — the one I am most intimate with."
Sittig has choreographed over 60 productions in a variety of venues, including Off-Broadway, internationally and down the East Coast for colleges and community theater. But he's never had the chance to choreograph this show that he knows so well. "What was also very appealing to me was the chance to work at LTA again after the success of 'In the Heights' last season and all the fun I had choreographing 'The Rocky Horror Show' in 2013, also at LTA," he said. He also wanted to work with director Susan Devine again, whom he's worked with before on 'A Chorus Line' and on 'Flora the Red Menace.'
"Susan and I have a good rapport — she gets me — she loves directing dramatic shows and I love choreographing them, so we work well together. So, the combo of getting to work at a wonderful theater and with a director I know and respect, and on a show that is so close to me, well that was just too good to pass up," he said.
The two have had many discussions about "West Side Story," which he combined with his experience on the show, and came up with a physical language that both pays homage to the original Jerome Robbins choreography while still putting a new, different spin on it that is unique to the production. "Those who have seen other productions of 'West Side Story' before will be familiar with some of the iconic dance moments from the show ... but they will also walk away feeling like they've seen something unique to this production," he said.
As far as audience takeaways, he added: "I would love it if the audience was able to immerse themselves in the world of this show. The time, the place, the situation of these two young people who are so beautifully naive, unaware of the chaos around them, and who just focus on the love between them, on the positive in this world, on what brings us together rather than on what divides us."
Music Director Francine Krasowska said nearly every show that she's worked on offers some opportunity to get outside of her comfort zone and learn and grow, "but this one is the gold standard of musical theater," she said.
"There is so much to delight in with musical motifs, internal references, re-working of themes, clever counterpoints, and just plain beautiful melodies," she said. "Even for the non-musician theatergoer, this kind of detail works its subconscious magic to add layers of pathos, irony, and humor."
She added: "Even though the script is full of 1950s idioms, it doesn't feel nearly as dated as most musicals of the 1950s, '60s, and '70s do today, because the story is eternal and poignant. The music isn't even remotely dated — it's as sophisticated a show score as you will ever find."
She said some of the music is deceptively simple to sing, but difficult to sing well … "All of this is part of my very favorite thing about music directing: those moments when an actor realizes she does have the vocal range, or he does have the stylistic flexibility, to pull it off. When this talented cast gets in the zone, it's a joy to see and hear," she said.
Director Susan Devine said when working on a show like this, one spends hundreds of hours with the material, the music, the dance, the story and the characters. "To invest that much time and energy in a show, I need to love the material and respect the material," she said. "As we wrap up rehearsals, I still enjoy seeing 'The Dance at the Gym,' hearing 'Tonight' and 'Somewhere,' watching the balcony scene and 'The Rumble.'"
She added: "Every aspect of 'West Side Story' is challenging. However, as with any great show, casting is the most critical challenge. Casting the ensembles of Jets and Sharks who perform so much of the dance is always difficult. We were fortunate with the quality of dancers who auditioned and have assembled fantastic ensembles. And, of course, Tony and Maria have to be amazing performers, which they are."
As for audience takeaways, she said: "'West Side Story' is one of the most loved shows in theatre. It is without peer for its music, dance, and story, which is why people see the show over and over throughout their lives. Whether this is their first or 10th time seeing the show, I want the two and a half hours to speed by with music and song and characters that they will want to hear and see again."
Fred C. Lash, who plays the role of Doc, said he tries to offer both the Sharks and the Jets a safe haven (his drugstore) with this "demilitarized zone" where even a small amount of compromise can be found. He has taken a former gang member under his wing and sees, in Tony, someone who has a chance to escape from his present surroundings and make something of himself.
"I hope the audiences all come away from this production with a true respect for the hard work and tireless efforts put forth by the cast. Each member has put his or her heart and soul into it, with the goal of presenting the best version of 'West Side Story' that audiences have ever seen," he said.
The Little Theatre of Alexandria is presenting "West Side Story" from July 23 to Aug. 13. Showtimes are Wednesdays through Saturdays at 8 p.m.; Sunday matinees at 3 p.m. Tickets are $27 and $32. The venue is located at 600 Wolfe Street, Alexandria. Call 703-683-0496 or visit www.thelittletheatre.com.