Saunter toward the waterfront in Old Town Alexandria and you're sure to spy progress afoot near the Torpedo Factory. The former Waterfront Market space at 101 N. Union St., closed since last year, is being transformed into Vola's Dockside Grill and Hi-Tide Lounge, with an aim at opening in August after months of construction.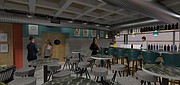 "The restaurant is going to be a nice, big space (with a) big bar, an oyster bar, and raw bar," said Alexandria Restaurant Partners' Jennifer Motruk. "… It's not complicated, and it's also simple in a way that's classic."
The casual nature of both the restaurant space and the menu will be on display immediately upon diners' arrival. Guests can "eat out of a basket and feel great about it," she laughed.
But don't mistake casual food for pedestrian fare. Fresh, local, seasonal ingredients are the watchwords at Vola's, and many menu items will make good use of the Bay's best.
"We have a fantastic Chesapeake Bay chowder chock full of clams and blue crabs and corn and potatoes," Motruk said. "(The) chowder really great, it's delicious, and sweet when it needs to be sweet, and filling in a way that prepares you for the rest of your meal."
The kitchen will be helmed by corporate executive chef Graham Duncan, executive chef Santiago Lopez, and chef de cuisine Walter Silva. Duncan, who oversees all five of Alexandria Restaurant Partners' kitchens, has created the menu for Vola's, and Lopez and Silva will be tasked with executing it each day.
Lopez, who has worked his way up through ARP restaurants, is returning to Alexandria from Orlando's Café Tu Tu Tango and has developed a "great insight on flavor profiles, ingredients, and sourcing," Motruk said.
Silva, meanwhile, is venturing across the river from The Riggsby in D.C. to take his spot as chef de cuisine.
"He's got a great culinary pedigree," Motruk said. "He takes the recipes and perfects them to what (diners) want to see and want to taste."
The Dockside Grill component of Vola's is only half of the equation. Tucked away on the King Street side of the building will live a little hidden gem of sorts — the Hi-Tide Lounge, an intimate bar space with only three dozen seats.
Decorated with a "a Mad Men, retro, vintage, tiki … loungey kind of a feel," Motruk said, the space will be a respite from the world outside — but will also not stand on pretense or pomposity.
"You're not in a tourist-trap chain restaurant and you're not in a secret speakeasy — you're somewhere in between," she said. And molecular gastronomists may want to look elsewhere: "We're talking more like frozen drink machines and drinks that you wouldn't mind drinking out of a red plastic cup."
The restaurant's namesake should ring a bell with many Alexandrians. Vola's honors the late Vola Lawson, Alexandria's former city manager (and chief animal advocate), whose legacy stretches across the area.
"She dined all over town and she was such an influential and recognized person," Motruk said, and the restaurant aims at paying homage to her history within the city.
Hope Nelson owns and operates the Kitchen Recessionista blog, located at www.kitchenrecessionista.com. Email her any time at hope@kitchenrecessionista.com.