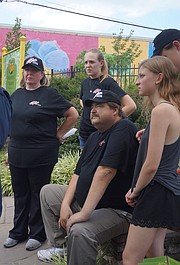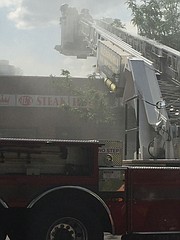 Al's Steakhouse, a favorite in the Del Ray community for decades, suffered extensive damage when a three-alarm fire swept through the restaurant July 6, the grand reopening day for new owners Emily Breeding and the Breeding family.
"An extensive overhaul will be needed because of the age of the building," said Alexandria Fire Chief Robert Dube as firefighters from Alexandria, Arlington and Fairfax County battled the blaze.
In response to the fire, fellow Del Ray restaurateurs Bill Blackburn and "Mango" Mike Anderson, along with the Del Ray business community, will host a pop-up fundraiser at Holy Cow Del Ray to help the Breeding family.
"This is devastating, not just for the Breeding family but for the entire community," said Anderson. "Everyone was anxiously awaiting the reopening of Al's. Now it's time for the Del Ray community to do what it does best — support one another when times are tough."
On July 14, Holy Cow Del Ray, located at 2312 Mount Vernon Ave., will transform into Al's Steak House Pop-up from 5:30 to 10 p.m. Favorites from the Al's Steak House menu will be prepared by celebrity Del Ray chefs under the guidance of Bo Severson, son of the late John "Big Al" Severson. All sales will go to the Breeding family to aid with rebuilding. Holy Cow is located at 2312 Mt. Vernon Ave.
"We also set up a GoFundMe account for anyone who is unable to make it to the fundraiser," Anderson added. FireFlies restaurant at 1501 Mount Vernon Ave. is also accepting donations on behalf of Al's.
For more information, visit www.HolyCowDelRay.com.