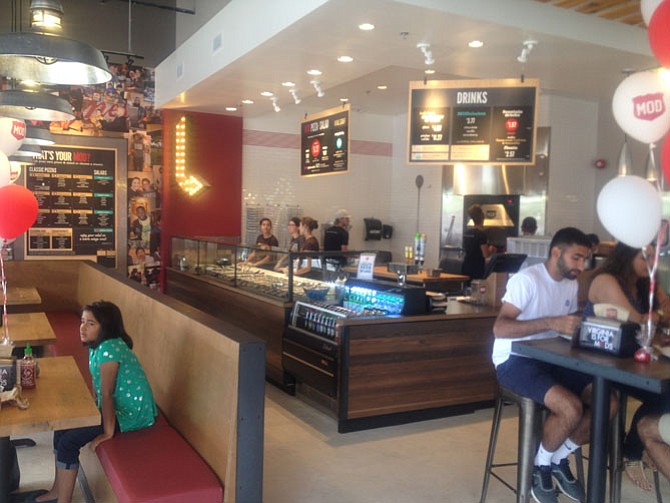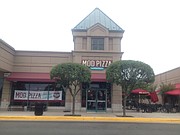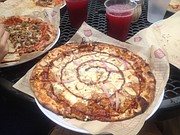 MOD Pizza (MOD stands for Made On Demand) held a grand opening at Reston's Plaza America on Friday, July 1. The new restaurant fills a space vacated by Vie De France in October 2014. MOD Pizza is a national franchise that serves artisan-style pizza in a fast, casual setting. The restaurant comes to the D.C. region from Washington state. Founders Scott and Ally Svenson formed the business in 2008 to fill a need for thin-crust, affordable pizza in their hometown of Seattle.
Guests can choose specialty pizzas or create their own with a range of toppings. The round pizza cooks in less than five minutes. There are locations in the Vienna Shopping Center, Fairfax and Ashburn. The Reston location serves salads, milkshakes, wine and DC Brau beer.
Area residents have welcomed the new restaurant. "It was good, I enjoyed it," said engineer David Kimpton. "It was delicious, I like how you can pick your own ingredients," said Fairfax resident Matt Robinson.
On Reston MOD's grand opening day one hundred percent of pizza sales Friday went to Generosity Feeds, a nonprofit based in Virginia dedicated to helping feed hungry children in America. There was also a retro photo booth, and prize giveaways.

The restaurant raised over $3,500 for Generosity Feeds on the opening day. "We are super excited to be open in Reston, we have been so well received by the community and the local businesses. It's also been great to team up with such an amazing organization as Generosity Feeds for this opening, they do such great work," said district manager Dirk Huber.
One of the walls inside the Reston MOD pizza is decorated with a photo mural with photos of MOD employees and area landmarks including the Reston Regional Library and Colvin Run Mill.
At Reston's Hunters Woods Village Center, there have been other developments as Mayuri, an Indian buffet restaurant which had been closed for maintenance has apparently closed. King Pollo, a local Peruvian chicken chainlet, is renovating space at 2254G Hunters Woods Plaza, no opening date has been announced yet.
In Herndon, former El Manantial owner Humberto Fuentes closed his restaurant Europa in April. The Europa was located in Station Street in downtown Herndon. In March, Herndon's "hot dog joint" The Wiener's Circle closed its doors. Owner's Greg and Diane Hill operate a catering service, Great Falls Gourmet. At Worldgate Center, signs have been put up for a new Crisp & Juicy location. Crisp & Juicy specializes in Peruvian or charbroiled chicken. Today, there are many Crispy & Juicy stores in Maryland, Virginia and Washington D.C.
Fairfax County Board of Supervisors voted on June 7 to place a meals tax referendum on the Nov. 8 election ballot. Fairfax County residents will vote on a measure that calls for a tax of as much as 4 percent tax on prepared foods at restaurants and at grocery stores, including a deli or salad bar. The tax will include both alcoholic and non-alcoholic beverages served with a meal. The tax would not apply to groceries or to food purchased at vending machines. Alexandria, Arlington, Falls Church and the city of Fairfax have 4 percent meal taxes. Supervisors Patrick Herrity (R-Springfield) and Linda Smyth (D-Providence) voted against the referendum.