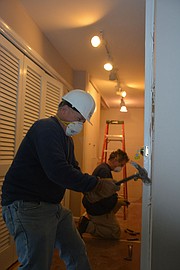 2016: Another year, another demolition and another home being renovated to meet the needs of five individuals with disabilities. On an overcast Friday, Jan. 15, Knights of Columbus volunteers assisting the Fairfax Station-based nonprofit organization Marian Homes stripped carpet and hammered and knocked down walls in a single-family home on Wilson Street in Fairfax City.
Many of the volunteers were at another house in Springfield, less than a year ago in March 2015, gutting that one too. In June, residents with intellectual or developmental disabilities moved into the re-finished house, christened "Queen of Peace" and modified with wider doorways, expansive bathrooms and a much more open floor plan to meet their housing needs.
As the Northern Virginia Training Center -- a decades-old, state-run institution alongside Braddock Road in Fairfax that has housed and facilitated treatment for people with disabilities -- is scheduled to close entirely in the next two months, there's been a push for those residents to find comparable services elsewhere in the community.
With just around 70 small group facilities in Fairfax County, hundreds are waiting for space to open up.
RESIDENTS of Marian Homes houses don't pay rent. But they have waivers for services from the Commonwealth of Virginia that go to CHIMES, the international nonprofit that runs the day-to-day treatment for residents that in turn pays rent to Marian Homes.
The first Marian Homes residence "Marian House" was dedicated in 1998 and houses five adult women. The second took in all men, as did the third. "Mother of Mercy," the name of this fourth home, will accept five adult women again, four of which are coming from the Northern Virginia Training Center.
To acquire third house outright, Marian Homes received a grant from Fairfax County. The grant came from federal funding designated for purchasing and rehabilitating affordable housing, so it was a good fit. In October 2015, Marian Homes applied in the latest request for proposal from the County for additional federal grant money. Again, they were awarded over $500,000 to acquire fourth house.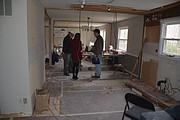 No sooner had residents moved into the Springfield home, a team from Marian Homes began looking for the next project house. Walter Purdy from the Marian Homes board said they looked at more than 100, trying to find "the one that fits the needs of those residents in the future, fits the open style we look for."
Purdy said they liked the big bay window and floor plan of this single-story, four-bedroom house on Wilson Street in Fairfax City. Like in their previous projects, doorways and halls will become wider, bathrooms more robust for assisted bathing. The dropped floor of the garage will be raised to meet the rest of the house and the whole space is planned to be converted into a utility closet, second full bathroom and fifth bedroom.
After a three-day demolition by volunteers (three teams of 18 men), contracted construction is expected to take 75 days.
William Baker on the Marian Homes Board of Directors said the goal is to open the home to residents on May 1.
Total cost for the property, closing and renovation is about $735,000, Baker said. Though by using volunteers for demolition, they saved around $20,000. That net amount will be covered by the federal grant money from Fairfax County, a loan from the Virginia Knights of Columbus charity KOVAR and additional fundraising.
"What's really incredible is all the volunteers," Baker said. "The County still doesn't know how we operate."
Marian Homes formed out of the Knights of Columbus Council 8600 at St. Mary of Sorrows, who continue to supply volunteer labor to these projects. "Our mission is providing for those in need and Marian Homes is an instrument for Knights to do just that," said Baker.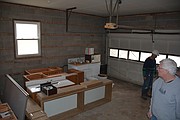 FOR THIS FOURTH HOUSE, they added the strength of a dozen Knights from Council 7566, St. John Neumann Parish in Reston.
"They're the dirtiest gang here," said Tom McFarlane of Reston (and Marian Homes president emeritus).
Tom Zorn of Herndon joined McFarlane in representing Council 7566. Swinging a hammer at a doorframe, Zorn commented that in addition to the various charitable acts his Council is part of, "I'm happy we can do something a little different."
Council 8600 Grand Knight Jim McHugh and Marian Homes president William Crowder stood in the middle of a dusty bare floor that will soon be the base of an open galley kitchen with a five-foot pass-through and roll-up countertop space. They agreed that taking on not just one, but four of these home makeover projects is "daunting."
"But we can't be complacent, there's a great bunch of guys working this," said Crowder. "You empower people and let them do what they can do."
"It's amazing to watch a group of men gather and put faith into action -- as the Bible tells us, we can do more," McHugh said. "We go out, take on something audacious and challenging, and worry about how to get it done later."
Marian Homes and St. Mary of Sorrows Knights of Columbus Council 8600 will host a "Casino Knight" fundraiser benefitting individuals with disabilities on Jan. 30 from 7-11 p.m. in the Farrell Hall of St. Mary of Sorrows, located at 5222 Sideburn Road in Fairfax. The entry cost of $25 includes poker chips, food, drinks and entertainment. For more information, visit www.marianhomes.org.