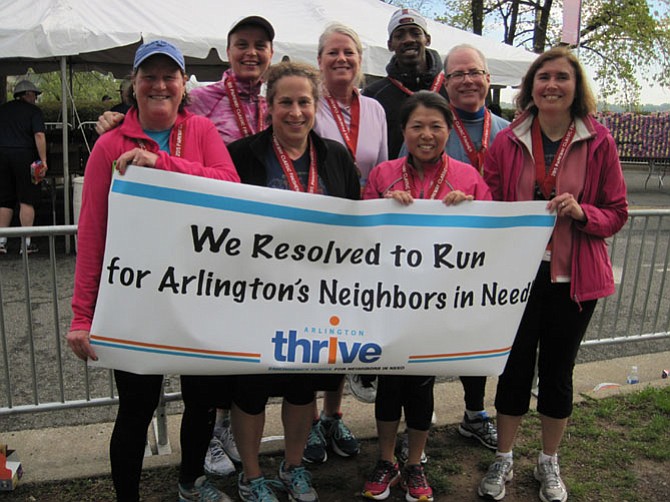 New Year's resolution already a thing of the past? At the point in January when many Arlingtonians have just given up their new year's resolve, there is a group just making a resolution. It's a resolution several Arlingtonians have set before, and who now encourage others to join the throng of those who will run, not just for themselves, but also for Arlington Thrive, to benefit those who need help in the area.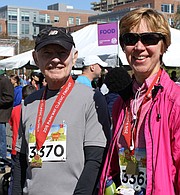 Beginning on Jan. 30 this year, Resolve to Run's certified running coaches will once again prepare runners for the George Washington Parkway Classic 10-Mile or 5K on April 24 or a separate half-marathon race.
The first event to mark on the calendar is the Happy Hour on Jan. 20, 5-7 p.m. at Pete's New Haven Apizza in Clarendon, 3017 Clarendon Blvd., where prospective runners are invited to meet past program participants.
Resolve to Run trainers use the Jeff Galloway training method to help people of all fitness levels or running experience complete their chosen race. This method alternates walk breaks with running to help increase endurance and general overall fitness at a gradual and safe pace, reducing the risk for injury.
The second event is registration: new program participants are required to attend an informational meeting on Jan. 23 at 10 a.m. or Jan. 27 at 7 p.m. at First Presbyterian Church of Arlington, 601 Vermont St., Room 103.
The third event is the actual raining for the 10-Mile group, which will begin on Saturday, Jan. 30 and for the 5K group on Saturday, Feb. 27, at 9 a.m. All training will take place at Bluemont Park, 601 Manchester St., at the corner of Wilson Boulevard and Manchester St. At the intersection, enter the Bluemont Park parking lot; the group will meet at the pavilion at the far end of the parking lot. Training runs will start at the W&OD Trail 3.5 mile marker.
And the final event is the race on April 24.
Information and registration forms are available on Arlington Thrive's website at http://arlingtonthrive.org/category/events/. The program costs $85, which includes a $25 donation to Arlington Thrive. The race also is a way for Arlington Thrive to raise funds, and participants will be given detailed instructions about how to set up a personal fundraising page.
Resolve to Run registrants will receive a 20 percent discount from the Clarendon Pacers Running Store and a discounted fee for the GW Parkway Races. For more information, go to www.arlingtonthive.org, email info@arlingtonthrive.org or call 703-558-0035.