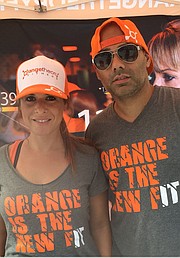 Gaurave Batta and his wife Leyna have always been into sports and fitness. But with two small kids at home and Gaurave running his own business intelligence consulting company, they needed a solution that was efficient, above all else.
When the new gym Orangetheory Fitness opened in the Greenbriar Shopping Center across from their Fairfax home in 2013, Gaurave went to a free trial workout. It promised exactly 60 minutes from warm-up to cool-down, with coach-led interval training on treadmills and rowing machines, as well as strength training with weights, step platforms and body-weight exercises.
"Neither of us had time to go work out for hours and hours on end," Gaurave said. "I really liked it, it was what we needed: efficiency." The workout stressed constant heart-rate monitoring, keeping beats within a certain range of the metabolic zone. The goal is a state of "Excess Post-Exercise Oxygen Consumption," where the body continues to burn calories even after the workout is completed.
Gaurave convinced Leyna to go the next day. She loved it, and they both joined as members.
But it didn't stop there. The couple had also been interested in owning their own business "outside of corporate America," and Gaurave thought, "Hey, it would be pretty cool to open one of these."
THE BATTAS got to know the area representative of the Florida-based fitness franchise and started talking to other owners around the country.
"We decided it could be a profitable venture if executed right," Gaurave said.
With roots and ties to the Fairfax area, Leyna said they also wanted to emulate and spread the experience they first had at Orangetheory. "It was a community that cared about you and your results," she said. "It's a team, with everyone rooting for you."
The Battas first met at Cherry Run Elementary School in Burke, where Gaurave's mother still resides. They both attended Lake Braddock Secondary School and began dating their senior year, attending prom together in 1996.
Leyna attended Northern Virginia Community College and then James Madison University, while Gaurave went to Virginia Tech. After graduating in 2000, they were married in 2005.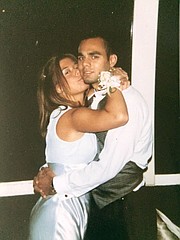 Just past their ten-year anniversary, Leyna and Gaurave completed an 18-month process to open their own Orangetheory Fitness in the Dunn Loring area of Vienna, walking distance from the coincidental Orange Line Metro stop.
Thanks to membership pre-sale, they opened on Sept. 14 with 200 members and friend Janna Ellen managing the studio. Since then, they've more than doubled to 540, Gaurave said.
Despite a lot of competition in the area with other, larger gyms and fitness centers within apartment complexes, the Battas believe the workout experience is entirely unique, as is the sense of community they build into weight loss challenges and other contests.
"We want you to want to come in, we care about you, you matter," Leyna said, "and it's based on science."
With machines bathed in a dim orange glow and bass-heavy dance music competing for sonic domination with the steady stream of directions from the workout leader-coach, it's easy to turn off the mind and focus just at the task at hand. Am I at my base, push or max heart rate? How's my rowing form? How many weighted lunge reps do I have left?
THAT FORMULA attracted Cathy Allen of Annandale, who was the first member at the Battas' Vienna location to hit 100 classes -- within the first 120 days they were open. She goes once a day, every day, 6:15 a.m. during the week and 8:15 a.m. on weekends.
"I used to work out at home," Allen said, "but I wasn't satisfied, I needed accountability." As a breast cancer survivor, losing weight, getting fit and staying healthy were vital parts of her new life.
Allen likes that no two workouts are identical and different days have different foci, like endurance, power, strength and a blend of all three.
She also has "my workout peeps," girlfriends she met at Orangetheory and with whom they've built a support crew together.
Though she has not weighed herself since workout number one, Allen said she's noticed changes. "I feel better, run better, my clothes fit better," she said. "All in all, a good healthy outlook."
Gaurave said other Orangetheory Fitness locations have sprung up in Arlington, and Washington, D.C., with more coming in Alexandria, Sterling, Gainesville and Potomac, Md. There are around 400 open nationwide. As to whether the couple will invest in an additional location in the future, he's cautiously optimistic.
"Are we riding a hot wave right now, or something that's sustainable and will continue to grow?" he said. "If we end up only doing one, that's our little baby. We're in the community, smiles on our faces, always trying to go above and beyond for our clients."
Orangetheory Fitness Dunn Loring is located at 2672 Avenir Place Q in Vienna. For more information visit www.orangetheoryfitness.com.