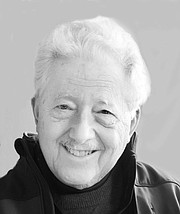 Edward Gordon Nusbaum of Reston died peacefully in his lakeside home on Dec. 25, 2015. He was 86.
He was preceded in death by his parents Charles and Evelyn Nusbaum of Yonkers, N.Y., his brother Stephen, and sister Ruth. He is survived by his beloved family: wife, Linda Holloway; daughters Jenny and Rachael Nusbaum; son-in-law Mark Faust; granddaughter Eva Nusbaum-Faust; stepsons Rex and John Holloway; his nieces, nephews, and cousins; and all their families. A graduate and lifelong fan of Syracuse University, Ed worked 25 years for FBIS as an editor/translator of French, German, Spanish, and Portuguese publications, during which time he lived abroad in England, Panama and Israel. Ed had a wonderful sense of humor, excelling at puns, was an amazing cook, and an avid tennis and Scrabble player. After retiring at 60, Edward and Linda enjoyed traveling throughout the country and Europe. When at home, they were active in the Unitarian Universalist Church in Reston, where a memorial service will be held in the spring.
In lieu of flowers, contributions can be made to the Unitarian Universalist Church of Reston, WETA, or to the Reston Museum, honoring Edward's love for his family, friends, congregation, classical music and the community of Reston, where he became an original home owner in 1965 before Lake Anne had even been fully excavated.