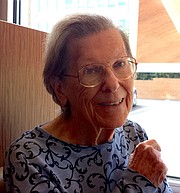 Marian Brant Davenport of Kingstowne died Feb. 13 at age 87. The Columbus, Ohio native taught kindergarten to third grade at Springfield Estates Elementary School from the early 1970s until she retired in 1985.
"She was very committed to her kids," said Davenport's son Bill, who now lives in Houston, Texas. "She loved the little kids, loved teaching them to read."
Bill described his mother as a very friendly person, who was always out and about, as secretary of her bowling league at the Shirley Bowl America in Alexandria, playing Bridge and spending time with her retired teacher friends. "The message on her answering machine said 'I'm either at Bingo or Giant,'" Bill said.
Before coming to Springfield, Davenport began teaching at the Air Force dependent school Évreux-Fauville Air Base near Evreux, France. That was where she met the man she would marry, First Lt. William G. Davenport of Greenfield, Mass.
Davenport is survived by Bill and his wife Francesca, Bill's sister Jennifer Mitchell and her husband Vince, grandchildren Phineas and Oscar, and numerous nieces and nephews. She was preceded in death by her brothers John David Brant, and sister Margaret "Mickey" Brant Adams.
A memorial service is scheduled for 2 p.m. on Sunday, March 6 at Grace Presbyterian Church, 7434 Bath Street in Springfield. Her interment will be in Arlington National Cemetery at a future date.