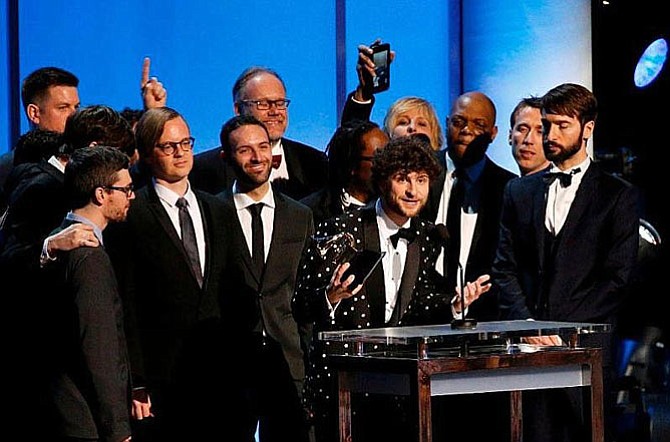 A 2002 Centreville High grad, Michael League is a living example of the importance of fine arts in the school system. Besides being a four-year member of Centreville's Theater Department, he played bass in the school's orchestra, jazz band and choir back-up band.

A creative and talented musician, he later began his own band, Snarky Puppy, while majoring in bass jazz performance at the University of North Texas. And on Monday, Feb. 15, his band won its second Grammy award.
In 2014, Snarky Puppy scored a Grammy award for Best R&B Performance for its cover of Lalah Hathaway's song, "Somethin'. This time — in collaboration with the Dutch ensemble Metropole Orkest — it captured the Grammy for Best Contemporary Instrumental Album for "Sylva."
The 58th Annual Grammy Awards ceremony was held at night at the Staples Center in Los Angeles. But earlier in the day, Snarky Puppy and Metropole Orkest received their award.
"It was one of 75 awards presented online during the pre-telecast show," said League's mother, Sylvia, formerly of Little Rocky Run. "I watched it and was ecstatic — over the moon."
Playing a mix of jazz, funk and world music, Snarky Puppy is a Brooklyn, N.Y.-based, instrumental-fusion band led by Michael League, 31, an award-winning bassist, guitarist, composer, arranger and producer. It's comprised of some 43 musicians who play a variety of instruments ranging from guitars to pianos, keyboards, strings, woodwinds, percussion and brass.
"Sylva" was the group's ninth album and its first with Metropole Orkest. It was a live recording done last year in New Orleans, just before Mardi Gras. League wrote most of the music for it and arranged it together with Metropole Orkest's conductor, Jules Buckley.
"The album's about people walking through different forests in their lives, some real and some metaphorical," said Sylvia League. "We were hoping they'd win. And a couple of their contenders were bands they looked up to, so they were honored just to be nominated in the same category."
Their album, "Sylva," was also a hit with the fans, topping Billboard Jazz, Billboard Contemporary Jazz, Billboard Heatseeker and iTunes Jazz charts. And Snarky Puppy's newest album, "Family Dinner, Vol. II," was just released Feb. 12.
Snarky Puppy also serves as a production team and session band for other performers. It's held workshops, music clinics and master classes for aspiring, young music students throughout the world. And some of its members are doing their own albums. League, for example, also performs with the jazz band, FORQ.
Snarky Puppy's members rotate performing with the group, according to their schedules, with a core of about 13 — including League, their only bass player — onstage at any given time. They also have an intense tour schedule; over the past eight years, they've given more than 1,200 performances.
"They perform in the U.S. and internationally," said Sylvia League. "And at one point last year, they did 120 gigs in 121 days. They've been at it for 12 years now, and it's a very tough business. Our family is just thrilled and so proud that they're having so much success after all their hard work."