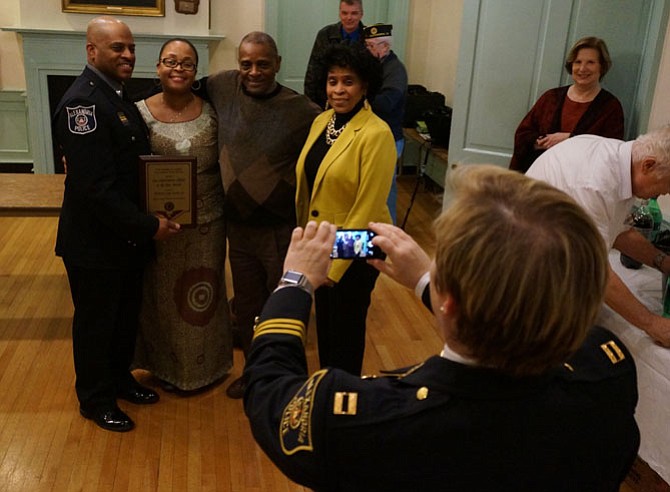 Alexandria Police officer Carl Stowe Jr. was presented with the 2015 Law Enforcement Officer of the Year award Jan. 13 by American Legion Post 24 in Old Town.
"During this last year, we have watched and read about numerous protests and movements around the nation that we believe unfairly villainize the law enforcement community," said Mike Mixon, chairman of the Legion's award program.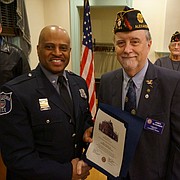 "We wanted to demonstrate our respect for the profession by chartering this special award."
— Post 24 award chair Mike Mixon
"We here at Post 24 wanted to counter that negative narrative and demonstrate our respect, love and support for the profession by chartering this special award."
The award is part of Post 24's Homeland Security Support program, which encourages membership involvement in homeland security-related activities.
Stowe's wife Jamine and parents Roberta and Carl Stowe Sr. attended the ceremony, along with APD Deputy Chief Eddie Reyes and Capt. Monica Lisle.
"Over a 22-year career, Officer Stowe has distinguished himself by exceptional meritorious service as a City of Alexandria law enforcement officer," Mixon said as Post 24 Commander Jim Glassman presented the award. "Throughout his career, Officer Stowe's professional skill and ceaseless efforts resulted in major contributions to the well-being, safety and security of all citizens and visitors to our city."

The selection board of Post 24 worked with the staffs of both the Alexandria Sheriff's Department and Police Department to solicit nominations for the award.
The ceremony, which also recognized Stowe's wife Jamine for her support of her husband's career in public service, was followed by a reception provided by Korean War veteran and American Legion Post 24 member Charlie Euripides of the Royal Restaurant.
"I am honored to be presented with this award," said Stowe, who was praised for his unwavering service to the city. "And I would like to thank the members of American Legion Post 24 for their service to our country and for their support of all our law enforcement officers throughout the city."