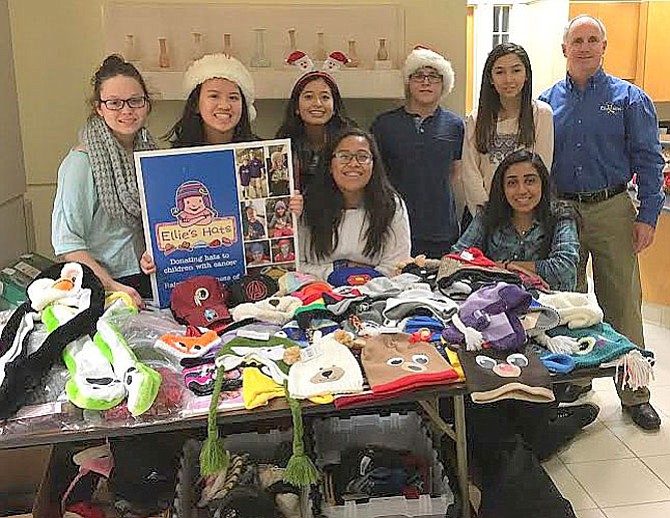 Centreville High sophomore Valerie Nguyen founded the Wildcats vs. Cancer club at her school to help others. But for her, the battle against this disease is also personal.
"I'm the sister of a sibling battling cancer and I was inspired by a one-week, residential camp I attended for brothers and sisters of cancer patients," she said. "I was a counselor-in-training there, working with other siblings like me. And I realized that, no matter the age, we all faced the same struggles daily. So I wanted to give back to other families in the same situation."
The result was Wildcats vs. Cancer, which club president Nguyen started with her best friend, junior Shannon Lyons, the vice president. It began in October 2015 and now has 42 members.
"At the same time Valerie's sibling was diagnosed, I had a friend battling cancer," said Lyons. "So I scheduled and participated in Pajama Day for him. Kids come to school in pajamas on a Friday and each donates $1 or more for childhood-cancer research."
The club meets once a month and usually holds monthly events. In January, it teamed up with DC Candlelighters and Pediatric Specialists of Virginia (PSV) — a group of Inova hospital doctors who treat children with cancer. Nguyen spoke to them about the club and also told parents how teens can become involved in it.
"And while she was speaking, our club members did activities with their children at the Life with Cancer facility in Fairfax," said Lyons. And in mid-December, the students also helped with Life with Cancer's holiday party for children. They also hosted and sponsored a toy collection and gift-wrapping event with CYA (the Chantilly Youth Association) for that party.
"It was so nice to see the kids sit on Santa's lap and open their presents," said Lyons. "And we also volunteered at the DC Candlelighters Halloween party."
"We played games, told fortunes, gave out candy and did face-painting," added Nguyen. "And we had a photo booth and did crafts, like decorating pumpkins."
In November, Ellie's Hats talked to the club members about its hat collection for pediatric cancer patients. "And then, with the help of the Centreville High Key Club, we collected 150 hats for children fighting cancer," said Nguyen.
"We got to see them pick up the hats we'd collected at the Christmas event," said Lyons. "And it was exciting to see them with their hats on. I brought one with a Superman cape on the back, and a little boy was running around trying to make it fly."
"There was also a Build-a Bear station, and it was fun to see the children's faces lighting up with joy while stuffing their bears," said Nguyen.
At the club's Jan. 20 meeting, the members put together goodie bags for cancer patients and their siblings at Inova Fairfax Hospital and the PSV clinic in Falls Church. They contained craft kits and small games for Valentine's Day.
"We'll also participate in the Relay for Life in June with students from our school, plus Chantilly and Westfield high schools," said Lyons. "And in the spring, I've planned a carnival for the pediatric oncology patients at their new building connected to Inova Fairfax Hospital."
She said she and Nguyen "didn't expect as many kids to have the same feelings about the club as we do and to be excited about helping at our events. So it's good to know how many people care."
"And it's great to see people who've also been touched by cancer — or know someone who has — give back," said Nguyen. "And seeing the children's joy at, for example, the holiday party, we realize that — although people may have cancer — they still laugh and enjoy the same things every human being does. And it spurs people's compassion."
"It also opens their eyes to see patients in different stages of their cancer journey," added Lyons.
"And it was really touching to see the strength of families and how a terrible disease brought them together," said Nguyen. "It makes them treasure and value every, single moment together."
Lyons said they learned that, "Whenever we talk to cancer patients, we never say, 'Goodbye,' but 'See you later.' It makes me more grateful about the regular activities I can do that others may not be able to."
"And it makes me see how important family is and that they'll always be there for you," said Nguyen. "And, at the end of the day, they'll always love you. Having cancer touch my family definitely brought us closer together and gave us a better, mutual understanding of each other."
Lyons said the club members make friends with each other and bond by sharing their personal experiences. And members who've had cancer in their family "feel good about being able to give back in ways they couldn't to their own loved ones," said Nguyen. "I like being able to help others like me because no one should ever have to fight cancer alone. When one person in a family has it, the whole family goes through it together. And it makes you appreciate what you have."
Club sponsor is P.E. and health teacher Katherin Strobl. "There's simply nothing that stops Valerie from reaching a goal," she said. "Last year, she initiated a tutoring club for athletes. She saw a need and acted on it. Wildcats vs. Cancer has been no different."
"The members have volunteered at Halloween and Christmas events, made crafts, donated hats and given up a lot of their time to help with this club," continued Strobl. "That can be rare at this age. Kids are traditionally egocentric and have little time to dedicate themselves to anything outside of sports, academics, family and friends. It's been refreshing to see kids involved in something so important and meaningful. It restores a teacher's faith in teenagers sometimes."
Although Strobl's the club sponsor, she says Nguyen and Lyons have done all the work. "These girls and the club members are so special," said Strobl. "They've accomplished so much in a short time. I'm hard to impress, and they've done it."
Lyons hopes someone will take on the club after she and Nguyen graduate. "We hope to leave a legacy for others to give back to their community and advocate for awareness of how cancer affects patients and their families," said Nguyen. "And I can honestly say this is one of my proudest achievements. I was able to not let something that happened to me define me, but to use it to help others in similar circumstances."
For more information about the Wildcats vs. Cancer club or to join, email her at valerieunguyen@gmail.com. "You don't have to be touched by cancer to join," said Nguyen. "Anyone's welcome."