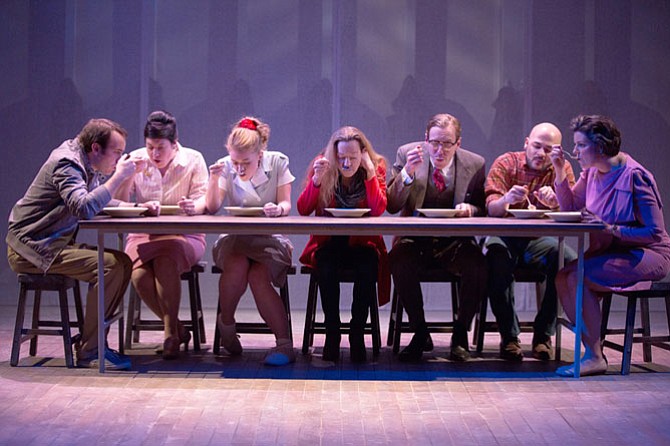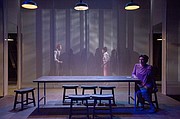 Where and When
1st Stage presents "When the Rain Stops Falling" at 1524 Spring Hill Road, Tysons.
Performances through Feb. 28. Fridays at 8 p.m., Saturday 2 p.m. and 8 p.m., Sundays 2 p.m. and 7 p.m. Tickets: Adults $30, Seniors (65+) $26, Students and Military $15.
Call 703-854-1856 or visit http://www.1ststa...">www.1ststagetyson....
Note: Wheelchair accessible.
For those seeking out a singular achievement into unapologetic mature themed theater, 1st Stage's production of "When the Rain Stops Falling" will etch itself into audience thrall. Written by playwright Andrew Bovell, "When the Rain Stops Falling" is a deftly crafted, dense family saga named the best new play of 2010 by TIME Magazine
"When the Rain Stops Falling" begins with the sound of heavy rain falling. Eight people scurry and weave about the stage with umbrellas open trying to dodge raindrops. A man stops. A fish mysteriously falls out of nowhere with a loud thud. The man screams to the heavens. The audience is soon hooked into mystery and an unusual production structure. Characters, young and old, male and female, try to make sense of their jumbled lives. The play crisscrosses the geography of Great Britain and Australia while zigzagging from the future to the past and back again in the period between 1953 to 2039.

Under Michael Dove's penetrating, textured direction the audience experiences the attempts at emotional intimacy of each character as they journey into what makes them tick. Each is trying to decipher why so little honest information has crossed their path. What could be so dreadful that it has to be totally obliterated from view? What leads some to drink, others to be caustic and some to disappear?
The eight-member ensemble provide genuinely moving performances. They inhabit their characters. Before the audience's eyes, actors become a strikingly blended family. As a cast they have emotional wallop, whether speaking the most fraught words or in silences at a table eating together. The poetic cadence of their dialogue has recurring motifs that become hypnotic.
The compelling performances are by actors well-matched so they thoroughly echo one another. The cast members are Scott Ward Abernethy, Mark Lee Adams, Frank Britton, Teresa Castracane, Kari Ginsburg, Amy McWilliams, Dylan Morrison Myers and Sara Dabney Tisdale.
Luciana Stecconi's set design, Kelsey Hunt's costume design, sound by Sarah O'Halloran with lighting by Brittany Diliberto are seamlessly top-notch. The audience is plunked down into various worlds just with a barely transparent gauze-covered frame that provide the appearance of living spaces with minimal furnishings, a window to scan the world from and ever present rain.
There is ultimate forgiveness and some understanding as the production reaches its final curtain. "When the Rain Stops Falling" is a beautifully rendered, intermission-free 1st Stage production especially for the discerning.