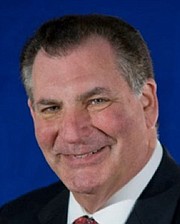 Paul A. Frank, founding principal of Paul A. Frank Consulting, has been named the new executive director of the Alexandria Symphony Orchestra. He replaces Jessica Wissner, who held the position since 2012.
Frank has experience in strategic planning and fundraising, with strengths in community building and arts management. Prior to establishing his consulting service, he served as CEO of the Collingwood Library and Museum as well as executive director for the Friends of the Torpedo Factory Art Center. Most recently he was the interim executive director for the McLean Orchestra.
"Serving as the executive director for the ASO provides a unique opportunity to participate in the profound activity of searching for and bringing on a new music director, inject new energy and experience to the position and work with a dedicated board of trustees that is growing and developing," said Frank, who is also an accomplished musician.
Frank is active in community groups and leadership and participates in the chambers of commerce for Alexandria, Greater McLean, Fairfax County and Mount Vernon-Lee. He is also active in the Alexandria Rotary Club and Alexandria Arts Forum and other groups in leadership positions.
The ASO is currently in its second year in search of a new music director and conductor, following the departure of Kim Allen Kluge. Kluge was at the helm of the ASO for 28 years. The current 73rd season for ASO is underway featuring guest conductors presented at two Alexandria venues: Schlesinger Concert Hall and the George Washington Masonic Memorial.
"My goal is to make an impact," Frank added. "It will also be satisfying to work and serve the community in which I live."
For more information, visit www.alexsym.org.