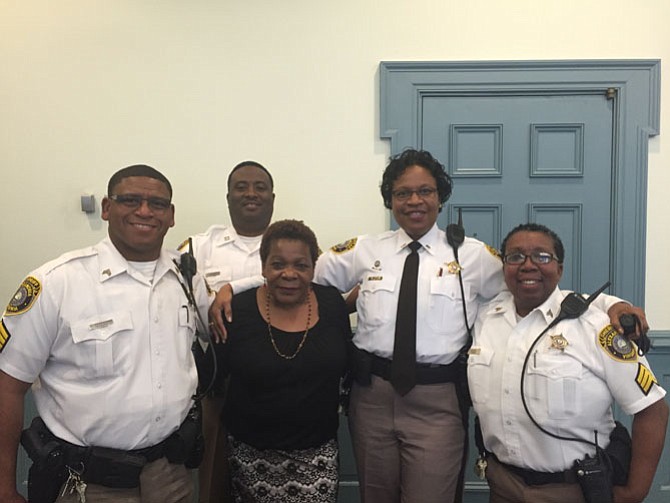 After 16 years as a deputy, Marion Jackson is officially Clerk of Courts in Alexandria General District Court.
During ceremonies on the second floor of the Backus Courthouse, she was sworn in by Chief Judge Becky J. Moore at noon, Tuesday, Dec. 13 surrounded by other judicial and courthouse officials.
Judge Donald Haddock Jr. of the General District Court also participated.
Jackson joined the clerk's office in 2000 after a distinguished military career.
"She possesses a wealth of knowledge and experience, and she believes in public service. We are pleased and fortunate to have her as our clerk of court," Moore said.
On hand for the swearing in were retired Chief Judge Robert Giammittorio, retired Judge Robert T. S. Colby and longtime circuit court clerk Edward Semonian.
Joining in the festivities were members of the court supervisors from the city's sheriff's office. They provide security for each of the courts — two each general district and juvenile and domestic relations and three circuit.
The security team included Capt. Shelbert Williams, Lt. Melissa Josiah, and Sgt. Debra Hall and Sgt. Larry Richardson.
While Jackson received accolades from Moore and Haddock she pledged: "To the judges, I won't let you down. I want to promise the public, to local and state agencies [and law enforcement]... I will do everything in my power to make this office efficient, safe, and accommodating for you."
Moore said, "She's smart and knows the court inside and out. She's a voice of reason in a court desperate for it with tens of thousands of cases each year. We're very pleased to have her serve as our Clerk of Courts."
Haddock added: "[Marion] is the best person you could have for the job."
She is the first African American to hold this position in Alexandria.
Jackson succeeds JeAnne Rosson who retired after 30 years service. The new clerk resides in Woodbridge.