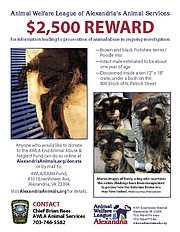 On Sunday, Aug. 14, the Animal Welfare League of Alexandria (AWLA) was contacted by a couple who had discovered a dog abandoned in a crate under a bush on Patrick Street in Old Town Alexandria. The crate was dirty, containing feces and urine. The dog, a black and brown male Yorkshire terrier mix wearing a purple collar with no tags or microchip, was transported to VCA Alexandria Animal Hospital for emergency care.
An examination of the non-responsive animal revealed a dog, coat matted with filth, suffering from dehydration and labored breathing — a possible case of severe heatstroke. Despite treatment, the dog could not be revived. AWLA has requested a necropsy to confirm the cause of death.
AWLA is asking the public for any information about the identity of this dog and is offering a reward for any facts that lead to the successful conviction and prosecution of the person(s) responsible.
Anyone who would like to contribute to the AWLA End Animal Abuse and Neglect Fund can donate online at www.AlexandriaAnimals.org/donate
or by mail to AWLA/EAAN Fund, 4101 Eisenhower Ave., Alexandria, VA 22304. This fund is used to provide rewards in criminal investigations of animal abuse and neglect and to provide veterinary care for animals rescued from these situations.
AWLA emphasizes that in situations of extreme heat, animals should not be left unattended or without access to water. The AWLA asks that rather than allowing an animal to suffer in the city of Alexandria, it be brought to the shelter for assistance. For more information, call Chief Brian Rees of Animal Services at 703-746-5582, or email brees@alexandriaanimals.org.