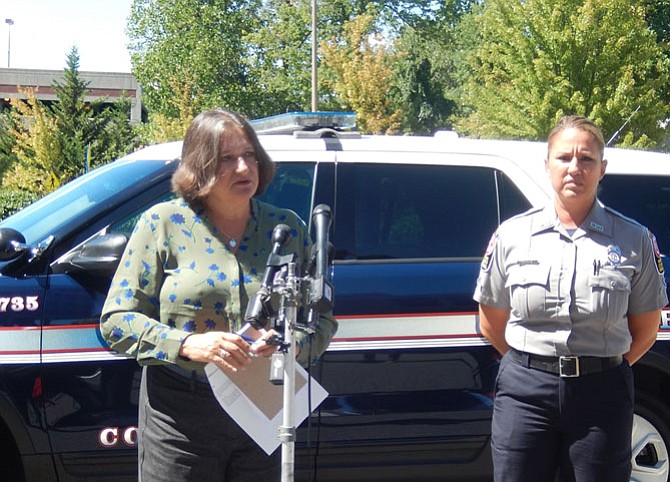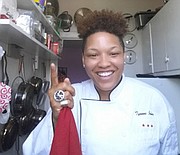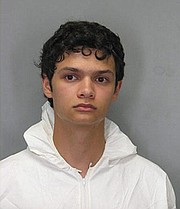 Weddings are normally happy affairs that don't end in tragedy. But an argument over folding chairs after a Saturday wedding in Chantilly's Ellanor C. Lawrence Park resulted in a woman's death and a man being charged with murder.
The victim was the event's chef and caterer, Tyonne Johns, 35, of Washington, D.C. Fairfax County police say her alleged assailant was Clifton resident Kempton Bonds, 19, a 2015 graduate of Robinson Secondary School and a seasonal employee of the county Park Authority.
"I was very close friends with him," said Nik Martin, 19, of Burke. "We met in our freshman year at Robinson, and I can't imagine him doing something like this."
The wedding was Aug. 6 at historic Cabell's Mill, a popular venue for weddings and other events within E.C. Lawrence Park. The next day, the police and Park Authority held a press conference to explain what happened.
"Saturday, around 9:24 p.m., police responded to the park for a call Bonds made for disorderly conduct and loud noise made by the wedding guests," said police spokeswoman Monica Meeks. "Some of the people then left, and police said things were calm when they left."
Then, she said, about 10:50 p.m., another call came in from that location. But this time, it was regarding a stabbing. Police said Bonds and Johns didn't know each other previously, but had argued earlier that evening, leading up a heated altercation as the event ended.
The chairs for the wedding had been supplied by both Chef Tyonne Catering Co., owned by the victim, as well as by the Park Authority. According to Meeks, witnesses said Johns was starting to pack up the folding chairs, but Bonds told her the chairs belonged to the park, and the two began to argue. And, she added, "The suspect may have cut off the music a little early."
Police said the harsh words culminated in Bonds allegedly stabbing Johns with a knife. Meeks didn't know how many times she was stabbed, but said it was in the upper body. "It was a pocket knife, maybe a 3-inch blade," she said. "But I haven't seen the knife, myself."
Meeks said police "have no knowledge of any, particular motive" for the victim's killing. She said the victim went by Chef Tyonne and "appears to be well-known in the D.C. Metropolitan area."
After sustaining life-threatening injuries, Johns was taken to a local hospital where she was pronounced dead. Bonds, who stayed on the scene, was arrested and charged with second-degree murder and is being held without bond in the county's Adult Detention Center.
Bonds was also fired by the Park Authority, pending the outcome of the investigation. Major Crimes Division and Crime Scene detectives responded to the scene to investigate. There, they recovered the knife to hold as evidence.
Anyone with information about this crime is asked to contact Crime Solvers at www.fairfaxcrimesolvers.org, text "TIP187" plus a message to CRIMES(274637) or call 1-866-411-TIPS(8477) or police at 703-691-2131.
Park Authority spokeswoman Judy Pedersen said Bonds had worked for the entity for a year. "We did a background check before hiring him and nothing criminal came up," she said. "And since then, we received no reports of problems with him."
She said Bonds prepared sites for events and solved any problems the people putting on the events might have. And while some Park Authority jobs involving food might require employees to bring a knife with them, Pedersen said, "We wouldn't anticipate this job would have required him to have a knife."
"We're shocked at this tragic event and express our deepest condolences to the victim's family," she continued. "We have 600 regular and 2,500 seasonal employees and 426 parks. 23,000 acres of parkland and 18 million visitors a year. So unfortunately, when we have these kinds of numbers, things will happen. But our parks are safe."
Still, added Pedersen, "We'll take another look to make sure we're ensuring the safety of the public and our employees. This was an isolated incident between these two people."
Martin and Joey Garcia, who both graduated from Robinson with Bonds, were at the press conference outside police headquarters. Afterward, Martin described Bonds as a quiet, calm person who never held a grudge or had a quick temper. So, he said, "I was flabbergasted because this was out of character for him."
Martin said they originally met in Robinson's Rifle Club and that Bonds planned to transfer from NOVA to VCU in the fall to start his sophomore year there as a communications major. Shaken up by his friend's arrest, Martin said, "This is all so surreal to me."
He said Bonds called him Saturday at 7 p.m. and told him he'd been at a wedding where some of the people had given him a hard time. "He said people were upset about some of the regulations he had to enforce. For example, they couldn't hang anything on the walls."
But Martin didn't hear about the murder until Sunday, when a friend called to tell him. Stunned, he immediately went to Bonds's home in Clifton to see his mother. "His father died a few years ago from cancer," said Martin. "His mother was devastated. She said, 'I just want to get my boy back.'"
Garcia said Bonds was hospitable, a "really nice guy and fun to hang out with. He'd give me a hug and smile when he saw me. He was going to be our roommate at VCU."
"Joey and I are both criminal-justice majors so, naturally, we want to learn about the investigative process," added Martin. "And with this hitting so close to home, we'd like to help any way we can."
Like Martin, Garcia was also having a hard time believing that Bonds, the friend they knew so well, was now behind bars, charged with murder. "It's really shocking to me," said Garcia. "I couldn't have foreseen him doing this act."