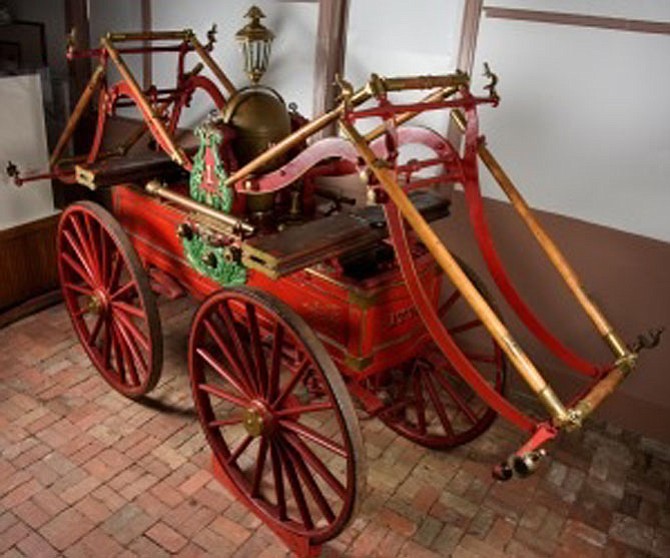 He may not be Willy Wonka, but Dave Borghesani knows his chocolate. As chocolate history research manager at Mars Chocolate North America, Borghesani travels the country telling the story of the role chocolate has played in society for more than 3,500 years. On Aug. 4, he will give a special presentation at the Lyceum to kick off a fundraising campaign on behalf of the Friendship Veterans Fire Engine Association.
"This event is in support of our conservation fund for two pieces of apparatus," said Friendship Veterans Fire Engine Association board member Bill Kehoe. "Our overall goal is $300,000 but once we raise $150,000 we can get the first piece of equipment to the restoration company, which we hope to do by spring of next year."
Proceeds from the event will help fund the preservation of two firefighting vehicles on display at the Friendship Firehouse Museum: the Rodgers Suction Engine, built in 1851, and the Prettyman Hose Carriage, built in Alexandria in 1858.
"The Rodgers Suction Engine is the flagship of the Friendship Firehouse Museum's vehicle collection," Kehoe said. "From a distance, it looks pretty sound, but closer inspection reveals cracked and peeling paint, split wood, minor damage and bad repairs. A full conservation treatment will preserve what remains of the original 1851 appearance."
The Prettyman hose carriage has extensive cracked and peeling paint and conservation plans call for a complete documentation of all paint layers on each component, saving the traces of original finish that remain and replicating some of the missing pieces such as the original etched-glass lamp.
"Another fundraising event will take place Aug. 5 with a special curator's tour of Friendship Firehouse followed by a reception at Taverna Cretekou restaurant," Kehoe added.
On Saturday, the 242nd annual Friendship Firehouse Festival will take place in the 100 block of S. Alfred Street and will celebrate the 150th anniversary of the Alexandria Fire Department.
"This year kids will have the opportunity to 'fight a fire' with a real hose, water and 'building on fire,'" said Kehoe. "The fire department will also offer hands-only CPR training to all who want it and we'll have fire bucket brigade races with teams competing to see who can carry buckets of water fastest to put out the 'fire.'"
The event will feature a collection of antique fire equipment and a display of modern fire trucks and apparatus courtesy of the Alexandria Fire Department. Each child attending will receive a free fire helmet. Other attractions include craft booths, community information tables and the Rocklands Barbeque and Grilling Company food truck. Free birthday cake will be served at 11 a.m.

Now a philanthropic organization focusing on fire and life safety, the Friendship Veterans Fire Engine Association has also announced a special limited edition firemark for purchase to support the conservation fund.
"These firemarks are approximately 8" oval plaques painted and made of cast iron," said board president Joe Shumard. "They are similar to those made in the 18th and 19th centuries to identify buildings for fire insurance purposes. The lettering will be raised, there will be two holes at the top so it can be hung and there will be a fixture on the bottom so a pole can be attached to it so it can stand up in a garden or front lawn if desired."
The firemarks will be available for pre-sale at a cost of $150 at the Special Curator's Reception at Friendship Firehouse Museum on Friday evening and at the Friendship Festival in the 100 block of S. Alfred St. on Saturday from 9 a.m. until 2 p.m.
For more information on any of these events, visit www.friendshipfire.net.