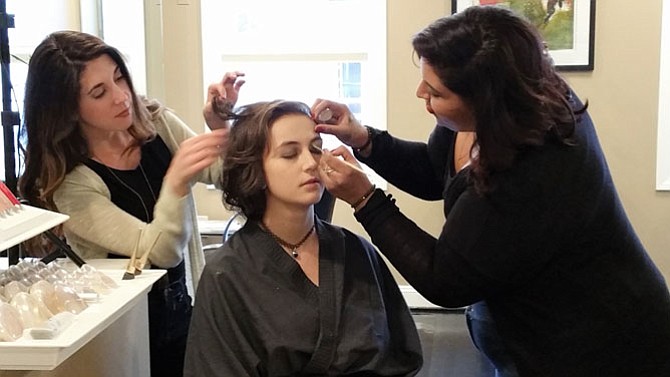 Elisabetta Cantatore, 19, of Great Falls was named Miss Teen Virginia on Sunday, April 3 in Richmond, beating out 700 teen applicants from across the Commonwealth of Virginia, and 122 girls at the pageant itself.
What sets her apart -- besides her fresh looks, strong personality, and tall 5-foot-11 stature -- is her confidence. "In the interview, they said, 'Where does that confidence come from?' I did theater, I'm used to being on a stage, so when I answered both my formal wear and finalist question, I had good tone; I didn't stutter. And during the casual routine, I blew a kiss to the audience," she said.
She added: "I'm good at pretending that I have a lot of confidence; I can make it look like I'm very confident."
Elisabetta speaks three languages and is the only child of Corrado Cantatore, a former Italian diplomat who is now running an international security agency, and Luigia Garzia a stay-at-home mom from Great Falls.

Although Elisabetta had never participated in beauty pageants before, she decided to attend the preliminary section on a whim, just to see what it was all about.
She got a letter saying she was invited to the preliminary in Reston; originally her dad was against it, but her mom was in favor. So she attended the information session with a short interview where they asked her to describe herself and her hobbies. After receiving a letter of acceptance, she prepared by calling her ex-boyfriend's mom, who was a former Miss Kentucky, who gave her some valuable tips.
"We went through her closet and I tried on her evening gowns," she said. She ended up wearing her blue dress, which actually fit her, in the formal wear portion of the competition. The next step was getting sponsorships from local businesses, including the Old Brogue in Great Falls. She also went to a training session where she was briefed on the interview and taught the modeling routine.
"We had to wear shoes so we could practice walking," she said. "I had to choose a formal gown and casual wear outfit. I wore a flower crown and a long jumper that was very hippy and natural." She got her nails and eyebrows done, then drove to Richmond for the competition.
ON SATURDAY was the personal interview with the judges where each girl had two minutes to best show off their personalities. "They said I was a confident person and I told them about theater and what I did in school," she said. She then went back to the hotel and the next day they had a walk-through in the morning and she received her formal wear question.
Everyone did their casual-wear routine and then their formal-wear routine. Her question was: "What is your most important goal and why?"
She said she met a lot of really cool girls and bonded with some. They called the top 20 finalists and then the top 10. "My question was, "What is the hardest part of being a teenager," she said.
"They started calling the runner ups and I thought I wasn't going to win. Finally, they called number 54, Elisabetta Cantatore, then I was shocked. I think I was in too much shock to cry. It was a spur-of-the-moment thing; I didn't expect to get as far as I got. They put the crown on my head, gave me the sash, and gave me a very big trophy."
"I feel really honored," she said of the win. "Since it's Miss Teen, it was also on personality and charm, so I really feel honored that the judges thought I was qualified to take the title. It's a whole new experience; it was very eye-opening to see how the whole process worked and to be a part of it and to win; that was really awesome."
After the competition, her mother Luigia said she was very proud watching the video the next week and was very emotional. But she said Elisabetta came back from Richmond that night and immediately started studying. "I felt very strange because she doesn't care maybe too much," she said. "I left the crown, trophy and sash on the table and she didn't look at them. I was very surprised."
For winning the Miss Teen Virginia pageant, Elisabetta receives an all-expense paid trip to Orlando, Fla., for the national Miss Teen USA pageant, which includes the cost of airfare, hotel and food for the whole trip. The winner of the national pageant will receive a $30,000 scholarship.

During the competition, her pageant "platform" was on teen mental health. "I talked about how high school was difficult for me and how I went through some things," she said. "I want to make sure I can help people to make sure they don't feel as alone as I did, young or old."
When she moved to this country at age 6 from Italy, she didn't speak a word of English. "People made fun of my Italian accent, so I tried really hard to lose the accent," she said. While a student at Langley High School, she said it was difficult for her to find her stability.
But things are much better for her these days. Elisabetta is currently a sophomore at George Mason University studying psychology with a minor in criminology; she's also on the dean's list. She hopes to attend graduate school in forensic psychology and later become a therapist for troubled adolescents or a forensics psychologist. This week, she's juggling finals at GMU, writing research papers and trying to balance everything. "I don't sleep very much," she added.
HER HOBBIES include theater, acting, directing and makeup. She also enjoys crafting, experimenting in cosmetic makeup, outdoor adventures, swimming, walks and hikes in nature. "I'm really an outdoor person when the weather's nice," she said.