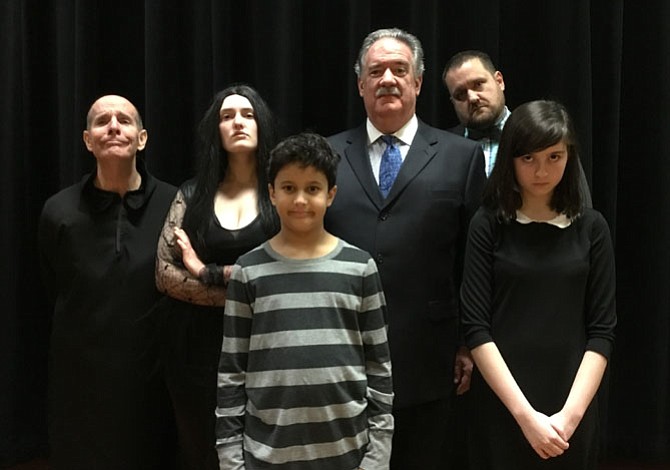 Gomez, Morticia, Lurch and the rest of the gang from the classic TV show, "The Addams Family," will come to life onstage when The Alliance Theatre presents the musical comedy of the same name. The show runs three weekends, April 29-May 15, at Mountain View High, 5775 Spindle Court in Centreville.
Wednesday Addams, the ultimate princess of darkness, has grown up and fallen in love with Lucas, a nice, young man from a respectable family, but hers is anything but normal. And when the Addamses host his family for dinner, the two worlds collide and hilarity ensues.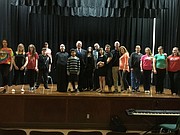 The cast and crew of 30 has rehearsed since January, and the scenes take place inside a rundown castle with a monster gargoyle head on the wall, cobwebs, purple drapes and candelabra. Playing the patriarch, Gomez Addams, is Centreville's Jim Mitchell, an Alliance veteran making his return to the troupe in dramatic fashion.
"Gomez is a Spanish, Latin lover, proud of his romantic prowess and of his family," said Mitchell. "He's a good father and absolutely adores his wife. He's the very funny head of an offbeat family, trying to hold everybody together, even when they're moving in opposite directions."
Although Mitchell's acted steadily, it's been six years since he's worked with Alliance, And, he said, "I'm having a ball. I'm back with many of my old friends in this show. At times, Gomez is campy, and at times, he's serious, so the role runs the gamut from comedy to touching sentimentality."
In "Happy/Sad," Mitchell sings about the conflict of Gomez having a child growing up and leaving the nest and him being happy and sad at the same time. "And as a father who's gone through that, it really gets to me," he said.
Calling the comedy "timeless," Mitchell said, "From the opening number, we're going to grab the audience by their collars and take them on a joyride through the whole show. They'll hear beautiful voices singing wonderful songs and they'll see amazing dancers acting out those songs, plus terrific acting. This show has it all."
Grace McCarthy portrays Gomez's wife, Morticia. "She's headstrong and almost mystical," said McCarthy. Her movements are slow because she lives in the moment and knows she has everybody's attention. She's dark and dreary, but in her own, loving way."
"She lets Gomez run the household until she feels like he's doing it wrong, and then she'll take over," continued McCarthy. "They're absolutely in love and, even after 25 or 30 years, it's just complete passion and they think exactly alike."
McCarthy said Morticia is dominant without being boisterous and "I've really tried picking up my character's nuances and subtleties. It's a challenging role, but I'm a singer, myself — that's my sweet spot — so her songs are a breeze for me. My favorite is 'Secrets;' it's a saucy tango and I get to be angry in it and belt it out at the end."
She said this show has "a special kind of happiness that's hard to achieve in everyday life, and it'll make the audience want to be in that happiness and be part of that family."
Playing Wednesday is Lucia LaNave. "She's always been the icon of darkness, and the story's about her almost morphing into someone with feelings who wants to know what love is like — that's what she gets with Lucas," said LaNave. "She's often hesitant to let herself go, except when she's with him."
"I love this role because I get to explore this level of love," she continued. "And I'm optimistic and cheery, so it's fun to play someone who's my polar opposite. She also has amazing songs. I like singing 'One Normal Night,' in which Wednesday's begging her family to be normal for just one night. And 'Pulled' is my big solo about her being pulled in a new direction. It introduces the new Wednesday, and you see her change before your eyes — it's very cool."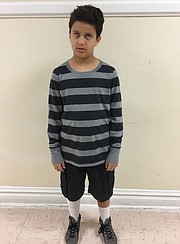 LaNave said people will both enjoy and relate to this show's "sweet story about family dynamics."
Kathy Young plays Grandma. "She's 102, and I can't wait 'til they make me up to look that old," said Young. "She's a feisty, little thing; nobody knows whose grandmother she is, but she's part of the family. Grandma's a lot of fun and makes her own herbs, potions and remedies. At some point, she tries to be normal, but she doesn't understand what normal is. She has a soft spot for [her grandson] Pugsley, but is mainly spunky. She's energetic and witty and has some great lines."
Young especially likes the show's opening number, "When You're an Addams," because there's finger-snapping and the family's ancestors come out of their crypt. She said the audience will love the play's funny characters, and "The music is great. The cast gels so well together, and it's just a fun show, all the way around."
Portraying Uncle Fester is Mike Cash. "He's zany and unpredictable, a romantic and funny," said Cash. "He has great songs, including a romantic number, 'The Moon and Me,' a beautiful ballad. And he has great quips and punchlines. It's wonderful playing him because I get a license to be ridiculous — which is my specialty."
Besides that, said Cash, "It's a 10-year reunion for me and my cast mates from Alliance's 2006 production of 'The Wizard of Oz.' I was the Scarecrow; Billy Clay, the Tin Man; Jim Mitchell, the Cowardly Lion; John Totten, the Wizard; and Kathy Young was in the ensemble. And we all had great chemistry, which we're re-creating now."
Cash said most of the leads are seasoned actors and the audience will be transported somewhere else for two hours "to enjoy themselves and forget all the things that weigh them down. They'll laugh from start to finish."
"The whole cast is fantastic," added Director Leslie Anne Ross. "This is the role of a lifetime for Jim – he's perfect for it – and Grace has a fabulous singing voice. The mainly female dancers comprising the chorus of Addams family ancestors are all phenomenal, and the audience will love all the singing, dancing and funny double entendres."
To Go
Show times are Friday-Saturday, April 29-30, May 6-7 and May 13-14, at 7:30 p.m., and Sunday, May 15, at 2 p.m. Tickets are $16-18 at www.theallianceth....