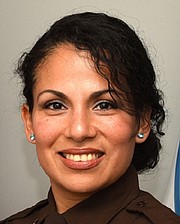 See more 2016 Valor Awards photos on Facebook.
It was Halloween night when Alexandria police officers Matthew Barnickle and Richard Vergara were dispatched to the scene of a motor vehicle crash. When they arrived, they found a car on fire with reports of a passenger trapped inside.
As other officers and first responders arrived on the scene, Barnickle and Vergara ran towards the smoke-filled vehicle only to discover that the driver was unconscious and the doors were locked.
At the same time, the car's wheels were spinning as the weight of the driver continued to press on the gas pedal. Halted only by a second vehicle that had been hit in the crash, the car slowly inched forward as black smoke continued to overtake the scene.
Barnickle acted quickly, breaking a rear window so that he and Vergara could unlock the vehicle, release the driver's seat belt and remove the unconscious driver just moments before it was entirely engulfed in flames.
On April 20, Barnickle and Vergara will be presented Silver Medals for their heroism as the Alexandria Chamber of Commerce honors the city's first responders at the annual Public Safety Valor Awards.
Sponsored by Inova Alexandria Hospital, the awards program honors personnel from the Alexandria Police Department, Fire Department and Sheriff's Office for exemplary actions that go above and beyond the call of duty.
Other honorees include Officer Stephen Riley, who will receive a Bronze Medal for diffusing a life-threatening domestic violence situation on New Year's Day, 2015.
Life Saving Awards will be presented to Deputy Cinie Beardon, Firefighter Kristina Holt, Deputy Myrna Juarez, Deputy Manuel Lee, Officer Jonatten Lopez, Officer Alexa Mastrostefano, Deputy Devon Neckles, Deputy Joseph Runquist, Officer Carl Stowe and Captain Jason Wehmeyer.
Certificates of Valor honorees include Sergeant Daniel Plank, Sergeant Patrick Taylor and Captain Wells Wilson.
The 2016 Valor Award, hosted by News4 Today anchor Eun Yang, will take place April 20 at Belle Haven Country Club at 11:30 a.m. For tickets or more information call 703-549-1000 or visit www.alexchamber.com.