Lisa Houston Dodson and Jerry Wayne Dodson, of Holly Springs, Miss., announce the marriage of their daughter, Emily Gray, to Grant Adair Sparks, son of Mr. and Mrs. Philip Lee Sparks of Alexandria.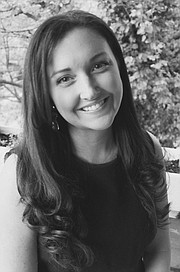 The bride-elect is the granddaughter of Russell Gray Houston, Jr. and the late Eleanor Loretta Houston of Holly Springs, Miss., and the late Mr. and Mrs. William Aubrey Dodson of Holly Springs, Miss.
The prospective groom is the grandson of the late Capt. and Mrs. Winston Lee Adair of Williamsburg, Va., and the late Mr. and Mrs. Harold Arthur Sparks, Jr. of Williamsburg, Va.
Dodson was the valedictorian of the Marshall Academy Class of 2004. She graduated from Mississippi State University in 2008 with a Bachelor of Political Science and Leadership Studies. She was a member of the Delta Gamma Sorority. She continued her studies receiving a Master's of Public Policy and Administration in 2010. Dodson served as 2004 Holly Springs Pilgrimage Queen. She is currently a senior program manager with the International City/County Management Association in Washington, D.C.
Sparks is a 2004 graduate of T.C. Williams High School in Alexandria and a 2008 graduate of James Madison University with a Bachelor of Science in Public Policy and Administration. He was a member of the Alpha Kappa Lambda Fraternity. Sparks continued his studies at Clemson University earning a Master's of Urban Planning in 2015. He is currently the Transportation Planner for the City of Greenville, S.C.
The wedding will be held on Saturday, April 16, at the French Huguenot Church in Charleston, S.C. The Rev. Thomas Guerry will officiate the ceremony. After a honeymoon to Caneel Bay in St. John, U.S. Virgin Islands, the couple will reside in Greenville, S.C.
More like this story