Laura "Fayse" Howard lives in the house her husband Allen built in South Arlington. The side entrance looks out on bird feeders hanging from a tree he planted. There is a bench big enough for two in the garden. The kitchen is the way kitchens used to be: cozy, galley size. In the living room, there are pictures of family, an antique organ, crocheted blankets, and a rescued dog named Diva who is keeping an eye on things from "her" armchair.
It feels like home, and it has been home to the Howards since Laura, or "Fayse" as her husband nicknamed her, came to Washington from southern Virginia, at age 17, to work at the FBI, and met Allen Howard, who had just been demobilized after serving the Coast Guard on a destroyer escort in WWII.

It was here that Allen Howard, 91, died recently, at home, with his wife and daughter Joan, and his nighttime caregiver, by his side.

Allen Howard had dementia, he probably had it longer than anyone knew, his wife thinks. He was 91. At Christmas, a year ago, he started really showing it. He went upstairs to be by himself while his much loved family was visiting downstairs in the family room; that wasn't like him. He accidentally set things on fire in the kitchen, leaving burners on. He put the outside water hose into the dryer vent.
In January, they sought medical advice. Their neurologist did tests and reported that Allen Howard had dementia. His wife couldn't leave him alone anymore. She had a good neighbor up the street who would come watch him while she ran to the supermarket. Otherwise, she was with him, 24/7. He was disoriented. He kept on wanting to go home. He fell a lot.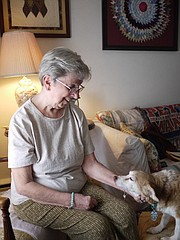 The neurologist prescribed physical therapy, but that fell apart when Allen didn't show any "progress;" Medicare and other insurance ends coverage when a patient reaches a plateau. It is a fairly common occurrence in Dementia care, because those patients are not going to show progress, but they need physical therapy, it's one of the most important ways to keep from losing ground: but it rarely even gets prescribed by neurologists.
Howard's daughter, Joan Davis, had come home for Christmas and saw how things were with her father. She didn't know how bad it had gotten, though, because over the next two months, her mother didn't let on how much the disease was taking a toll on both Allen as patient and Fayse as caregiver, or how little help they were getting. She didn't want to burden her children.
In late March, Howard called Arlington County to get hospice care set up because she had been told by their doctor it was a way to get help. When she called Arlington County's Office on Aging and Disability, she says they told her over the phone that he didn't qualify.
Arlington County offered people who would come over to clean the house or do errands, but no one who would stay with her husband. Everyone kept suggesting Adult Day Care, but Fayse Howard said, "No, he's upset enough. That will upset him more."
THAT WAS BEFORE the accident.
On May 12, as Fayse Howard guided Allen into the dining room for lunch, he fell backwards, on her, and she fell too, breaking her hip. They lay on the floor. Neither of them could move for a while. Then she helped him get up to a sitting position and asked him to try to reach the phone; he handed her the TV remote control. She talked him through it, finally getting him to pull on the telephone cord. "Just pull it down on the floor," she told him. She didn't call 911 first. She called her neighbor to come watch her husband before she went to the hospital.

Davis came out from Wisconsin to help as soon as she could: she was surprised things had gone downhill so fast with her father. She got the doctor to intervene on the hospice option: Allen definitely qualified for hospice services which began right away.
But that wasn't enough care. Davis started diving into the problem. She quit her job after 22 years, thinking, "I could always go back to work, but I couldn't always take care of my parents."
Davis had done research from her home in Wisconsin; she wanted to make sure her mother was never left alone with her father again. She knew there were many options for help in the Arlington area: the Elderly Disabled or Consumer Direction Waiver (EDCD), PACE, the Veterans Administration (VA) Hospital, Arlington County Office on Aging and Disability. Davis started keeping a journal to help her thread her way through the daunting maze of options.
Fayse Howard had already enlisted the help of Arlington County's office of Aging and Disability Services after the fall. She needed someone to come in and watch Allen while she was in the hospital. Arlington had given her a list of caregivers. Some were very good, and very expensive, she said. She paid out of pocket for the care. But later, when her daughter got involved, and because she stressed that both parents were disabled now, they were more helpful. Howard said, "I would have given up after the first voice message. My daughter just kept on them."

Davis filled out the "Common Help" application on May 18, and had a response from Arlington on May 22.
They worked with Rachel Sparico, the Human Services Technician. Rachel was able to set up care through an agency by May 24. Sparico was easy to get in touch with, nice, and caring, Howard said. She would even stop by the house occasionally to give them encouragement. Because both members of the family were disabled, Arlington provided paid care from 9 a.m.- 2 p.m. five days a week. But as soon as Howard's hip was healed the benefits stopped.
Howard said she was distraught and tired. "I just gave up", she said. "All I cared about was my husband and his comfort."
Davis called the County and got more help. They were then able to get 15 hours of care a week, but by June 30 time ran out for that application; they had to reapply for help. Howard had trouble with the online application and said she wishes Arlington would offer paper applications to those who didn't grow up with computers.
But there was still not enough support. It was up to the family to fill in the hours with private caregivers, paying them out of pocket, to help take care of her husband. Howard said she paid an assortment of part-time workers about $6,000 a month for 8 months in order to keep her husband at home.

Davis's research showed that there were benefits due Howard because of his veteran status. She called the Veterans Administration (VA) Hospital: they agreed to evaluate him in D.C. "T
Davis described a series of events that she said was almost comical. There they were, her mother on a walker, her father in a wheelchair. The doctor said they needed to see a social worker, and there was not a single social worker anywhere in the hospital that day. After making them wait, they went down to the emergency room and found the duty social worker.
Howard remembers the social worker suggesting her husband "really needs to be in a nursing home." Their doctor too had said the place for the Howards was not in their home, but in a facility. But Fayse Howard didn't think that was the right solution for her.
Both she and her daughter remember that painful day at the VA, filling out the long, involved forms, listing their finances. The VA sent them home that day with no plan, and said they could do more the next time he came in for a psychiatric evaluation.

HOWARD SHAKES her head in dismay telling the story. "Do they have any idea how hard it is to get a dementia patient out of the house, into a car, into a large hospital, on time, without an accident?" She had to hire a caregiver just to help get him into the car.

Davis said she had filled out the lengthy application for the pension: it was immediately declined. The appeal could take years.
The Howards finally got a social worker assigned who helped them get approved for in home care. They were told an agency would contact them, but they didn't call because the paperwork was lost, then resent.
Then the Howards were put on a waiting list because there was no staffing for them. "Imagine," Howard said with a wry smile. "They put a 91-year-old man with late stage Alzheimer's on a waiting list."

On Sept. 9, the VA social worker finally organized care at home. The care from the VA Hospital was helpful, Howard said, but there were many challenges. Sometimes the caregiver got lost on the way to the house, and sometimes they called at the last minute and cancelled. They often had new people. Alzheimer's patients benefit from consistency. Howard had to explain the house, the idiosyncrasies of her husband's disease, to a new person repeatedly. Howard didn't feel comfortable leaving her husband alone in the care of some. Some slept or talked on the phone.
Howard remained the chief caregiver, despite the help. She managed the new challenges thrown her way as the disease progressed.
"He would hold pills in his mouth," she said. "They'd find them later on the floor when he spit them out." His dentures no longer fit so he couldn't chew his food anymore so Fayse pureed three meals a day for him so he could eat.
Fayse Howard found that she alone could get him to swallow when he resisted, or calm him down when he was upset. He would hold her hand, and give it a squeeze. Sometimes, he'd give her a smile that made it all worth it, she said.
Although their doctor took good care of her husband, Howard says she had to tell him one day to stop telling her to "remember you are not alone."

"I am alone," she said. "I"ve been alone since he got sick. When a decision has to be made, I make it. When I'm all alone in that house with him and he looks at me for consolation, it's I who have to take his hand and hold it, and try to keep things even."
And fewer people came to visit. Those who did found that Allen Howard always perked up when an old friend or family member came by, even if he didn't remember them by name. Howard was so housebound that many times she felt isolated, and would have really lost her ability to cope had it not been for her neighbors, particularly Woody and Margaret Staeben. Woody, she said, comes in once a week to have a beer with her. "We call it our "meeting", she laughed. It meant she and her husband had not been forgotten.

Howard said she had never heard of any of the services of Arlington County, like the Personal Advocate. She hasn't been to any community centers. She has a computer, but doesn't use the internet. "I guarantee you without my daughter, I wouldn't have made the second phone call," she says of the effort to find help. Allen Howard had run his own business. Fayse Howard had given up her retirement fund to add money to the business when it was having trouble. They worked hard, raised three children, sent one to college. They had enough to live on, just not enough to manage a long health crisis.
Davis says the thing that bothered her the most is that "there was no one to tell us what to do, no road map." There were so many moving pieces.
Patty Sullivan, Interim Operations Manager of Arlington Neighborhood Village (ANV), agrees it is a real maze. As a member of the Arlington Commission on Aging, she knows there are many services available to Arlington residents, but is not sure why the word is just not reaching those who need the information, despite the brochures Arlington hands out.

"There isn't a system," she said. "Medicaid and Medicare, Social Security, State programs, County programs — none of them overlap." You can hire a "care manager" to help you thread your way through the system, but that is prohibitively expensive, or you can join Arlington Neighborhood Village which provides some personal advocacy.

"Arlington County doesn't have the capacity to handle all the issues with the elderly that are now coming into play," she said.
Allen Howard will be laid to rest in Arlington National Cemetery on June 24.
Fayse Howard has a little more she'd like people to know.
"I want people to know it's not all bad. When he looked across at me and smiled, or held my hand", Fayse Howard said, "I knew I was doing the right thing. Knowing they depend on you, and that the sound of your voice would still make a difference to them, even in the late stages of dementia, added a dimension to the meaning of marriage that some people might find hard to understand but it's just as beautiful as some other stages."
Advice from People who have been there:
What to do if you have a family member with Dementia:
Plan for this even if both parents or spouses are healthy now.

There are shortcuts: find out what they are. Tell your caseworker you don't have much time.

Ask for help; don't try to do it alone.

Don't take "no" for an answer: keep asking and adding information. Often no doesn't mean no.

Insist on having a social worker assigned to you from the beginning, especially at the VA.

If you are rejected by the Veterans Administration, don't appeal: file to "reopen with new evidence." Otherwise, you could be waiting years.

Plead and beg: this is not a time to act self-sufficient. Don't underestimate how bad your problem is: be graphic about the need.

Plan ahead for this: no one wants to plan for Dementia, but if you don't, you could end up being unable to arrange care; consider long term care insurance or find a living situation where there is a bedroom on the ground floor and room for a relative or caregiver to stay there overnight.

Keep a journal with careful notes about who you have spoken to and what you were told. It will be invaluable when you have to call people back or remind them what they had agreed to last week.

Be understanding when a child can't or won't help. Different people react in different ways, and some are not "jump in and get your hands dirty" people or just cannot bear to see their parent in such a changed state.

Get hospice early, check eligibility early.

Volunteer: you can learn a lot about opportunities for the elderly by being part of an organization, and it will help keep you plugged in.

Ask multiple sources about available resources. Everyone has a different piece of information to add.

Get physical therapy for the patient for as long as possible.

Don't be ashamed to tell others. Dementia now affects 5.4 million Americans.

Encourage visitors; some people shy away from visiting because dementia patients don't always know who they are or respond appropriately, but they know when they are being visited; it provides relief for the family member too.

Help for Dementia Patients and Caregivers:
Hospice: You can get hospice care with a doctor's prescription. Hospice provides a social worker, along with weekly visits from a nurse and equipment to facilitate the home stay. Hospice is a step towards assuring care at home is the best it can be, when you are facing a terminal illness. Hospice will give the patient a shower twice a week, as well.

Arlington Aging and DIsability Office: 703-228-1700. There are a number of services available to those Arlingtonians who have Medicaid, as well as some for those who do not. They can offer up to 20 hours a week of care for the elderly or handicapped, and they also offer housekeeping services for elderly residents who cannot clean their own floors or empty their own garbage cans anymore. Expect to call many times over many days before you get through to someone since the staff at the Aging and Disability Office is often out on call at residents' homes. See: http://aging-disa....

Arlington Neighborhood Village, a volunteer aid organization which refers people to County services and helps older residents remain in their homes. ANV can also help you get through to the Aging Office if you haven't succeeded in doing that. 703-509-8057 or info@arlnvil.org, see also www.arlnvil.org. See related story in this section.

email arlaaa@arlingtonv... or visit http://www.arling...

Arlington also offers Alzheimer's and Dementia Caregiver Support Groups. One is coming up on April 12 at the Walter Reed Community Center. Call VIcki Surash, the Walter Reed Dementia Contact person at 703-228-5340.
*A Personal Advocate: either privately paid (very expensive), or through Arlington County's service (expect to wait), or through Arlington Neighborhood Village; this person will help local residents negotiate the bureaucracy of health care, insurance, and benefits.
*Alzheimer's 24-hour hotline - 800-272-3900.
Elderly or Disabled with Consumer Direction Waiver; see website:

PACE - (Program of All-inclusive Care for the Elderly) is a Medicare and Medicaid program that helps people meet their health care needs in the community instead of going to a nursing home or other care facility.

Get the VIrginia Hospital Center's Senior Resource Guide. Their Senior Health Department also offers a Caregiver Support Group : call 703-558-6859.

More information from the Alzheimer's Association http://www.alz.or...