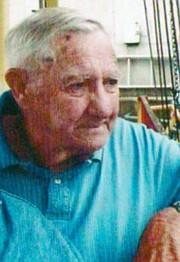 Robert A. Valentine died peacefully on Valentine's Day, Sunday February 14, 2016. He was 89 years old. Bob had been living at Brookdale Senior Living in Manassas for the past two years. He was a long time resident of Fairfax City, moving there in 1955 with his family from Washington D.C. He lived there with his wife Rita Jean (nee Sterns) of 24 years, daughters Linda Gruver, Joyce Valentine, Theresa Bennett and son Robert Valentine. Bob was in the Navy during WWII in the European Campaign and was honorably discharged as Seaman Second Class in 1947. He worked for Rodman LU201, International Association of Bridge, Structural and Ornamental Ironworkers, retiring after 35 years in 1992. Bob was preceded in death by his wife Rita (1972), grandson David Breeden (1989) and daughter Linda (2013). He is survived by his other three children, grandchildren, great grandchildren and great-great grandchildren.
No service is planned. Burial will be this spring at Fairfax Memorial Park. Contribution in his memory can be made to Capital Caring Hospice.
Please post condolences at
http://www.fairfaxmemorialfuneralhome.com/obituary/Robert-Arthur-Valentine/Chantilly-VA/1590379#sthash.5dKiAcXn.dpuf.