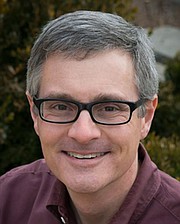 When Burke resident and George Mason University English professor Art Taylor set out to enter The Washington Post short story cover contest, he never expected it would lead to his first book.
Inspired by the visual prompt of a woman's body with feet sticking out of a convertible, conceivably on a road trip, and his own trip with his wife Tara Laskowksi to New Mexico, Taylor began crafting a story of two small-time crooks and lovers on an emotional journey around the United States.
Taylor and Laskowski are both writers and decided to each enter the competition. "The story he wrote ended up taking off," said Laskowski. "His ended up being over 10,000 words; he was excited by the characters."
TAYLOR'S PIECE far exceeded the Post's word limit, but he was able to have it published in Ellery Queen's Mystery Magazine.
"Do these folks have more journey in them?" Taylor remembered asking himself after the first piece. "They did." Taylor completed the draft of the first story in 2008, the second plot for the same characters came in 2011.
At a conference Taylor was attending, he was approached by a publisher who had looked at the two stories and asked him about doing a book with them. To fill out the novel, Taylor wrote four more stories that collectively follow the twists and turns of main characters Del and Louise. The struggling criminals make stops in the American southwest, California, Las Vegas and Taylor's native North Carolina, which form the basis for the story.
Taylor describes the six pieces in "On the Road with Del & Louise" as "self-contained, beginning to end, stepping stones to something else, a push deeper, with more to know, more troubles they can get into." As a whole, it can be "the search for one another, for home," he said.
Prior to writing the novel, Taylor has written numerous short works of crime fiction and received Agatha Awards, the Macavity award and Derringer Award. He also teaches crime fiction literature, in addition to advanced composition for business majors and creative nonfiction and fiction workshops, in the English department at George Mason's Fairfax campus.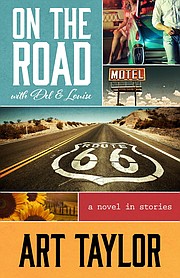 "He's very particular about showcasing characters, relationships, people in his work," said Laskowski. "It's not all about the crazy plot twists and murders, but getting at the core of something else, something deeper, what it all means. That's what's made him stand out as a writer in the mystery community -- something else there underneath the surface that resonates with people."
William Miller, director of the creative writing program and English department professor, met Taylor when he was pursuing a creative writing Master of Fine Arts at George Mason in 2003. From reading an advance copy of "On the Road," Miller agrees Taylor's "reliance on character" is striking. "The first-person narrative technique he uses in the book is just really great," Miller said. "It's a solid voice, consistent, artful, and an engaging story that has conflict from the very beginning, but not overpoweringly so."
Miller believes that artfulness in conveying conflict is a valuable skill Taylor is bringing to the classroom, teaching students "to put air into their work, layer it, so it's like onion skin where each layer has a different facet, taste, aspect to it."
Miller is also executive director of the Fall for the Book week-long literary festival, for which Taylor also contributes as a marketing and outreach consultant, bringing in big names such as author Tim O'Brien to accept the festival's Fairfax Prize.
Though he's never worked as a police officer, crime scene investigator or detective, crime and mystery have appealed to him since he started reading the "Encyclopedia Brown" and "Nancy Drew" series. He eventually moved on to adult mystery, relishing John D. MacDonald's Travis McGee, Agatha Christie and Raymond Chandler.
"At the core, these stuck with me the most," said Taylor. When settling into a genre as a teacher and author, "I went back to the stories I most enjoyed reading and writing."
Taylor isn't as interested in police processes and forensics as relationships and betrayal, being more "attuned to the idea of clues, psychology."
Taking his 3-year-old son Dashiell to a Gymboree class fills Taylor with ideas, ominous possibilities. "There could be conflict between parents in the class," he said. "A little weather, vulnerability, mother and child, misunderstanding," are simple elements that can create tension.
BALANCING a baby with writing professionally was a challenge Taylor and Laskowski faced together, cutting out other activities, using even short periods of time to work on parts of scenes and reading aloud together, including "The Black Lizard Big Book of Locked-Room Mysteries."
"He's a very hardworking writer, teacher and individual," Miller said. "He just balances, as writers must these days, to get writing done and at the same time be prepared to teach a diversified portfolio. He's very even-tempered, pulls it off and maintains good humor. He's one of those remarkable people."
"On the Road with Del & Louise: A Novel in Stories" was released Sept. 15 from Henry Press. A launch party is scheduled for Saturday, Sept. 19 at One More Page Books in Arlington, 2200 N Westmoreland St #101. Taylor will also be appearing at two events for the Fall for the Book festival on George Mason's campus. For more information about the Fall for the Book festival, visit www.fallforthebook.org.