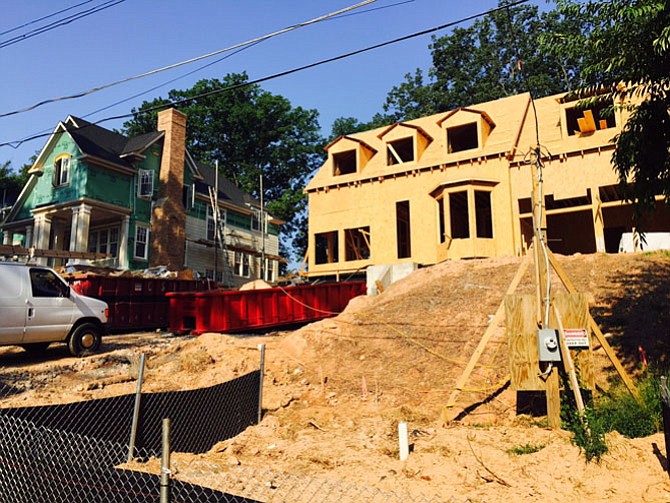 McLean and Great Falls communities are often named with roots to their natural surroundings: Langley Forest, Langley Oaks, Chesterbrook Woods, Franklin Forest, Chesterbrook Farm, McLean Hamlet, Amberwoods, Woodhaven, Woodside Estates, Summer Wood, Great Falls Glen, Bradley Oaks. These are a sampling of the community names that highlight the original settings and forested areas where they were built.
Why This Matters
Most new development in established neighborhoods in McLean and Great Falls will proceed as "infill" development. McLean Citizens Association and Great Falls Citizens Association will monitor new development and its impact on the environment and quality of life.
Great Falls Citizens Association
http://www.gfca.org">www.gfca.org
McLean Citizens Association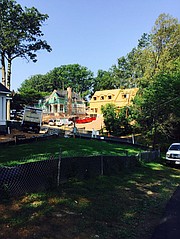 But now, decades after many of these communities were long established, and especially in older neighborhoods of McLean, original houses are coming down to make way for more much larger homes on the same modest lots.
The in-fill development sometimes threatens the roots of the natural surroundings, along with mature trees.
"I think it's almost heartbreaking to see some of the trees we have being torn down," said Supervisor John Foust.
"It's a very hot issue and one we are very focused on."
LOCAL AUTHORITIES have limited authority in Virginia, a Dillon Rule state, where localities have only the power specifically given to them by the General Assembly.
Although Virginia adopted a Tree Preservation Ordinance in 2008, the authority Fairfax County has is "very limited."
"We certainly seek more authority than the state has given us," Foust said.
Philosophically, Virginia is reluctant to pass regulations that impose restrictions to what property owners can do with their own properties.
Foust was not talking about specific locations, but houses side by side on Franklin Avenue in McLean have one neighborhood and surrounding communities buzzing.
"The existing ordinances are exceptionally weak," said one McLean resident. "The focus of our concern is infill development where regulations are exceptionally lax and even the regulations that exist are virtually never enforced. … There are hundreds of end runs that exist under the flimsy ordinances that exist now."
Foust confirmed that sometimes enforcement isn't vigorous.
"It's a very complex process and there have been times that I feel [county] staff could have done more, and times when I know the developer violated what they were supposed to do," said Foust.
Foust will be working with Sen. Barbara Favola (D-31) to try to introduce state legislation to improve protection of the tree canopy in the next General Assembly.
"We want to make sure whatever authority that is on the books is being utilized to the maximum extent possible," said Favola. She said she is seeking guidance from county officials about "where there are gaps in legislative authority and what the county would like to see to fill those gaps."
MORE THAN 100 TREES were going to be removed for his new planned office in McLean, Foust said it wasn't a decision without controversy when he told authorities to halt those plans.
"Trees are very important to and for us," said Foust. "People can make a difference in the preservation of trees."
The McLean Citizens' Association hosted a presentation in March on "Protecting Neighborhood Tree Cover."
"It [legislation] may not be as strong as everyone would like it but it is the strongest in the state," Keith Klein, director of the Fairfax County Urban Forest Management Division, said at that meeting. "It does give us tools to use."
Great Falls Citizens Association plans to hold similar meetings next spring, said Bill Canis, association vice president. Canis pointed to larger scale issues of infill development in Great Falls, for example the proposed development of Brooks Farm.
Klein and Craig Herwig, of the Forest Conservation Branch of the office, told people to get involved.
"We need your help. You can get involved in this. You have a voice in what is being developed," said Herwig. Klein steered residents to a Department of Planning and Zoning website to learn about proposed development in Fairfax neighborhoods, www.fairfaxcounty.gov/dpz/faqs/myneighborhood.htm . And he suggested calling when development occurs.
Robert Vickers, Dranesville Representative to the Fairfax County Tree Commission said the best time for neighbors to get involved is in the rezoning process. "What's our best opportunity to preserve trees? Right in the rezoning process," said Vickers.
Education also makes a difference, and the Tree Commission has established rewards and incentives for developers who attempt to maintain tree cover.
"The more awareness we create, the more influence we have," said Vickers.