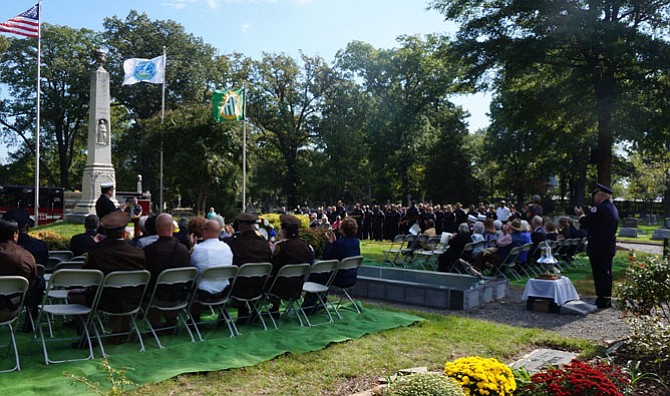 Alexandria's fallen firefighters and EMS personnel were remembered by members of the city's first responder and law enforcement agencies at a memorial service and wreath laying ceremony Oct. 9 at Ivy Hill Cemetery as part of the annual National Fire Prevention Week ceremonies.
"We are here to honor those who made the ultimate sacrifice and remember those who have recently departed," said Deputy County Manager and former Arlington County Fire Chief James Schwartz. "Each of these individuals was committed to excellence."
The ceremony, which dates back to 1856, honors those who have died in the line of duty and also marks the passing of members of the department who have died during the preceding 12 months.
The centerpiece of the ceremony is the Roll Call of the Fallen, a reading of the names of fire safety and EMS career and volunteer personnel who have died in the line of duty. Following the Roll Call, Alexandria Fire Chief Robert Dube and Volunteer Fire Department President Jay Johnson placed a wreath at the memorial to fallen firefighters.
Retired fire department employee Callie Terrell opened the ceremony with "The Star Spangled Banner" and closed with a stirring rendition of "How Great Thou Art."
"As we acknowledge the passing of great men and women, let us also use this day to celebrate their lives," said Schwartz, a longtime Alexandria resident and guest speaker for the ceremony. "A life of service is a great way to spend a life."