Photo Gallery
Vienna Animal Blessing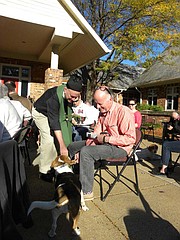 Click Photo for Flash
The blessing of the animals at the Church of the Holy Comforter in Vienna took place on Saturday, Oct. 10. It was postponed from last weekend due to the effects of Hurricane Joaquin.
Pet owners took their dogs and their cats to receive blessings from Rev. Richard Lord and Rev. Margaret Peel.
"People want to have God's protection for their pets," said Lord. The tradition stems from St. Francis of Assisi and his care of creation and creatures.
"We think it's important that we get [dog Murphy] blessed. It makes us feel good that he is in God's care," said Liz Coulter, of Vienna.
Megan Nealley, of Arlington, felt the same way. She and Marcus Nealley are moving overseas and wanted to make sure their dog Rupert is "well-taken care of as he possibly can be."
Scott Orr, of Vienna, who has been bringing his pets every year to be blessed, said that he felt like it was good for them. "My last beagle lived for 18 years." He hopes that 12-year old beagle Joey will live just as long.
But for Susan, Colleen and Erin-Grace McGuire, of Oakton, their very active and excitable standard poodles Penny and Abby should be blessed because "They need it!"