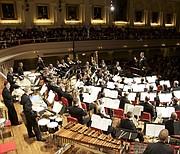 The U.S. Navy Concert Band will be performing a free concert in the Lake Braddock Secondary School "Little Theater" on Oct. 15. The band's 172 enlisted musicians annually perform more than 270 public concerts and 1,300 ceremonies.
"It's a great opportunity for our kids, for our community," said Lake Braddock band director Michael Luley. "Rarely do the kids, and I'm guilty myself, get up to see the other concerts in Washington, D.C. For them to come join us, there's no excuse that our kids can't see them play."
Twelve students from the Lake Braddock band will sit in with the Navy musicians on a march during the program. "They're the pros," Luley said. "I spoke to our students about how they're aspiring to be there; this is the level they're going to play at."
This program is scheduled to open with "Festive Overture" by Dmitri Shostakovich and continue with Carl Maria von Weber's "Bassoon Concerto" featuring Musician 1st Class Renee DeBoer, "Molly on the Shore" by Percy Grainger, "Home to Stay" arranged by Senior Chief Musician Scott Silbert and featuring Chief Musician Courtney Williams on vocals, and Vittorio Giannini's "Symphony No. 3."
The concert is scheduled to begin at 7:30 p.m. Lake Braddock is located at 9200 Burke Lake Road. For more information, call the Lake Braddock band office at 703-426-1076.