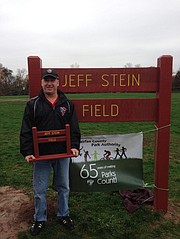 Clifton resident Jeff Stein was among three local sports icons recognized Nov. 7 with athletic fields being named after them. Stein's name now marks Soccer Field #3 at Ellanor C. Lawrence Park in Chantilly.
Stein has spent 14 years on the Fairfax County Athletic Council and was president of the Fairfax County Soccer Council between 1998 and 2003, according to a Fairfax County release. He's currently vice president of the Southwestern Youth Association, with whom he was Soccer Commissioner between 1994 and 2014. Stein has been a soccer coach for more than 20 years, as well as a referee, and is responsible for creating the Fairfax Over 50 Soccer League.
At the same park, Field #6 was named in honor of former Southwestern Youth Association president Gary Flather, who served for more than 20 years.
Youth sports advocate, coach and current Chantilly Youth Association president Ralph Wills was honored with Rectangular Field #1 at Sully Highlands Park in Herndon being named after him.
Ellanor C. Lawrence Park is located at 5040 Walney Road in Chantilly. Sully Highlands Park is
located at 13808 Wall Road in Herndon.