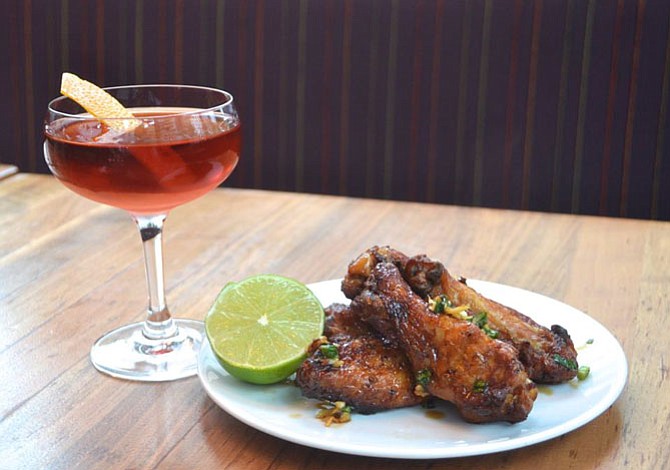 Comstock Partners has prepared a lease with Farmers Restaurant Group to bring the restaurant to Reston Station at Wiehle-Reston East Metro station. The 10,000-square-foot Founding Farmers restaurant may open in late 2016 at the retail space on the Reston Station plaza. The American style cuisine offered at Founding Fathers restaurants is supplied daily by hundreds of family farms.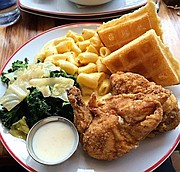 There are three Founding Farmers restaurants, one located in D.C., Potomac, Md. and at Tysons. "As we expand, we're passionately committed to evolving with each new location," Dan Simons, Farmers Restaurant Group concept developer, said in a company press release. "Each restaurant will always have its own personality and charm, from the interior design to the menu items. You can expect to see something different at Reston, including a rooftop-dining scene." Founding Farmers locations include breakfast, lunch and dinner services, as well as a selection of locally distilled liquors.
The Chick-fil-A at 12160 Sunset Hills Road reopened after temporarily shutting its doors for a major remodeling project. Reston's Chick-fil-A has been supportive of local teams and school fundraisers. Chick-fil-A recently filed Planned Residential Community (PRC) documents with Fairfax County for a fast food restaurant at North Point Village Center. The former Burger King located at 1494 North Point has been vacant since March 2014.
Not Your Average Joe's will be opening a Reston location in December at 1845 Foundation Drive. The Massachusetts-based restaurant chain is taking over the former location of Macaroni Grill at the Reston Spectrum. Not Your Average Joe's has 20 locations including Bethesda, Gaithersburg, Leesburg and Woodbridge. The menu was directed by executive chef Jeff Tenner, with culinary roots from New England.
Reston's Red's Table has enjoyed positive reviews since it opened the week of Labor Day. Located at South Lakes Village Center near Lake Thoreau, the restaurant has veteran chef Adam Stein at the culinary helm. The restaurant has an emphasis on steaks, seafood and fresh food, in addition to a bread program with a range of scratch pies and cakes. Positive reviews have come from both the Washington Post and Washington DC Eater. The restaurant will be open on Thanksgiving.
Twenty-eight companies from Fairfax County are on a new Washington Business Journal list of the 50 fastest-growing companies in the Washington, D.C., region. Eleven firms from Reston and Herndon are on this list. This includes Reston companies such as Knight Point Systems LLC, hCentive and G2SF Inc. The list also included companies based in Herndon such as Greensmith Energy Management Systems Inc., 2 ITility LLC, and The RSR Co. "Having so many companies on this list demonstrates that Fairfax County has developed the kind of environment that businesses at all stages of growth can leverage to succeed," said Gerald L. Gordon, Ph.D., president and CEO of the Fairfax County Economic Development Authority (FCEDA). "We are delighted to see these companies becoming larger pieces of the local economy."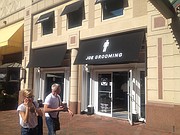 Boston Properties completed the final part of a transaction making the company the sole owner of Reston Town Center. Other developments at Reston Town Center include the opening of Bluemercury at 11924 Market St. Bluemercury is part of a local chain of beauty product stores featuring spa services. The grand opening for Bluemercury is Saturday, November 14. Makeovers, treats, refreshments, mini-treatments and gift bags will be offered to the first 100 attendees.
Joe Grooming, a McLean-based men's hair, shaving and skin care line, also recently opened its first dedicated retail store and salon at 11944 Market St. at Reston Town Center. The location formerly housed PR at Partners salon, which relocated to a space on Democracy Drive at Reston Town Center. The Joe Grooming location will be open every day.
Madewell, a sister brand of J. Crew, is opening a store at Reston Town Center in January. The Reston store will take the location of the former Ben & Jerry's space at 11928 Market St. Madwell specializes in jeans, jackets and totes, and other casual clothes. Madewell recently opened a branch at the Mosaic District in Fairfax, and has locations at Tysons Corner Center and Georgetown in D.C.
At Lake Anne Plaza, the nanobrewery Lake Anne Brew House is waiting to open their location at 11424 Washington Plaza. The husband and wife team of Reston residents Melissa and Jason Romano are working with the Fairfax County Health Department (FCHD) to get plans reviewed and approved. Once the FCHD review is complete, Lake Anne Brew House can finish their build-out, install equipment and start brewing some beer. The Romano couple say both the ABC and TTB licenses are approved, and waiting for the county to give them the green light.
Federal Capital Partners (FCP) announced the acquisition of One Dulles Tower, a 400,000-square-foot office building at 13200 Woodland Park Drive on the Dulles Toll Road in Herndon, two miles east of Dulles Airport. The price for One Dulles Tower was $84 million.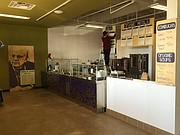 FCP vice president, Erik Weinberg, said, "One Dulles Tower, which has been 100 percent leased to Booz Allen Hamilton, will be vacated at the end of the year, providing FCP with the perfect opportunity to renovate and reposition the building. With the largest contiguous block of space on the Toll Road and upgraded amenities, lobby and common areas, One Dulles Tower will be highly competitive in the headquarters office building offerings in the Dulles Corridor."
The MOM's Organics Market located at 424 Elden St. in Herndon finished an expansion project, adding a Naked Lunch, an all organic eatery featuring soups, bowls and raw juices including kombucha. Yet while MOM's Organics Market has been able to expand, opening a new location at Arlington, other area businesses are shutting up shop. The Cold Spoon Frozen Yogurt at Reston's Hunters Woods Village Center has closed. In the Town of Herndon, the infrared sauna studio Hot Spot located at Station Street is going out of business on Nov. 30. Store management says all fixtures and saunas are up for sale.