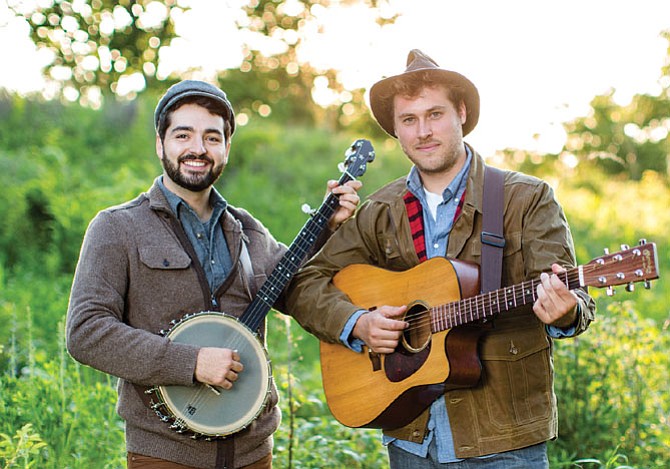 Friday/May 29
Arts Open House Extravaganza. 4210 Roberts Road, Burke. Come to the Osher Lifelong Learning Institute at Mason for a Celebration of the Arts, including poetry and musical performances as well as photography and arts displays. Enjoy free coffee and home-made baked treats sold by Friends of OLLI. Register by calling the OLLI office: 703-503-3384.
Riverbend Opera Company Presents Andrea Lecouvreur. 7:30 p.m. Providence Presbyterian Church, 9019 Little River Turnpike, Fairfax. Tickets: $15-$25. Francesco Cilèa's verismo masterpiece Adriana Lecouvreur, set in the early 18th century. This Riverbend Opera production features a cast of 15 professional singers, accompanied by orchestral ensemble and piano. (Projected English Surtitles).
Fun Flicks. 10:30 a.m. Pohick Library, 6450 Sydenstricker Road, Burke. Watch movies based on children's books. See "The Very Hungry Caterpillar," "Papa Get Me the Moon," "The Very Quiet Cricket" and "The Mixed-Up Chameleon" by Eric Carle.
Bingo. 7 p.m. Fire Station 3, 4081 University Drive, Fairfax. Benefits the Fairfax Volunteer Fire Department.
Theaterworks: Miss Nelson. 10:30 a.m. GMU Center for the Arts, 4373 Mason Pond Drive, Fairfax.
Herndon Friday Night Live. 6:30 p.m. 777 Lynn Street, Herndon. Listen to great music on Friday nights during the summer. Visit herndonrocks.com/schedule.php for more.
"A Disney Spectacular." 7 p.m. McLean Bible Church, 8925 Leesburg Pike, Vienna. The show will feature songs and medleys from several Disney productions, including Frozen, Beauty and the Beast, The Little Mermaid, Jungle Book, Pocahontas, and Aladdin.Tickets are available at the door for $10 for adults and $5 for students up to 8th grade.
"American Spiritual." The Alden, 1234 Ingleside Avenue, McLean. 8 p.m. The group mixes traditional, original and contemporary sounds on fiddle, guitar, bass and recycled percussion and tops that with joyous harmonies from four skilled lead singers. Tickets are $30, $20 for McLean tax district residents. www.aldentheatre.org.
Langley High School Band Spring Concert. 7 p.m. McLean High School, 1633 Davidson Road, McLean. Three bands will perform under the direction of Doug Martin including the Jazz Band, the Symphonic Band, and the Wind Symphony. One highlight of the program is the Wind Symphony playing a piece called Eternity's Sunrise that Langley High School commissioned composer Scott Lindroth to create for its upcoming 50th anniversary. Free.
Playdate Cafe. 10 a.m. Great Falls Library, 9830 Georgetown Pike, Great Falls. Toys and play space for children. Coffee and conversation for grownups. http://www.fairfaxcounty.gov/library/branches/gf/
Wine Tasting. 4 - 6 p.m. Walker Nature Center, 11450 Glade Drive, Reston. Senior Adults, 55 years and older. Enjoy an evening of wine tasting in a beautiful setting. Sample red and white wines along with a variety of cheese and crackers. The evening includes a tour of the gardens and a short trail. Look for spring wildflowers, as well as birds and insects, that are sampling their own sweet "ambrosia." Contact Ashleigh@reston.org or call 703-435-6530 for reservations. Reservations required by May 26. Fee: $10/person RA members, $14/person Non-members. For more information, email naturecenter@reston.org, or call 703-476-9689 and press 5.
Family Splash at RCC Pool. 7-9 p.m. Drop in for a night of family fun.The family splash entry fee is $15.50 Reston/$31 Non-Reston (for groups up to seven people). Groups of eight or more must pre-register by calling the Aquatics Service Desk at 703-390-6150. - See more at: http://www.restoncommunitycenter.com/attend-shows-events-exhibits/event-detail/2015/05/29/default-calendar/family-splash-at-rcc-pool-May29#sthash.IFURYgJK.dpuf
Drop-in Chess and Board Games. 3:30 p.m. Great Falls Library, 9830 Georgetown Pike, Great Falls. Drop-in and Play Chess and assorted board games. All skill levels and ages welcome. http://www.fairfaxcounty.gov/library/branches/gf/
Friday-Sunday/May 29-31
Herndon Festival. Friday 5-11 p.m. Saturday: 10 a.m. - 6 p.m. Sunday: 10 a.m. - 7 p.m. Herndon Town Green, 777 Lynn Street, Herndon. Four day outdoor festival with three entertainment stages, a carnival, two fireworks displays, Kid's Alley with children's art area, arts and craft show and more! All ages. Visit www.herndonfestival.net for more information.
Workhouse Carnival and Arts Party. 5 p.m. Workhouse Arts Center, 9518 Workhouse Way, Lorton. Rides, games, music, vendors, food and family fun and will take place on the south side of the Workhouse campus. This event will raise funds in support of the Workhouse's arts, education and history programs. Admission to the carnival is free, including the live entertainment and film screening, however rides and vendors will require additional fees and tickets. There is a $5 parking fee per vehicle.
Friday May 29-June 5
"The Good Counselor." Fridays: 8 p.m. Saturdays: 2 & 8 p.m. Sundays: 2 & 7 p.m. 1st Stage, 1524 Spring Hill Road, Tysons. Vincent seeks truth, not only for his client, a mother accused of killing her 3-week-old son, but also for himself and his haunted past with his own neglectful mother. Both riveting and poetic in the same breath, this vibrant new play is not just another courtroom drama but a thoughtful and thought-provoking examination of human failing and redemption. http://www.1ststagetysons.org/upcoming.html
Saturday/May 30
Lights Out on the Bunny Brothers. 11 a.m. Kings Park Library, 9000 Burke Lake Road, Burke. Have fun learning about energy conservation with this fast-paced puppet show presented by Blue Sky Puppets. Cosponsored by Friends of the Kings Park Library. All ages.
The Mamas and the Papas: True Stories About Moms, Dads, and Kids. 7 p.m. The Auld Shebeen, 3971 Chain Bridge Road, Fairfax. Better Said Than Done is making childcare available for an easy and entertaining date night. Tickets are $10 per person; tickets can be purchased online at www.bettersaidthandone.com or at the door. Childcare must be reserved by May 25.
Junior Robotics. 10:30 a.m. Pohick Library, 6450 Sydenstricker Road, Burke. Presented by Bricks 4 Kidz. All the fun of building with LEGO bricks, PLUS the challenge of computer programming! Cosponsored by Friends of Pohick Regional Library. Age 6-8.
Hard Hat Movie Night. 6:30 p.m. Pohick Library, 6450 Sydenstricker Road, Burke. Join us after hours for family fun and a movie to kick off the next phase of Pohick Regional Library. All ages.
"William 'Extra Billy' Smith: The Governor's Odyssey." 2-4 p.m. 3610 Old Lee Highway, Fairfax. Following the collapse of the Confederate lines at Petersburg on April 2, 1865, Governor Extra Billy Smith began his odyssey--a thousand-mile journey to take the pulse of Virginia Citizens, govern the Commonwealth, and to avoid capture by the Federal Army. Living historian Dave Meisky portrays Extra Billy Smith as a member of Lee's Lieutenants.
King Giant. 7 p.m. Empire, 6355 Rolling Road, Springfield. Sixty Watt Shaman, Fog Hound. $10-$15.
Springfield Smart Markets Farmers Market. 10 a.m. - 2 p.m. Springfield Town Center, at the corner of Loisdale Road and Spring Mall Drive. Fresh local fruits and veggies.
Jimmy Gaudreau & Moondi Klrin. 7:30 p.m. Holy Cross Lutheran Church, 1090 Sterling Road, Herndon. Jimmy and Moondi have been a part of the bluegrass music scene for several decades having played, as individuals, in many of the very top bands of the genre such as The Country Gentlemen and Chesapeake. They magically blend their vocals and mastery of mandolin and guitar into an evening of magnificent music. Admission: $15. Children under 12 are free.
Arts & Crafts Fair. 10 a.m. - 2 p.m. Dranesville Church of the Brethren, 11500 Leesburg Pike, Herndon. Silent Auction, homemade desserts and fine china light lunch. Funds will support a comprehensive emergency response and recovery program to assist the Nigerian families made homeless and suffering by the attacks of Boko Haram. The response will include temporary shelters, emergency food, household supplies, clean water and sanitation, and trauma healing programs helping to bring peace to Nigeria.
PetMAC Grand Opening. 1-4 p.m. Lake Anne Plaza, 1609 Washington Plaza, Reston. World Champion dogs from the Chesapeake Dock Diving Dog Club will demonstrate their amazing leaps and jumps into the lake. There will also be Dog Scent Work demos by Kissable Canine, cooking demonstrations by Culinaria Cooking School, face painting, music, as well as free giveaways and raffles. For more information, call the shop at 571-325-2099.
We've Got Your Back Race for Spinal Health. 9 a.m. - noon. 1831 Wiehle Avenue, Reston. Join the Spinal Research Foundation for a timed 5K, 1 mile Fun Run, Healthy Living Festival, Kids Corner and celebration of Spinal Champions. If you've overcome back or neck issues, be sure to register as a Spinal Champion to receive your official T-shirt, exclusive access to the Spinal Champion Tent and VIP benefits, including free post-race brunch and massages.
Reston Concerts on the Town. 7:30-10 p.m. Reston Town Center. The 25th season is extended through September 5 and kicks off with swing/jump blues favorite Big Joe & the Dynaflows. Bring lawn chairs or picnic blankets and enjoy live music in the Pavilion Saturday nights. Free. Rain or shine. Presented by Reston Town Center and Reston Town Center Association. Alcohol permitted at restaurants only. Concert information: 703-912-4062 www.restontowncenter.com/concerts
Succulent and Cactus Plant Sale. 10 a.m. - 4 p.m. Meadowlark Botanical Garden, 9750 Meadowlark Gardens Court, Vienna. Succulent and cactus plants are known for being low maintenance and deer resistant, a great combination. This sale, offering a great variety of interesting plants, will be hosted by the National Capital Cactus and Succulent Society. Plant costs start at $1—cash and checks sales only.
Flat Hat Chat. 3:30-3:45 p.m. Great Falls National Park, 9200 Old Dominion Drive, McLean. Drop in and join a Park Ranger on the overlook for an informal chat about unique aspects of Great Falls. Bring your questions…you are sure to discover something new and exciting about Great Falls Park.
Kool & the Gang Chaka Khan. 8 p.m. Wolf Trap, 1645 Trap Road, Vienna. Get down with the pop funk party-starters whose arrangements have made them the most sampled band of all time; then dance it up with the international music icon widely-regarded as the "Queen of Funk Soul," as she delivers hits like "I'm Every Woman" and "I Feel For You." Tickets: $30-$60.
Great Falls Farmers Market. 9 a.m. - 1 p.m. Village Centre, 778 Walker Road, Great Falls.
Saturday-Sunday/May 30-31
Great Falls Artfest on the Green. Saturday: 9 a.m. - 5 p.m. Sunday: 11 a.m. - 8 p.m. Great Falls Village Green. Great Falls Studios Spring Art Show & Sale under the big tent and a few little tents, too. A plein air competition and quick draw. With prizes and a reception, Sponsored by Arts of Great Falls. Then, a grand finale "Blues Explosion" to close the weekend and start the always popular season of Concerts on the Green by Celebrate Great Falls. For complete schedule and updates visit http://www.greatfallsart.org/artfest/
Springfield Days. 8 a.m.-8:30 p.m., South Run Park, 7550 Reservation Drive, Springfield. Springfield Days is a community wide celebration that includes a 5K run, "Pet Fest" and car show. Visit www.springfielddays.com for more.
Sunday/May 31- Aug. 16
Great Falls Concerts on the Green. Great Falls Village Centre Green. Come out on Sundays and listen to some live music. Full schedule list: http://www.celebrategreatfalls.org/concerts-on-the-green/.
Sunday/May 31
5K/10K Races. 7:30 a.m. Herndon Town Green, 777 Lynn Street, Herndon. A race that takes you through historic downtown Herndon during the Herndon Festival weekend. Both races are USATF Certified. For registration and information visit www.herndonfestival.net.
The Okee Dokee Brothers. 2 p.m. The Alden, 1234 Ingleside Avenue, McLean. Award-winning Okee Dokee Brothers share their passion for the outdoors through their Americana Folk music. $15/$10 MCC district residents. http://www.okeedokee.org/
Avenue of Art. 1-5 p.m. Church Street in Vienna. Church Street becomes a pedestrian plaza with dozens of artists selling their original art and jewelry. There will be free art demonstrations, children's projects, face painting, caricatures, photo opportunities, food and wine. Music by the Difficult Run String Band. 703-319-3971. www.ViennaArtsSociety.org
Specimen Plants for Your Garden. 11 a.m. - 2:30 p.m. Meadowlark Botanical Garden, 9750 Meadowlark Gardens Court, Vienna. What makes a great specimen plant---its appearance, origin, culture or culture life cycle? Join Meadowlark Manager Keith Tomlinson on a walk to learn about many of these plants that you can grow in your own garden. Participants should come prepared to walk a mile. There is no program fee, but regular Garden admission applies ($2.50-$5). Reservations are not required, but suggested. 703-255-3631.
Great Falls Summer Concerts on the Green. 6-8 p.m. Great Falls Village Center, 776 Walker Road, Great Falls. Pack up your picnic dinner, blanket and a couple of chairs and come out for some great, live music. This week's concert is Mike Terpak and Blues Explosion.
A Fairfax Cabaret. 7-9 p.m. PJ Skidoos, 9908 Fairfax Boulevard, Fairfax. Live musical entertainment and talent. Tickets: $50.
Cardboard Regatta. 10 a.m.-2 p.m. Lake Accotink Park, 7500 Accotink Park Road, Springfield. Witness the cardboard boat creations race along Lake Accotink's shoreline at 2 p.m. $4 vehicle fee. Call 703-569-0285 or email julie.tahan@fairfaxcounty.gov. Visit www.springfielddays.com for more.
Workhouse Farmers Market. 1-5 p.m., at the Workhouse, 9601 Ox Road, Lorton. Every Sunday on the quad is a producer-only market for discerning shoppers featuring locally grown fruits and vegetables, locally raised meats and poultry and local foods from breads to salsas and sausages. http://www.workhousearts.org. Runs through Sept. 13, 2015.
Author Mary Lipsey Book Signing. 1-4 p.m. Fairfax Station Railroad Museum, 11200 Fairfax Station Road. Local historian Mary Lipsey will sign copies of her book, "A Christmas Flight: Aviation Pioneer, Dr. William Christmas." Copies of her book will be available for sale. Admission: Museum members and children 4 and under, free; children 5-15, $2; adults 16 and older, $4. www.fairfax-station.org.
Stars on Sunday Concert Series. 3 p.m. Workhouse Arts Center, 9518 Workhouse Way, Lorton. Featuring a lineup of performances that showcase the diversity of talent and culture in Northern Virginia. Concerts are free to attend and are perfect for families, a special date or a relaxing afternoon of music and dance.