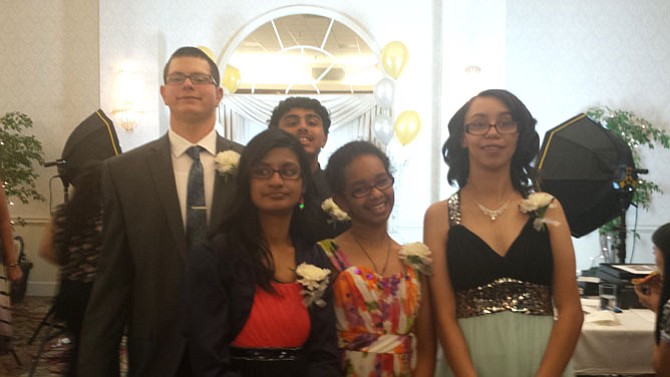 For more than 10 years, hundreds of students with special needs — those with physical, intellectual or mental disabilities — have been able to enjoy a prom of their own. The event takes place during the day and, this year, was held at the Waterford near Fair Oaks Mall.
"The purpose of having this dance is to teach students with 'special needs' what is involved in preparing for their regular senior prom. It is hoped through this experience, that they will attend the prom at their respective schools before graduation," said Kathy Khair from Herndon High School, who also served as the coordinator.
This event was created back in 2002 by Chris Pascarella, former Special Education Department chair at Herndon High School. Three schools were represented at the first prom, held at the Reston Hyatt. The event has grown, with students from 11 different schools attending this year's prom: J.E.B. Stuart High School, South Lakes, Chantilly High School, Oakton High School, Herndon High School, Centreville High School, Westfield High School, Lake Braddock Secondary School, Fairfax High School, Kilmer Center and W.T. Woodson High School.
"Reston Limousine donated their services to Herndon High School students, and the Waterford donated everything, making the event completely free for students," said Khair. In addition, Men's Wearhouse at Dulles Town Center donated tuxedos, and Reston Interfaith donated prom dresses.
While teachers plan much of what happens on this special day, general education students are also asked to contribute. Students in two leadership classes at J.E.B. Stuart, taught by Elizabeth Buffenbarger, volunteered their time to help make the event a success.
"Our goal was to make this as similar to the normal prom as possible," said Homan Adam, J.E.B. Stuart High School senior.
"We try to do everything like a normal prom and give all students a chance to attend," said Khair.
In many ways, the event is just like any other prom. The D.J. played everything from the Macarena to the Cha-Cha Slide and students never stopped filling the dance floor.
"My favorite part is the D.J.," said Jessica Lewin, a student from Oakton High School who was there at the prom.
And as interest increases, it might be necessary for there to be two separate day proms.
"Every year there is speculation of the schools branching out," said Khair. " I can't speak for the other schools. I know that Herndon High School will continue to invite schools to attend this event every year."