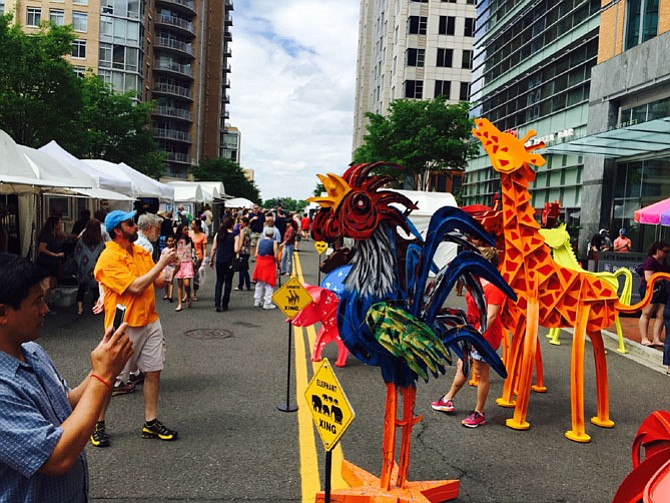 Dozens stopped to watch Adam Crowell play his art Sunday at the Northern Virginia Fine Arts Festival.
"Teachers said it over and over when I pounded on desks, lockers and books. 'That's not a drum,'" he said.
But Crowell, a professional Los Angeles percussionist who now resides in Charleston, S.C., tunes his furniture-calibur "drums" or "marimbas" to a different key based on where the wood takes him.
His "lumber guy" found the rosewood that he gave a mini-concert on, wood that had been laying around since the 1950s, he said. Crowell knew he had one shot at turning the wood into something of visual and tonal beauty.
Based on the crowds he attracted Sunday to his booth of "Boxed Music," he succeeded.
More than 40,000 people attended this year's festival that showcased the works of 200 artists from around the nation at the 24th annual Northern Virginia Fine Arts Festival on Saturday, May 16 and Sunday, May 17.
The festival spanned more than six Reston blocks in Reston Town Center.
Reston Artist Dana Ann Scheurer has displayed her work all 24 years. "This started out with about 25 artists, it was so tiny," she said. "I've seen it grow each year. It seems to get better and better every year."
Many of Scheurer's works have Reston themes, including one that is displayed as a mural for the Midtown North Condominium at 12025 New Dominion Parkway in Reston.
"I focus here. I have a following," she said.
Bob Simon's silhouette even makes appearances in her works, as well as Simon's vision for Reston.
Kathi Robinson, of Reston, has one of Scheurer's pieces and stopped at Scheurer's booth with her sister Celesta White who visited from New Mexico to see the show.
Despite its size, the juried fine arts festival, measurably one of the top in the country, offers the opportunity to see original art while meeting and talking with the artists directly.
"I try to come every year. The artists are fabulous," said Robinson.
CONNIE SLACK'S USE of color magnetized some viewers, and she's okay that other viewers simply passed by.
"The ones that engage me and engage in the work, those make me feel good," she said.
"It's quite a phenomenal show," said Slack, also of Reston. "Hopefully, Reston appreciates a show of this calibre in their neighborhood."
Festival jurors selected artists in 10 categories of fine arts and crafts to exhibit and sell their work at GRACE's event, which is one of the largest independent outdoor art festivals on the east coast.
Chris and Lynn Corrie are a husband and wife team from Illinois who work on their stained glass together.
"It's one of the best shows we do," said Lynn Corrie. "It's so well organized, in fact, it's perfectly organized. They get good crowds, they get the right people.
"Almost everybody does well just by being here," she said.
THE FESTIVAL PROVIDES one third of the GRACE's annual budget.
GRACE (Greater Reston Arts Center) provides year round programs including exhibitions, education programs for youth and adults including summer camp sessions, and special events, such as the Northern Virginia Fine Arts Festival.
Grace Art program, formerly known as Art in the Schools, reaches 20,000 students in more than 40 schools each year and supports and supplements local children's art experiences in schools.
Erin Pelletier's son, Caden Pelletier, 6, engaged in Patrick Dougherty's recently installed art sculpture made of tree saplings in Town Square Park, which can be explored by viewers inside and out.
And hands-on art activities, including hat making, stencil drawing and more were available for children at the Reston Town Center Pavilion.
"I love it," said Erin Pelletier. "It's really good for children. We spent an hour in one pavilion."
A broad array of works were displayed, ranging from functional furniture and ceramics to kinetic sculpture, from original photographs to paintings both abstract and naturalistic, and from wearable art to handcrafted jewelry.
Dance performances choreographed to respond to Patrick Dougherty's sculpture installed at Town Square Park in April took place as well as classical and live music concerts.
SCULPTOR THOMAS WARGIN attends 20 art shows around the country each year. This is his second year at Reston.
"Sometimes I have a vision that hits me and I decipher it," he said. Other times, he writes an idea down until the vision eventually appears.
Many patrons stopped at his booth to look at his sculpture, "Choices."
He says he attempts to engage people's experiences into his work. "Some of the most difficult choices we comprehend and contemplate are made within the confines of the places we feel most power," he wrote.
Next year will be the Northern Virginia Fine Arts Festival's 25th celebration.