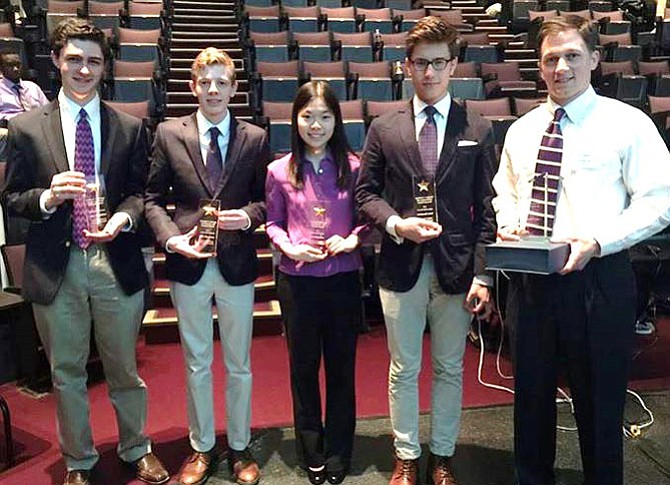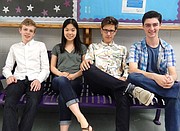 For the third year in a row, a team from Chantilly High has won the state championship in economics. The four students took first place in the Adam Smith Division (advanced economics) of the 2015 Governor's Challenge in Economics and Personal Finance.
The competition was held April 17 at VCU and marked the school's sixth championship overall in this division. The winning team members are senior Brendan Aronhime and juniors Aron Malatinszky, Alice Wang and Kincaid Youman.
"I'm extremely proud of this group," said economics teacher Joe Clement, their coach. "They worked hard and it paid off. They also got along really well and were fun to work with. I think we win so often because we have fantastic economics students. We have kids who ask the right questions, think of different ways to solve problems and are super curious."
"It's also a function of the fact that success begets success," he continued. "That is, we win and kids become interested the following year; we win again, more kids become interested; rinse, repeat. We are constantly building on the success of prior years. We get the most amazing students to come out for this competition, and this year's students certainly continued that tradition of excellence."
More than 3,200 Virginia high-school students competed in the event's preliminary rounds, with 168 qualifying for the day-long championship. And although Chantilly didn't make it to the national finals, it did reach the semifinals.
Regarding the Governor's Challenge, there's a statewide test to see who makes each school's team and which schools compete at states. Twelve people tried out for Chantilly's team, which was formed during spring break.
"We met once a week after school," said Malatinszky. But the students said they mainly honed their skills in class. Each also explained why they like economics.
"Economics is so much more than the study of money," said Aronhime. "It examines how people make decisions. And it provides explanations for the choices we make in our everyday lives that we don't really think about — and I find that fascinating."
"My grandfather worked in the World Bank, so I thought economics was a cool field to follow and I started studying it," said Malatinszky. "Our school's economics team is really strong because Mr. Clement is a really good teacher. So I had an extra motivation to study even more to add onto Chantilly's economics dominance."
Since people are always talking about the economy, said Youman, "I wanted to understand more about what's going on in the world. I joined the team because I was doing well in the class and wanted to help win a state championship."
"Economics has the power to target social issues, like poverty, that are plaguing society in general," added Wang. "It's practical in all fields of study and it's basically life."
The state championship consisted of two rounds. The first one was a written test taken by all the teams. It dealt with macro-economics (the larger picture) and world events. Then the two, top-scoring teams overall competed in the second round. Called the "buzzer round," it's similar to a quiz bowl where team members buzz in to answer questions before their opponents do.
An example of a macro-economics question, said Wang, would be: "When excessive government spending reduces private investment, what is that called?" (Answer: Crowding out).
Aronhime provided a sample buzzer-round question: "This concept in game theory describes a situation in which everyone makes the best decision based on everyone else's decisions." (Answer: The Nash Equilibrium).
Each student focused on studying a specific area for the competition. Aronhime covered economists; Malatinszky, international relations; Youman, U.S. economics; and Wang, economic history.
Malatinszky said the toughest parts of the macro-economics section were the questions involving net capital outflow. In world events, said Aronhime, the most difficult questions dealt with world trade statistics. He also said it was hard knowing what to study in advance because economics is such a broad discipline.
However, Wang said the worst part of the whole competition was "waiting for them to announce the top two teams." But she was thrilled that Chantilly was one of them. "There aren't words to describe how awesome Mr. Clement is," she said. "He was confident that we'd win, and we didn't want to let him down."
Youman said the most surprising thing was that "they asked about specific questions that no one would be expected to know. For example, 'To which two nations does Virginia export the most agricultural products?' The answer was China and Canada."
But, said Aronhime, "We really enjoyed winning. We didn't think we would because we were competing against really good schools, such as T.J. [Thomas Jefferson]."
"I was relieved because we really wanted to win and we worked hard," said Malatinszky. "And the trophy for our school was a physical representation of our success." Youman was just happy with their victory, and Aronhime also felt relief because they'd prepared so much and Clement had high expectations of them.
"The quiz bowl was the most fun part, when we went onstage in front of all the other teams and destroyed the competition," said Youman. "Brendan buzzed in before the questions were finished and answered them right, almost every time."
All in all, said Wang, "It's an awesome experience that was really unique — something to have on your bucket list." When the Chantilly students heard they won, she said, "I felt kind of numb; it didn't set in until we were halfway home."
All four students attributed their victory to their coach. "He's a great teacher and made us really enthusiastic about the subject," said Aronhime.
Calling the tournament "a cool and fun experience," Malatinszky said it was "great to see so many economic experts judging us — and they also had phenomenal doughnuts and sandwiches there."