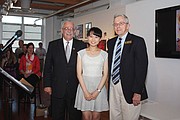 Five high school students from Fairfax County and Prince William County took top honors in U.S. Rep. Gerry Connolly's seventh annual Congressional Arts Competition. Connolly announced the winners Saturday at the Lorton Workhouse Arts Center. Students submitted 176 entries to this year's competition.
Hayun Chong of Thomas Jefferson High School for Science and Technology took first place honors with her work titled "The Art Room." Her artwork will be hung in the U.S. Capitol for a year alongside the winners of congressional arts competitions from across the United States.
More than 300 high school students, parents, and teachers gathered at the Lorton Workhouse at a reception announcing the winners. Connolly said this year's competition featured some outstanding work from students attending high schools across Fairfax and Prince William.
Jiwon Lee, a student at W.T. Woodson High School in Fairfax, took second place for "Time Flying."
The third place winner was Husna Khan of Potomac High School in Dumfries for a piece titled "This Isn't a Cheetah."
Woorin Jang, of Thomas Jefferson High School for Science and Technology, took fourth place with the work "Motion."
And the fifth place winner was Margaret Anderson of Woodbridge High School for her piece titled, "In Like a Lion."
A special Rising Star award sponsored by the Workhouse Arts Center was won by second place winner Jiwon Lee of W.T. Woodson High School for the work "Time Flying." It will be displayed at the Lorton Workhouse for the next year.
"The entries in this year's competition were outstanding. They reflect the high level of interest in the fine arts among Northern Virginia students and the dedication of our region's arts teachers and patrons to encouraging artistic skills in our high schools," Connolly said. "I congratulate all of the students who participated in the competition. The quality of their work was impressive. I'm also grateful to the Workhouse Arts Center, its staff, and the judges for all of their time and effort to make this annual event a success and help showcase the work of our students."
Judges for this year's competition were: Janay Turner of the Arts Council of Fairfax County; Brett Johnson of the Workhouse Arts Center; Emily Hawes and Jim Gallagher of the Prince William Art Society; Holly McCullough of the Greater Reston Arts Center and Signe Friedrichs of the Council for the Arts of Herndon.
Connolly's annual Congressional Art Competition is open to all high school students who reside in Virginia's 11th Congressional District. Public, private, and homeschooled students are invited to participate.