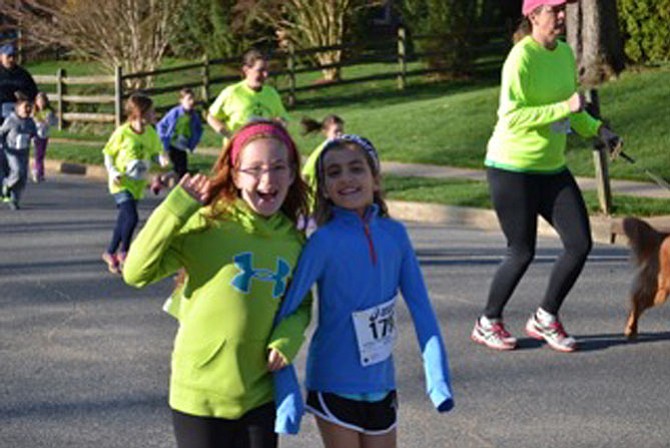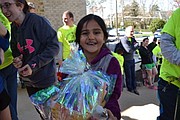 The Wolftrap Elementary School PTA in Vienna hosted its 9th annual 5k and Fun Run on Sunday, April 12. This annual event raises funds essential for programs at Wolftrap Elementary School, which has offered children a safe, nurturing and challenging learning environment for over 40 years.
The event featured a timed 5K race as well as an untimed one mile fun run/walk. More than 500 racers and supporters gathered at the school - more than 200 of those were Wolftrap students - and enjoyed music provided by DJ Darin Pusker of Belt It Out Productions, entered for raffle baskets, prizes, giveaways, and a "Cake Walk." More than 20 raffle baskets included items ranging from tickets to D.C. professional sporting events to merchant gift certificates, spa and sports items. A special appearance was also made by ABC 7's Meteorologist, Jaqui Jeras, who ran the race and then helped announce the winners.
With the support of Title sponsors Amit Kaim (Atlantic Coast Mortgage), The Burger Law Firm, Koons Tysons Toyota, Pagnato Karp & Holt - Hightower Advisors, Sun Design Remodeling and OHI Design and many other local business sponsors and donors, this event has raised over $20,000 this year.
Wolftrap Elementary School PTA is a nonprofit organization supporting the education and enrichment of the Wolftrap Elementary School community. Parent volunteers support the school's academic focus in a variety of ways, ranging from helping in the classrooms, coordinating school wide events and sponsoring programs such as the Candace Leyton Innovation Learning Lab, GRACE Art and the Strategies Lab. Past projects funded by the PTA include replacing cafeteria furnishings, new playground equipment, advanced academics textbooks, cultural arts assemblies, and spirit events.