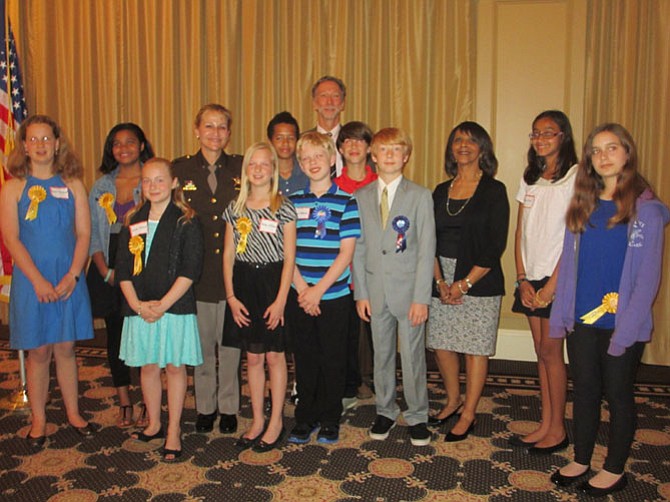 It is not often that elementary school students are recognized for outstanding contributions to school and community at an evening banquet in their honor. But, on May 6, the Optimist Club of Greater Vienna did just that, presenting plaques to honorees at the 19th Annual Helping Hands Awards ceremony. Sixth-graders from the area's 11 elementary schools were selected by their respective schools' educators and singled out for volunteerism within their school and community outreach, from playing Santa to raise money for charity to collecting blankets for international delivery. Fairfax County Sheriff Stacey Kincaid spoke on the value of volunteering and handed out the plaques to each student. The schools were each presented with a check for $200, as well.
Pat Hackerson, Helping Hands Coordinator, called the award recipients students who do "extraordinary things in their community and their schools."
Adison Verena of Wolftrap Elementary volunteers at area animal shelters and helps clean up parks, along with her ease at helping classmates.
Michaela Wacht, Westbriar, was described as an "example for her peers." She spends her lunchtime playing with her fourth-grade "buddy" and is active on the school's weather team.
Nicholas Yancy, Waples Mill, took on Christmastime charity, collecting clothing, books, and toys, and helping to distribute the gifts to deserving children. Nich is now collecting soccer equipment for soccer players in need.
Hunter Moss, Vienna Elementary School, is a role model for his peers. He extends a helping hand to classmates and volunteers in the classroom.
Abby Williams, Stenwood, participate in her school's student government, safety patrol, and Girl Scouts. She collects clothing and toys for children in local shelters, and sells lemonade to raise money for the animal shelter. She has planted flowers in her church garden, and has donated blankets and toys that were sent to needy families in South America.
Cantara Harris, Oakton, volunteers with her church, feeds the homeless, and helps with special needs children. She has extended support and friendship to autistic students at her school.
Susan Weinhardt, Marshall Road, is a member of the school's peer mediation team and of the school's student government. She participates in school fundraisers, including one for the Leukemia and Lymphoma Society.
Ethan Uffelman, Louise Archer, went beyond the school's initiative of adopting a family for the Christmas holiday, and, took it upon himself to dress as Santa in his neighborhood, offering hot chocolate for donations.
Sonia Naik, Freedom Hill, volunteers at school events and functions, helps in a second grade classroom, and, outside of school, passes out food at homeless shelters and helps preschoolers at the YMCA.
Tyler Bechtle, Flint Hill, commits himself to community service and to his school. He is the sole custodian of the chickens living in the school courtyard. In the community, he makes sandwiches for the homeless, and, teaches preschool children at Sunday school. He is on the school's environmental committee.
Kevin Molina Benitez, Cunningham Park, is in the school's band, the Bridges program, and the chorus. He is described by his nominators as hard-working and resilient, and an outstanding student and friend.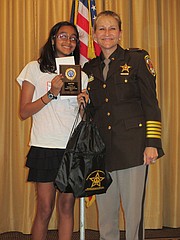 KINCAID BROUGHT "loot bags," emblazoned with the sheriff's department logo, for the award recipients and their siblings. Parents, siblings, and representative educators attended in support of their students.
In 1997, the Optimist Club of Greater Vienna was moved to honor sixth grade students whose actions on behalf of their class, school, or community, embody the tenet of Optimist International — "giving of one's self in service of others will advance the well-being of humankind, community life, and the world." Since then, this award has been picked up by Optimist clubs throughout the country. The idea was conceived by the selfless actions of a sixth-grader.
The Optimists are an international service organization dedicated to serving the needs of children around the world. The Optimist Club of Greater Vienna supports Growing Hope [support and resources for the families of children undergoing cancer treatment, the local Bland Music Competition, the all-night graduation parties for the three high schools in the Vienna-Oakton area, sponsors competitions for local students, and maintains the red caboose along the W & O D path off Church Street, as well as operating the Vienna Farmers' Market. The club's primary fundraiser is Christmas tree sales in Vienna, located on Maple Avenue in the Giant Food parking lot. To learn more about the Vienna Optimists or to join, go to www.optimistclubofgreatervienna.org/.