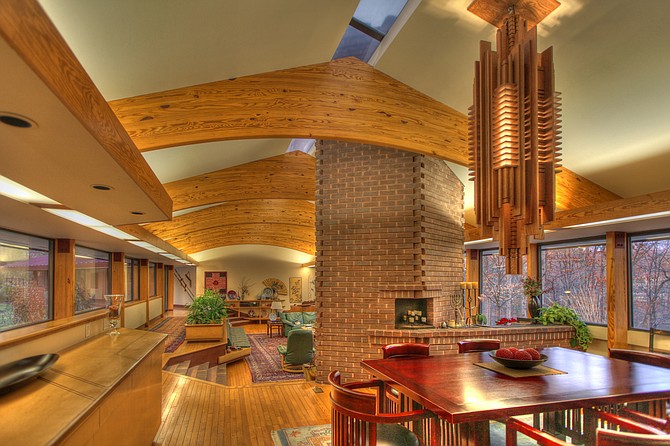 Clifton residents Mark and Sharon Gottlieb are expecting hundreds of house guests. Gottlieb's mother Lois, an apprentice of the famous architect Frank Lloyd Wright, designed their 10,000-square-foot home overlooking the Occoquan River and oversaw its construction between 1994 and 1996. And the couple is happy to share it, for a day.
"I love to build stuff, create things, solve problems, make things beautiful -- a home is a wonderful place to do that," said Mark. "This becomes an art project, a work of love. It's fun to show it off occasionally, there's some satisfaction."
The Gottlieb's house, along with Mark's many projects and enhancements such as custom furniture, electronics and tree forts, will be on view to the public as part of the 43rd Clifton and Fairfax Station Homes Tour.
Hosted by the Clifton Community Woman's Club (also 43) the event is the group's "one big, very popular event," in its expressed purpose of "wanting to give back to the community," said Homes Tour Chair and real estate agent for Fairfax Station and Burke, Dana-Jean LaFever.
According to LaFever, around 500 people came out to tour homes last year and the event brought in roughly $25,000 for the group's charitable trust from ticket sales and sponsorships.
"We raise a great deal and make sure the money goes back to people in this area," she said. That includes about 30 charities as well as scholarships for a local high school senior, the George Mason University General and Education scholarship and Northern Virginia Community College Scholarship.
Last year $20,000 from the trust was distributed among the charities, such as Springfield-based Ecumenical Council Helping Others, Fairfax County domestic violence shelter Artemis House and the American Cancer Society, and scholarships.
LaFever and Gottlieb agree the event continues to draw visitors, particularly those working on their own house projects, because people continue to be curious about how others shape their living space.
"We have so many unique houses in the area, very few two-of-a-kinds," said LaFever. "People like to see some older homes that are renovated, put back the way they were, or look at new things, go in and get ideas."
"I love the way you did this or that -- it's just great way to see, ah, I think I'll do that the next time I do that kind of thing," said Gottlieb.
The tour includes four homes, as well as a stop at the Masonic Lodge in Clifton and an auction at the Clifton Presbyterian School. For an added draw this year, LaFever said they've invited a number of local authors for a book-signing, also held at the church.
For more information on the Clifton Community Woman's Club, visit www.cliftoncwc.org or call 703-609-3479.