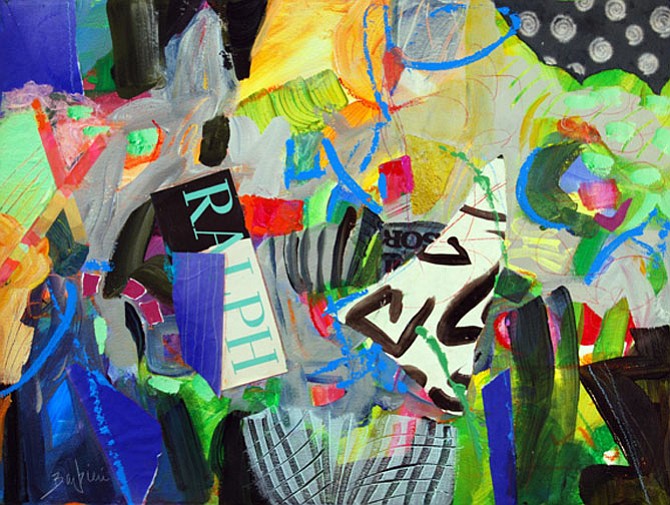 Friday/May 8
Spring Concert. 7:30 p.m. St. Stephen's United Methodist Church, 9203 Braddock Road, Burke. The Maranatha Singers will present an enjoyable evening of music with a guest appearance by the St. Stephen's Orchestra. The theme of the concert will be "Jammin' Juke Box". Refreshments served after the concert in the Welcome Center. Everyone is invited to attend. Free.
Big Truck Days. 9 a.m. - 7 p.m. Herndon Public Works Complex, 1479 Sterling Road, Herndon. The Town of Herndon's Department of Public Works hosts its annual "Big Truck Days," an opportunity for children - and their parents - to see the town's big trucks and heavy equipment on display. All ages. Free. http://www.herndon-va.gov/.
Precious Treasures. 7-9 p.m. Vienna Art Center, 115 Pleasant Street NW, Vienna. Members of the Vienna Arts Society exhibit and sell original artworks in several continuing shows in the area. Pick up a map of locations and meet featured artist Madeleine. The exhibition, which features the Jamie Brooks Retrospective continues until May 30.
Friday Night Live! 6:30 p.m. - 10:30 p.m. Herndon Town Green, 777 Lynn Street, Herndon. Outdoor concert series featuring popular local and regional acts from up and down the east coast. For information visit www.herndonrocks.com.
McLean Farmers Market. 8 a.m.-12 p.m. Fridays, May 1-Nov. 20. 1659 Chain Bridge Road, McLean. www.fairfaxcounty.gov/parks/farmersmarkets/mcleanmkt.htm
Playdate Café. Great Falls Library, 9830 Georgetown Pike, Great Falls. 10 a.m. Toys and playspace for children. Coffee and conversationfor grown-ups.
Pokemon League. Patrick Henry Library, 101 Maple Ave. East, Vienna. 3 p.m. Age 5-18 learn and play.
Great Decisions Foreign Policy Series. Great Falls Library, 9830 Georgetown Pike, Great Falls. 1 p.m. Foreign Policy Association's Great Decisions program: The United States and Africa.
Drop-in Chess and Board Games. Great Falls Library, 9830 Georgetown Pike, Great Falls. 3:30 p.m. All ages are welcome to drop-in and play chess and assorted board games.
Friday-Saturday/May 8-9
"Les Miserables." 7 p.m. South County High School, 8501 Silverbrook Road, Lorton. Tickets will cost $15 for general admission or $12 for students and seniors.citizens. You can order tickets online at southcountytheatre.org. "Les Miserables" is famous musical adapted from the novel by Victor Hugo in 1862. The story revolves around former convict Jean Valjean and his pursuit of self-redemption by breaking his parole, thus having to escape the fleet of Inspector Javert. Intertwined are the students' revolution to combat the monarchy and a love triangle between schoolboy Marius, Valjean's daughter Cosette, and the poor Eponine. Taking place in France in the early 19th century, the central themes are compassion and social injustice.
"Big the Musical." 7:30 p.m. Fairfax High School, 3501 Rebel Run, Fairfax. The FX Players theatre department will debut its long awaited spring musical, BIG, the first two weekends of May. Following the storyline of the 1980's Tom Hanks movie, BIG revolves around a young boy who dreams of being an adult. After a Zoltar machine grants his wish, he goes on a heartwarming adventure where he learns that age does not determine how much fun you can have. For more information, please visit www.fxplayers.org or call 703-219-2351.
Spotlight on the Arts Festival. Dedicated to showcasing the very best of the visual and performing arts in the City of Fairfax. At a variety of venues in and around the city. Visit www.visitfairfax.com/category/spotlight.
Saturday/May 9
Vienna Farmers Market. 8 a.m.-12 p.m. Faith Baptist Church Parking Lot, 301 Center Street South, Vienna. www.viennafarmersmarket.com.
McLean-Langley Relay for Life. 6 p.m. Cooper Middle School, 977 Balls Hill Road, McLean.The Langley-McLean Relay for Life team will be hosting their event at Cooper Middle School. The event will consist of an all-night, fun-filled evening featuring games, live music, dancing, food, A Luminaria Ceremony, a banquet for cancer survivors, and much much more! All proceeds from the event will go directly to the American Cancer Society to promote cancer research. Help us meet our $125,000 goal to win the fight against cancer! Day of participation entry fees are $10,to stay all night, participants must raise $100. Got Questions? Visit:///www.relayforlife.org/… to sign up, donate money, or learn more about our event.
Annual Yard Sale/Flea Market. 8 a.m. - 2 p.m. Great Falls United Methodist Church, 10100 Georgetown Pike, Great Falls. Come shop, donate and/or sell your own things. 703-759-3705.
Vienna Bike Rodeo. 10 a.m. - 1 p.m. Vienna Volunteer Fire Department parking lot, 400 Center Street S., Vienna. Under the guidance of a veteran cyclist, the Rodeo will help children who already know how to ride a bike develop safety skills including breaking, balancing, basic road rules and how to handle obstacles.
Annual Plant Sale. 9 a.m. - 1 p.m. Great Falls Library, 9830 Georgetown Pike, Great Falls. The Plant Sale, held on Mother's Day weekend, has become a popular source for Mother's Day gifts. Come early for best selection; it's not unusual for all to sell out by 11:30.
This is My Country: An American Tribute. 4 and 7:30 p.m., Reston Community Center, Hunters Woods, 2310 Colts Neck Road, Reston. Join The Reston Chorale as we celebrate America and honor those who keep it free with a patriotic pops concert. Free tickets for military personnel and their immediate families, as well as veterans, while supplies last. Tickets for all others: $25/Adults, $20 Seniors, Free for Youth 17and under (with adult/senior ticketholder). For tickets and information: www.restonchorale.org.
Spring Farm Day. 10 a.m.- 3 p.m. Frying Pan Farm Park, 2709 West Ox Road, Herndon. Come see puppet shows, do some crafts or play some games. You can even milk a real cow. $8 if at the door, $7 if bought in advance, kids under 2 free.

Mother's Day Tea Party. 10:30 - 11:30 a.m. Walker Nature Center, 11450 Glade Drive, Reston. All ages. In honor of Mother's Day, bring your mom to a delightful morning at the nature center. Sip tea or juice and sample a variety of pastries and fruits. Make a bouquet of paper flowers for mom to display on her special day. Take a stroll through the gardens to look for spring-blooming wildflowers. Reservations required by May 6. Fee: $7/person RA members, $9/person Non-members.
Patriotic Pops Concert. 4:30 & 7:30 p.m. Reston Community Center, 1609 Washington Plaza, Reston. General admission tickets are $20/Seniors, $25/Adults and free for youth 17 and under with an adult or senior ticket holder. www.restonchorale.org.
Concerts from Kirkwood. 3 p.m. Kirkwood Presbyterian Church, 8336 Carrleigh Parkway, Springfield. Concerts from Kirkwood will complete its 2014 – 2015 season on May 9, with a special concert featuring the internationally renowned Spanish piano duo, Carles&Sofia. Carles Lama and Sofia Cabruja have been performing together since 1987. They perform regularly worldwide both in recitals for four hands and with orchestra. They have made an extensive number of recordings on the on the KNS- classical label.
West Springfield Baseball Alumni Festival. 10 a.m. - 3 p.m. West Springfield High School baseball field. Gates open at 9:45 a.m. (no admission fee), the student/faculty softball game starts at 10 a.m., and the alumni game starts at 12 p.m. There will be jousting and carnival-style games, a bounce house,baseball skills games, raffles and an auction, concessions, and a spirited set of alumni playing baseball. Money raised will be used to renovate the batting cages and replace worn-out equipment. Test your skills at the games, bid on the items, watch the game, or just join us for lunch and help support the program. Donations and questions can be directed to Jason Olms at jmolms@fcps.edu
Neighborhood Plant Clinic. City of Fairfax Regional Library, 10360 North Street, Fairfax. 10 a.m. Master Gardeners provide horticultural tips, information and advice to home gardeners. Adults only.
Tales to Tails. City of Fairfax Regional Library, 10360 North Street, Fairfax. 10:30 a.m. Age 6-12 read aloud to a friendly, trained therapy dog. Openings.
Escape from Burke Centre Library Game. Burke Centre Library, 5935 Freds Oak Road, Burke. 1:30 p.m. Intriguing games and activities based on the book "Escape from Mr. Lemoncello's Library," by Chris Grabenstein. Openings for age 8-12.
Springfield Smart Markets Farmers Market. 10 a.m. - 2 p.m. Springfield Town Center, at the corner of Loisdale Road and Spring Mall Drive. Fresh local fruits and veggies.
Sunday/May 10
Hands On Modeling Day Workshop. 1-4 p.m. 11200 Fairfax Station Road in Fairfax Station. You and Mom can learn how to create and paint scenery for your model train display. Admission: Museum members and children 4 and under, free; ages 5-15, $2; adults 16 and older, $4. www.fairfax-station.org, 703-425-9225.

Workhouse Farmers Market. 1-5 p.m. Workhouse Arts Center, 9518 Workhouse Way, Lorton. The opening day of this year's farmers markets season.
Wine & Food Event. 12-5 p.m. Balducci's, 6655 Dominion Drive, McLean. Free special wine event featuring Mother's Day drinks and food samplings.