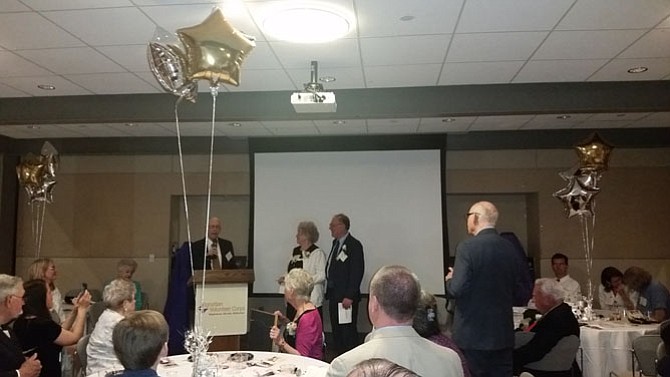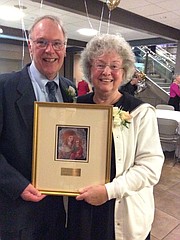 Pope Francis, who became the Catholic Church's newest leader in 2013, has been universally praised for emphasizing the plight of the very poor and calling for compassion for those less fortunate and marginalized by society.

Many credit the pontiff's Ignation aesthetic – "to love and to serve" the poor - for bringing the Catholic Church back to its social justice roots.
John and Mariann Horejsi of Vienna, longtime members of St. Mark's parish in Vienna, have dedicated their lives to those values in many different ways.
On April 26, The Ignatian Volunteer Corps (IVC) presented the couple with the prestigious Della Strada Award for their decades of work to alleviate poverty and suffering in their community.
THE AWARD celebrates volunteers whose work and lives reflect the Ignatian values of direct service to the impoverished and of working and educating for a more just society.
"The Horejsis have devoted 30 years to alleviating poverty," said Joan Coolidge, Northern Virginia regional director of IVC. "Mariann's direct volunteer service and John's nonpartisan advocacy as founder and coordinator of Social Action Linking Together have helped to improve the lives of thousands who have no voice in the public arena."
IVC's Della Strada Award is named for St. Ignatius Loyola, who founded the Society of Jesus (Jesuits) in 1541 and established the first church - Santa Maria Della Strada - to serve the poor in Rome.
James Kelley, retired director of IVC's Northern Virginia region, presented the award to John and Mariann Horejsi at IVC's annual Evening of Gratitude, held at Gonzaga College High School in D.C.
"John and Mariann Horejsi have demonstrated the values that IVC cherishes: service to people who are poor, social justice and spiritual growth," Kelley said at the event.
"Mariann, on the one hand, has dedicated herself to service in many different ways," Kelley said, noting that she is a tireless volunteer for the homeless at Christ House in Alexandria, and dedicates her time to many other organizations, including tutoring adults to earn their high school diplomas through the Fairfax Volunteer Learning Program, helping out at the Western Fairfax Christian Food Bank, and serving the homeless at Fairfax County's hypothermia shelters.

"While Mariann was engaged with direct service, John, who was employed by the Department of Health and Human Services, became increasingly aware of the need for advocacy for people who are poor, people who are marginalized, people who are voiceless," Kelly said.
Kelley noted that John Horejsi's advocacy led him to establish Social Action Linking Together (SALT) in 1983 to advocate for those in need.
"Today, SALT is a faith-based network of 1,200-plus Northern Virginians who support the passage of legislation directed to affordable housing, hunger relief programs, humane treatment of the incarcerated, tax relief for the working poor and more," Kelley said.
"Legislators know John as the man who does the right thing for the 'least among us'."
ABOUT IVC
IVC was founded by Frs. Jim Conroy, S.J., and Charlie Costello, S.J., in September 1995 with 11 volunteers in Baltimore, Philadelphia and Washington. Now in its 20th year, IVC has more than 300 volunteers providing service in 16 regions. The Northern Virginia and Washington D.C. Metro/Maryland regions account for 96 volunteers serving at 45 different partner agencies.
To volunteer with IVC or request an IVC volunteer to work with a non-profit agency that serves the needy, contact Joan Coolidge at 703- 352-4140 or jcoolidge@ivcusa.org
HUNTER MILL SUPERVISOR Cathy Hudgins, who has nominated John Horejsi for several community service awards in the past 20 years, praised his service to the community.
"John's countless hours of volunteer service to fight homelessness have greatly impacted the quality of life for those less fortunate in Fairfax County and the Commonwealth," Hudgins said.

"I am so proud to be honored," Horejsi said when accepting the award, "I'm especially proud and happy that my wife of 46 years, Mariann, is here with me. She is my partner and best friend."
Horejsi said he takes inspiration from a sign above a door in a tiny church in Doswell, Virginia: "Enter to Worship; Leave to Serve."
"Our appeal to the faith community is to get involved, to get 'Out of the pew and into the Lobby'," Horejsi said.
IVC's ninth annual "Evening of Gratitude" began with Mass concelebrated by Monsignor Ray East, pastor of St. Teresa of Avila Catholic Church in Southeast Washington and seven other priests at St. Aloysius Catholic Church. More than 200 in the congregation joined the singing led by the St. Teresa of Avila young adult choir.
Coolidge introduced the ceremony by quoting Pope Francis.
"The thing the church needs most today is the ability to heal wounds and to warm the hearts of the faithful… I see the church as a field hospital after battle."