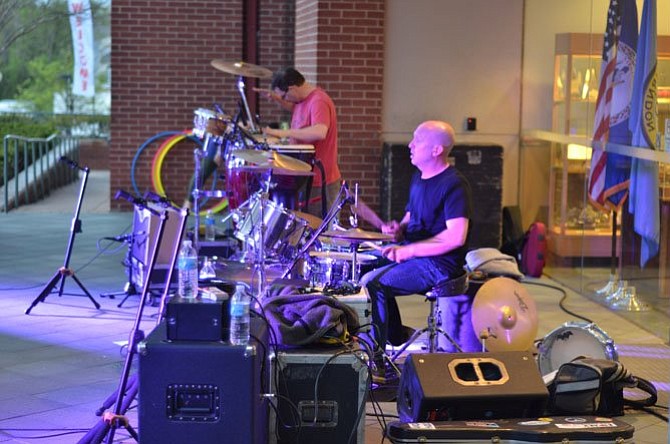 Friday/May 1
Herndon Friday Night Live. 6:30 p.m. 777 Lynn Street, Herndon. Listen to great music on Friday nights during the summer. Visit herndonrocks.com/schedule.php for more.
Jam Session. 7-9 p.m. Vienna Art Center, 115 Pleasant St., NW, Vienna. Acoustic musicians and fans are invited to join a jam session at the Vienna Art Center, playing acoustic instruments and singing in an environment featuring wood floors and surrounded by original art. Free.
McLean Farmers Market. 8 a.m.-12 p.m. Fridays, May 1-Nov. 20. 1659 Chain Bridge Road, McLean. www.fairfaxcounty.gov/parks/farmersmarkets/mcleanmkt.htm
Friday-Saturday/May 1-2
"Hairspray." 7 p.m. South Lakes High School, 11400 South Lakes Drive, Reston. This fun musical follows the story of Tracy Turnblad, a 60s teen who wants to be a dancer on her favorite television show. Tracy and her misfit friends overcome stereotypes and integrate the Corny Collins shwo to allow everyone to dance together. Tickets are $8/10 online and $10-12 at the door. Attendants may bring 3 items needed by the Embry Rucker Shelter in exchange for a free item from the concession stand. This list can be found at http://www.cornerstonesva.org/wp-content/uploads/2014/10/ERCSWishListFallWinter2014-15.pdf
"Bye Bye Birdie." 7:30 p.m. Flint Hill School, 10409 Academic Drive, Oakton. One of the most beloved rock and roll musical shows of our time. A delightful show for all ages, this musical is full of youthful energy and contains hit numbers like: "A Lot of Livin' to Do," "Put on a Happy Face," "Kids," and "Telephone Hour." Reserve your seats here: https://www.flinthill.org/bye-bye-birdie/
"Other Desert Cities." 2 p.m. Vienna Community Center, 120 Cherry St., SE, Vienna. "Other Desert Cities" tells the story of the fictional Wyeth family — a clan led at the top by a mother and father highly regarded in old Hollywood circles and admired by Republicans for their service to and friendship with the Reagans in their heyday. Reserve tickets: vtcshows@yahoo.com
Friday-Saturday/May 1-9
Spotlight on the Arts Festival. Dedicated to showcasing the very best of the visual and performing arts in the City of Fairfax. At a variety of venues in and around the city. Visit www.visitfairfax.com/category/spotlight.
Friday-Saturday/May 1,2,8,9
"Les Miserables." 7 p.m. South County High School, 8501 Silverbrook Road, Lorton. Tickets will cost $15 for general admission or $12 for students and seniors.citizens. You can order tickets online at southcountytheatre.org. "Les Miserables" is famous musical adapted from the novel by Victor Hugo in 1862. The story revolves around former convict Jean Valjean and his pursuit of self-redemption by breaking his parole, thus having to escape the fleet of Inspector Javert. Intertwined are the students' revolution to combat the monarchy and a love triangle between schoolboy Marius, Valjean's daughter Cosette, and the poor Eponine. Taking place in France in the early 19th century, the central themes are compassion and social injustice.
"Big the Musical." 7:30 p.m. Fairfax High School, 3501 Rebel Run, Fairfax. The FX Players theatre department will debut its long awaited spring musical, BIG, the first two weekends of May. Following the storyline of the 1980's Tom Hanks movie, BIG revolves around a young boy who dreams of being an adult. After a Zoltar machine grants his wish, he goes on a heartwarming adventure where he learns that age does not determine how much fun you can have. For more information, please visit www.fxplayers.org or call 703-219-2351.
Saturday/May 2
Garage Sale. 8 a.m. - 12 p.m. 6389 Phillip Court, Springfield (in the kenwood oaks neighborhood). Baby and toddler items, toys, furniture including chairs, end tables, bar table and chairs, etc.
Vienna Farmers Market. 8 a.m.-12 p.m. Faith Baptist Church Parking Lot, 301 Center Street South, Vienna. www.viennafarmersmarket.com.
Boy Scout Troop 13 of Oakton/Reston/Vienna Annual Rummage Sale. 8 a.m. - 1 p.m. Church of the Good Shepherd, 2351 Hunter Mill Road, Vienna. Proceeds from the rummage sale will support the Troop's camping, skill development, and leadership programs. Please call and leave a message at 571-295-6413 or email rummagesale@troop13vienna.org.
Annual Plant Native Sale. 8-11 a.m. The Great Falls Grange Pavilion, 9818 Georgetown Pike, Great Falls. Buy a variety of indigenous wildflowers, including bluebells, trees, shrubs and ferns that benefit our watershed, woodlands and fauna. Native plants are as beautiful as invasive ornamentals and exhibit a better rate of survival. It's the right thing to do for the environment, and the proceeds will help support summer staff and educational programs at Riverbend Park.
Free Community Carnival. 11 a.m. - 3 p.m. Oakton United Methodist Church, 2951 Chain Bridge Road, Oakton. Free games and food and fun for all ages. www.oaktonumc.org.
Free Comic Book Day. Game On! Comics, 310 Dominion Rd NE, Vienna. Game On! Comics in Vienna is one of thousands of comic book shops around the world celebrating the biggest day in the comic book industry and comic art form, Saturday, May 2. On Free Comic Book Day, over 5.6 million comic books will be given away by participating stores, introducing as many people as possible to the wonders of comic books.
Cars & Coffee. 6-9 a.m. Katie's Coffee House, 760 Walker Road Great Falls. Enjoy early morning coffee at an amazing gathering place of antique, custom, hotrods, exotic, sports cars.
Pet Fiesta 2015. 10 a.m. - 4 p.m. Reston Town Center. The Pet Fiesta draws local businesses, rescue groups and thousands of pet owners for a day of interactive activities, demonstrations, exhibitions and animals galore Visit www.petfiesta.org for more.
Opening Day of Reston Farmers Market. 8 a.m. - noon. Lake Anne Village Center, 11404 Washington Plaza W, Reston. Nearly all of your favorite vendors from last year will be there, as will four new ones we think you will enjoy. The Reston Farmers Market is sponsored by the Fairfax County Park Authority and features fresh, local fruits, vegetables, homemade foods and home-grown plants. For more information, go to www.restonfarmersmarket.com or call 703-318-9628.
Pirate Fest. 10 a.m. - 5 p.m. Lake Fairfax Park, 1400 Lake Fairfax Drive, Reston. This festival celebrates Virginia's seafaring past. Join with Ships Company Chanteymen singing traditional sea chanteys, tavern tunes and pirate ditties. Experience the life of a sailor first hand with our many fun activity stations. Wear your most dashing pirate clothes and enter our costume contest. Learn about global trade in the 18th century, and discover the luxury goods from international ports that compelled pirates to sail the seven seas.
Chocolate for Elephants 2015. 8 - 10:30 p.m. The Greater Reston Arts Center, Reston Town Center 12001 Market Street, Reston. Let's do it again! We raised over $23,000 at Chocolate for Elephants in 2013 and every penny went to charity, helping to rescue and rehabilitate orphaned baby elephants who have lost their families due to the tremendous increase in poaching for ivory! Please join us for another fun-filled evening of chocolate and charity to support Big Life Foundation, a 501(c)(3) organization that is saving the lives of elephants of East Africa.
Reston Spring Festival. 1-5 p.m. Walker Nature Center, 11450 Glade Drive, Reston. The Spring Festival is fun for all ages with live animals, fishing activities, craft-making for kids, displays and information from environmental groups, and family-friendly entertainment. Entertainment sponsored by Reston Community Center.
Springfield Smart Markets Farmers Market. 10 a.m. - 2 p.m. Springfield Town Center, at the corner of Loisdale Road and Spring Mall Drive. Fresh local fruits and veggies.
Derby-Q Festival. 2-7 p.m. City of Fairfax. This outdoor community festival will showcase the area's premier brew master and BBQ vendors. The festival will feature bourbon and scotch whiskey tastings. Live blues bands will perform on stage while the crowds anxiously await the Greatest Two Minutes in Sports – the Kentucky Derby, shown on the big screen. To purchase a ticket for this event please visit www.derby-q.com.
Creative Writers Club. 2:30 p.m. Burke Centre Library, 5935 Fred Oaks Road, Burke. Do you enjoy writing fiction, poetry, non-fiction and/or memoirs? Join us for sharing, discussion and feedback of works in progress. Ages 12-18.
Historic Pohick Church Saturday Tour. 1-3 p.m. Pohick Church, 9301Richmond Highway, Lorton. The Historic Pohick Church Docent Guild willgive free guided tours of the historic colonial church. http://www.pohick.org.
Art of Wellness Fair. 1-5 p.m. Unity of Fairfax Church, 2854 Hunter Mill Road, Oakton. Learn how to maintain and enhance your health by attending demonstrations and presentations and talking with the vendors. Enjoy this day of healing for body, mind, and spirit.
Sunday/May 3
Tysons Regional Chamber of Commerce Charity 5K. 7 a.m. Tysons Corner Center, 1961 Chain Bridge Road, McLean. Race day registration begins at 7 a.m.; race time is 8:30 a.m. This race will benefit the Insight Memory Care Center (IMCC) who is providing a wide range of services to people with Alzheimer's disease and their families for over 30 years in Fairfax County.
Workhouse Farmers Market. 1-5 p.m. Workhouse Arts Center, 9518 Workhouse Way, Lorton. The opening day of this year's farmers markets season.
Tysons Farmers Market. 10 a.m.-2 p.m. NADA Campus, Greensboro & Westpark Drive. www.tysonspartnership.org
Wild Edibles. 1:30 p.m. Walker Nature Center, 11450 Glade Drive, Reston. Adults. Many naturally occurring plants can make a nutritious and tasty addition to your diet. Sample some "wild" dishes and take home recipes to try on your own. After an indoor presentation that includes the ethics of collecting and how good foraging starts at home, we'll hike the trails in search of edible plants, and harvest some to take home. Guest Presenter: Lori Thomas. Reservations required by April 30. Fee: $7/person RA members, $9/person Non-members. For more information, email naturecenter@reston.org, or call 703-476-9689 and press 5.