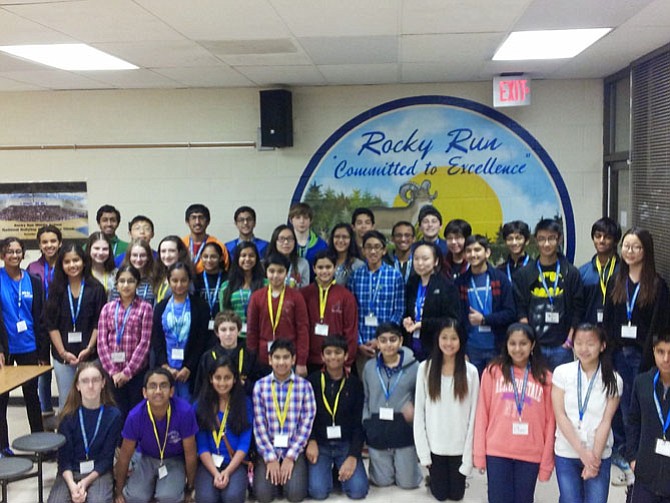 For two years now, a group of seventh and eighth grade students at Rocky Run Middle School have been working with local elementary school students every Tuesday and Wednesday night to tackle different academic obstacles.
The 2014-2015 school year marks the second year of the Homework Helper program, and is its first full academic year running. This school year, the program has grown exponentially. Where it once served just one elementary school in the Rocky Run Middle School pyramid, now the Rocky Run Homework Helpers mentor and tutor students from four elementary schools in the area. Forty-six seventh and eighth grade "helpers" this year work with about 60 local elementary school children on math homework, spelling test prep, and more. And, this time of year, when SOL tests loom in local classrooms, the middle school tutors focus on preparing their students for these standardized tests.
The idea for the program was born more than two years ago, as the brainchild of a group of parents of sixth grade students about to enter seventh grade at Rocky Run Middle School. Under the umbrella of the Rocky Run Parent Teacher Association (PTA), the same parent volunteers have developed and supervised the Rocky Run Homework Helpers since its first session in January 2014.
"A bunch of parents got together when our children were going into middle school, and it was daunting to think of the changes they would go through in those next two years," Meera Krishnan, co-founder of the program, said. "There is a lot of segmentation in the neighborhoods that feed into Rocky Run and this service program bridges those gaps and adds to self-esteem."
Krishnan and a number of other parent volunteers have been facilitating the program since its inception when their children were seventh grade tutors with the program.
"We started thinking about this program when these kids were in sixth grade," Vikas Khator, a parent of a current eighth grader and one of the volunteers. "We tell them it's time for them to focus on the kids they are tutoring."
Khator said that as the program has grown, it has become a well-oiled machine. When they first started, though, they were concerned whether they had the resources it would take to keep the program going strong. They are all working parents so they do not have unlimited hours to plan.
"At the first meeting, we thought we were biting off more than we could chew," Khator said. "The first year, to get started, it took us awhile to get everything in place — securing the facility, sponsors and getting the word out to guidance counselors."
As it has grown, another parent volunteer and eigth grade parent, David Phillips noticed that Homework Helpers has just gotten better. He said the program benefits both the elementary school children who get the free academic help as well as the middle school tutors, and he couldn't be happier about how it has turned out.
"The second year, the program is not only bigger but it is running more smoothly," Phillips said. "Meera really took the initiative to run and start the program and I am so happy to be a part of it because it has made the kids more confident and made them appreciate teachers more."
The students too have delighted in the growth of Homework Helpers, and enjoy spending at least one night a week in the library helping younger children work through problems that they not so long ago learned to solve for the first time.
"I was in the program last year and we have expanded," eight grade Homework Helper Raghav Khator said. "My two tutees are best friends and they learn best together. I love that I get to teach kids. If you have knowledge and can't share it, then what's the point of having knowledge?"
Raghav noted that fractions, decimals and algebra are the biggest subjects he addresses.
The program caught the attention of FCPS MentorWorks, who awarded the Rocky Run Homework Helpers as this year's "March Program of the Month."
Eighth grade tutor Ravi Dudhagra said he has not only enjoyed helping younger students, but has also relished in the bonding experience with his fellow Homework Helpers. They are all there to help each other out and reach a common goal.
"I just like to see the tutees learn," Dudhagra said. "If we ever have a question, I can always ask other helpers as well. We are a community."
Eighth grader Ansh Gandhi said in just two years he has noticed that the Homework Helpers has changed his life as the program itself has gone through changes.
"I was in the program last year and there has been a huge change," Gandhi said. "Last year it wasn't such a big program. Now, with the additional elementary schools that have kids here, we have increased our range. The change is welcome. This program helped the tutees learn and grow intellectually and mentally and it also helped me grow as a person. It helped me become a life teacher and develop my character."
Eighth grader Kevin Phillips said the program gave him something he always felt he was missing.
"I love helping the younger kids learn, of course, but also, I am an only child so having a younger student to help mostly makes me feel great," Kevin said. "At 13, it is great to get in on that thing most of my friends get to do."
Eric Jackson, whose fourth grade son Anthony attends Homework Helper sessions on Wednesday nights, said he is so grateful to the students and their parents who have made this program happen.
"Anthony loves learning here, and not as much at home," Jackson said. "He doesn't listen to me, because to him, I learned this stuff eons ago. Most of his homework is math, and he can learn the techniques and tricks from these other kids that learned it just a few years ago."
Homework Helpers has also provided a lot of stress relief to parents who not only learned different learning strategies and techniques, not also who learned these elementary school concepts in a different language.
"I am originally from Japan but my kids are American," said Mikiko Tanaka, mother of a fifth grader and a third grader who are both tutees. "I want to help them but it is difficult for me to help them with their homework in English. It is a big help for me because the helpers work with them the exact way they need. Everything in the classroom, the way of teaching, is so different in Japan. This is a great opportunity for my kids to get the help they need."
The Rocky Run Homework Helpers will continue next year, but under the leadership of a new set of parents. Krishnan was able to recruit four parents of current seventh graders to keep the program going as her own son will move on to high school. She said she encourages parents at other schools to pursue similar programs if they are interested.
"We first engaged counselors at Brookfield Elementary School in discussions, and using their help, created a flyer to circulate in that school," Krishnan said. "A good friend of mine who happens to be the Spanish teacher at Brookfield helped translate the flyers into Spanish since a large portion of the population does not speak English. The Brookfield counselors also met with teachers and explained about this program and asked them to request parents of students who would stand to benefit from these services to bring their children to Rocky Run."
All the while, two high school students worked with the middle school volunteers to get them tutor ready.
"When we started, we had no idea what we were doing," Krishnan said. "We reached out to parents of high schoolers and brought them into mentor the middle school students. We had them role play with potential problem cases"
Krishnan said she used Google forms to register both tutors and tutees, and made sure to monitor how each pair worked together and adjusted as necessary once the program kicked off that January.
"Every week I would touch base with the teachers of the tutees to keep them posted that their student is attended and also let them aware that they could send extra practice work, or whatever, that they would like the tutor to work on with the tutee."
Each school year, the program is intended to run through the end of April, after the SOL tests are taken and the academic term is coming to a close.
Krishnan said the hard work and figuring out the logistics has been worth it.
"I really enjoy it," she said. "I enjoy seeing these kids do what they do, serving the community."
Her son, eighth grade Rishabh Krishnan, said being a tutor with Homework Helpers has certainly been a highlight of his middle school career.
"My favorite part is at the end of the session, when you see the accomplishment of the tutee," Rishabh said. "Seeing what other people can do is almost better than seeing what you can do on your own."