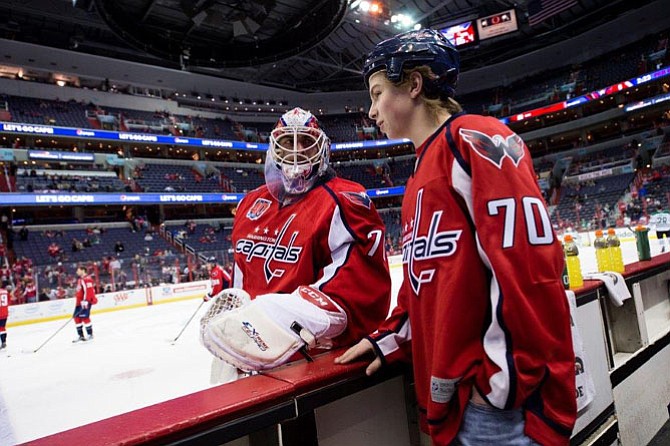 Washington Capitals goaltender Braden Holtby granted the wish of 13-year-old Caleb Graham on March 12 at Kettler Capitals Iceplex. Graham's wish to skate with Holtby came true through Make-A-Wish.
In addition, Graham and his family also attended the Capitals home game against the Dallas Stars on March 13 at Verizon Center.
Graham has a life-threatening heart condition that has required him to undergo a number of surgeries over the past 13 years and receive a pacemaker. None of this has stopped him from living a full and active life.
The Healy, Alaska, native has been playing hockey since the age of five, joining his older and younger brothers. He has been holding down the position of goaltender for the last two years, skating with the Alaskan Bantam team, the Healy Coal Kings.
On March 12, Holtby met with Graham for breakfast at Kettler. Graham then skated with Holtby following the conclusion of practice. He also received a tour of the Capitals locker room and was presented with a custom jersey.
On March 13, Graham received a tour of Verizon Center and watched warmups from the Capitals bench. He received a tour of the press box during the second intermission and met Holtby in the Capitals locker room following the game.
For more information about the Make-A-Wish organization, visit www.midatlantic.wish.org.